Reporter Documents Life in Aleppo in '7 Days in Syria'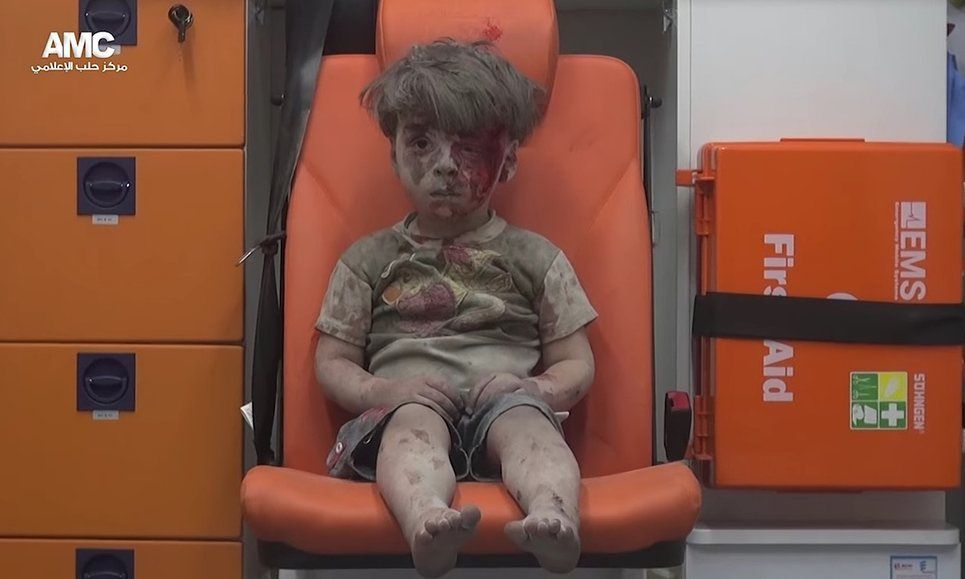 When we arrived in Aleppo in 2012, we stayed at the home of a young Syrian student. One night he came back grief-stricken: One of his best friends had been killed on the frontline. All night long, well after we turned off the generator that ran power into the small apartment, we heard him crying. Whether he was crying for his friend, or all of his country, I can't say. A few weeks later, he too was killed.
In the morning, we went out into the streets of the city. It was gray and cold, and the first thing I saw was an old man waist-deep in a sea of trash. He was searching for something to eat. Every time we drove by that spot over the next week, he was there, at the same spot, digging for something to keep him alive.
But the thing I remember most from those days is watching a baby die in Al-Quds Hospital. The baby did not die from a bullet wound or from shrapnel from a barrel bomb, but from an ordinary respiratory illness that could have been treated easily at nearly any hospital in the world. But this baby was in Aleppo. So he died.
These are some of the images that stick in my mind from trips to Aleppo from 2012 to 2014 with photographer Nicole Tung and cinematographer Patrick Wells to make the documentary 7 Days in Syria. The premise of the film, from director Robert Rippberger and producer Scott Rosenfelt, was to have me (a Newsweek reporter) reveal everything that goes into reporting in a war zone like Aleppo, figuratively opening up my notebooks as I conducted interviews and explored the city. Aleppo was already like hell in those days. Today, it is far worse.
We started our work in December, and Aleppo was freezing cold, hungry and battered. Four years later, Aleppo is under siege and slowly starving to death. Many of the people we interviewed have died or fled. A l-Quds Hospital, where we filmed, was bombed in late April, and the last pediatrician in Aleppo was killed.
Our film is called 7 Days in Syria, but it took much longer than seven days to make. I wanted to use each day as an example of the struggle of ordinary life in Syria, by using ordinary people and ordinary voices. When we started, I had not yet seen the TV series 24 starring Kiefer Sutherland, but the idea was something like that—working in real time, showing how people overcame their challenges, tragedies and sorrows, hour by hour, day by day.
We chose to film a doctor, a baker, a mother, a fighter, a journalist. Although I had made two long-format documentaries for the BBC—on Bosnia and on gang warfare in Jamaica—the challenge of working in Aleppo with a camera—something new for a print journalist like me—was monumental. I'm a writer, and I'm used to blending into the background. With a camera behind you, people get suspicious and freeze; they don't like to talk. For many of the characters we met, simply being on film was a huge risk they took to show what had happened to their city and their country.
I was fortunate to have Paddy and Nicole with me. Both knew Aleppo well and are passionate about bearing witness to the suffering of civilians. Nicole had another reason for the trip to Syria. She was on a personal mission: to find information about the whereabouts of her close friend Jim Foley. When we started making the film, he had been kidnapped only for a matter of weeks, and Nicole felt the trail was fresh. Often, after we had finished our day's filming and one could hear shooting and bombing outside in the streets, she would go off to meet someone who might have information about where Jim had last been seen. She was determined that he was still alive, and she would help find him.
Since my 20s, covering the siege of Sarajevo, I had worked in war zones all over the world. But working in Syria, especially in Aleppo, was entirely different. The main difference was that in Bosnia you turned up at a frontline and took your chances. Whether or not you got injured or killed was in the hands of fate—a matter of how close a rocket or mortar landed, or if you got picked off by a sniper. I can't count the number of times I got pinned down by gunfire on a frontline in Bosnia, but I don't think the fear of kidnapping ever crossed my mind.
In Aleppo, all of us had the shadow of Jim Foley in our minds. A few days into the trip, I met a friendly and smart young reporter named Steve Sotloff. He came from Miami and spoke Arabic, having studied in Yemen. He had lived in Libya and was anxious to build a career as a Middle East expert. We became close and corresponded often. In August 2013, Steve was kidnapped, near Aleppo, and like Jim, beheaded by jihadists in 2014. Their crime? They were journalists working in the field. They were trying to tell the story. They died for that.
After their murders, I began to think about doing something else. But I am committed to this profession, although the level of risk I take now is vastly different from the risks I took in wars such as Somalia, Chechnya, Afghanistan or Iraq. I don't want to be kidnapped, and I don't want to die.
Recently, Steve's dad got in touch with me to ask if there was anything else I remembered about his son, other than what I have written in my book, The Morning They Came for Us: Dispatches From Syria. For me, that was a heartbreaking message. What if I missed my son so desperately that I needed his colleagues to remind me of what he had said, and did? I am struck, each time I see Diane Foley, Jim's mother, or the Sotloffs, by the dignity and courage they possess after enduring what must be the worst thing in the world. Both Jim and Steve are in the film, and I have watched it over and over, wondering—as I often do with other colleagues who have died in battle—whether or not they knew, or had a premonition, of what would happen. I don't think so, or they would not have been able to get up, put on their boots and go to work.
Syria is now in its sixth year of war, and the peace process is now on hold. Aleppo continues to be bombed and gassed, and unless the war stops soon, I fear the city it once was—an ancient Silk Road city, a place of great diversity—will disappear forever. Everyone who speaks in our film tries to convey that they are human, that they have lives not too different from ours—studies, jobs, families, pets, interests, homes. This film is a testament to these ordinary people.
7 Days in Syria will be available by download on iTunes, Google Play, Amazon Video and Vudu from August 26.