'Life-Threatening' Blizzard Shuts Down Much of U.S. Northeast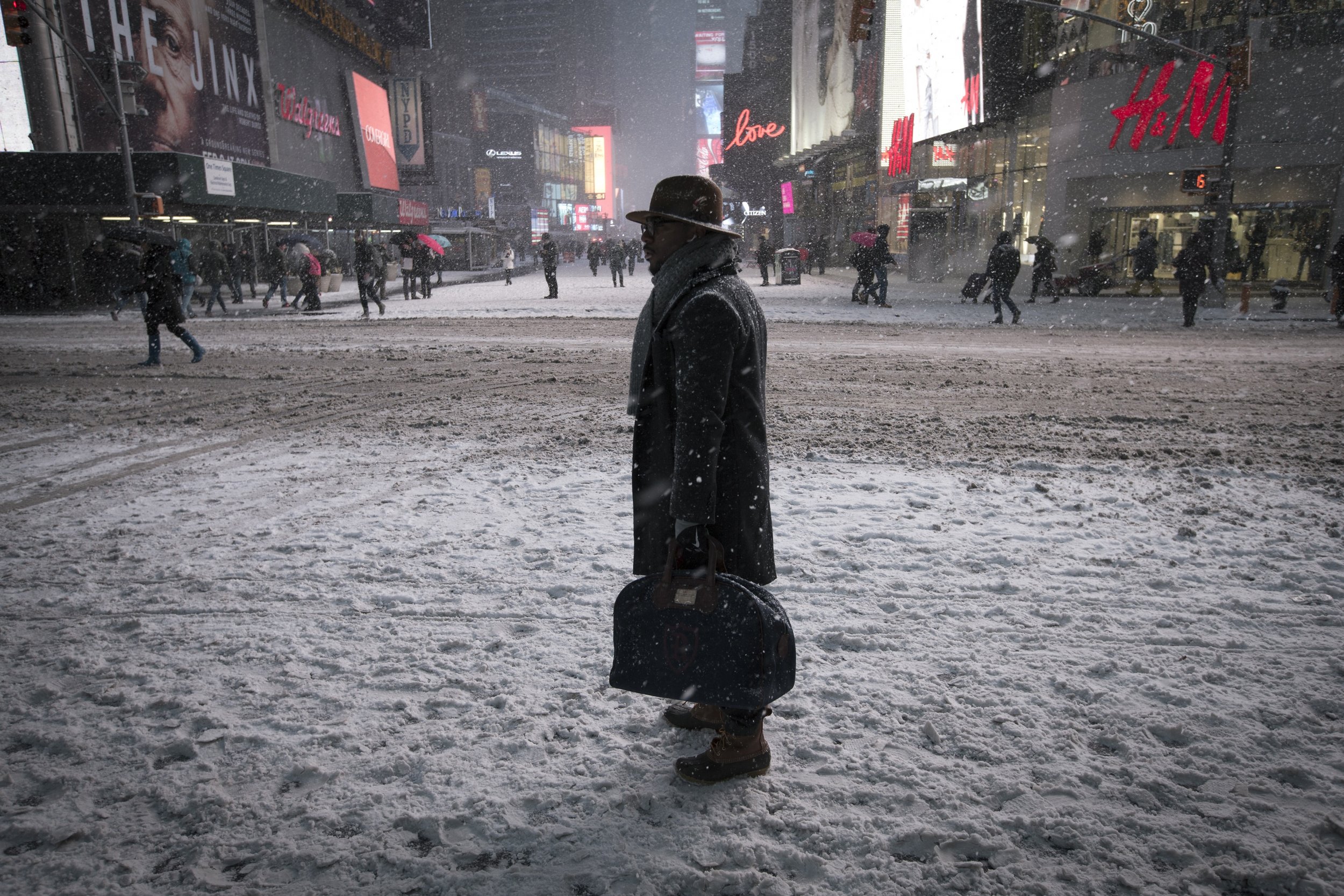 A life-threatening blizzard barreled into the U.S. Northeast, affecting up to 20 percent of Americans as it kept workers and students housebound, halted thousands of flights and prompted New York to ban cars from roads and shut down subway trains.
With memories still fresh of Sandy, a superstorm that ravaged the East Coast in 2012, the governors of six East Coast states declared emergencies. The storm could affect up to 60 million people in nearly a dozen states.
The National Weather Service warned of a "life-threatening blizzard" that could dump as much as 30 inches (76 cm) of snow on parts of the region at rates up to four inches an hour. Winds might gust up to 55 mph (80 kph) around New York City.
The National Weather Service in New York said roughly 5.5 inches of snow had fallen in the Manhattan's Central Park by early Tuesday and nearly nine inches were recorded on parts of Long Island. NWS officials in Boston reported early on Tuesday wind gusting up to 70 mph atNantucket Memorial Airport.
"Please stay home," New Jersey Governor Chris Christie told residents, ordering all but the most essential government workers in his state home from Monday afternoon until Wednesday at the earliest.
New York Governor Andrew Cuomo banned travel from 11 p.m. for all but emergency vehicles on roads in 13 counties, including New YorkCity, suburban Westchester and Long Island, with the threat of a $300 fine for violators.
"If you are in your car and you are on any road, town, village, city, it doesn't matter, after 11 o'clock, you will technically be committing a crime," Cuomo said. "It could be a matter of life and death so caution is required."
Additional driving bans in Connecticut, Massachusetts and New Jersey brought travel across the region to a standstill amid near white-out conditions.
"SNOWMAGEDDON" ON SOCIAL MEDIA
Stuck at home, many Easterners turned to social media to give voice to their frustration, adopting such storm-related hashtags as #blizzardof2015, #Snowmageddon2015 and #Snowpocalypse.
"Across NE, millions are panicked they may lose internet and have to talk to their families. Trying hard to remember names. #Snowmageddon2015," tweeted Stuart Stevens, who goes by the Twitter handle @stuartpstevens.
The United Nations headquarters gave itself a day off on Tuesday. East Coast schools, including New York City -- the nation's largest public school system, serving 1 million students -- shut down. Universities, including Harvard and the Massachusetts Institute of Technology, canceled classes.
Stock exchanges, including Intercontinental Exchange Inc's New York Stock Exchange unit, Nasdaq OMX Group, and BATS Global Markets, said they expected to stay open for normal operating hours on Tuesday.
The last time foul weather closed the stock markets was in October 2012 when Sandy hit the East Coast with flooding, punishing winds and widespread power outages.
The latest storm posed a fresh challenge to New York City Mayor Bill de Blasio, under fire from police who criticized his support of public protests about white police violence against black men. He was vilified for keeping schools open in the last major storm.
Vacationers and business travelers faced headaches as airlines canceled around 3,000 U.S. flights, with Boston and New York airports most heavily affected, according to flight-tracking service FlightAware.
New York authorities said "virtually all" flights at LaGuardia Airport on Tuesday would be canceled and cancellations at John F. Kennedy International Airport would be "significant."
Coastal flood warnings were issued along the coasts from Delaware to Maine, with tides in the New York metro area expected to be asmuch three feet higher than normal early Tuesday morning.
Amtrak suspended rail service on Tuesday between New York and Boston, and into New York state, Vermont, Massachusetts and Maine.
The biggest snowfall on record in New York City came during the storm of Feb. 11-12, 2006, dropping 26.9 inches (68 cm), according to the city's Office of Emergency Management.