A lifelong Republican in New Hampshire has explained in a video interview why he is voting for Democratic presidential candidate and former Vice President Joe Biden, attracting the attention of over one million viewers.
Les Otten, from Dixville Notch, took to Twitter and explained his reasoning for voting against the Republican incumbent President Donald Trump. "I am a lifelong Republican and I am voting for Joe Biden," said Otten. "I don't agree with him on many issues but I think it's time to find what unites us and not what divides us."
According to FiveThirtyEight, Biden is currently leading in the New Hampshire polls by an average of 11.1 points. The current state governor is Republican Chris Sununu.
Dixville Notch is an unincorporated community in Dixville Township in Coos County, New Hampshire. According to the 2010 U.S. census, the population of the township is 12. Only five of the population are eligible to vote.
Continuing to explain why he wants to vote in Biden, Otten says: "It's time to rebuild the heart of what makes us a good country—that starts with electing leaders who have good character and are truthful and will put the country's welfare above all else; who will show respect to all people regardless of their gender, their race, their religion or their political beliefs.
"My vote today is meant to send a message to all other Republicans that our party can find its way back," he continues. "It's time to return to the values that our conservative party held historically dear."
Otten goes onto explain that Biden as U.S. President would allow the Republican Party to refocus and go back to its values—the same ones held by the party with Abraham Lincoln at the helm.
Polls show that Biden currently has 53.9 percent of the New Hampshire vote (both registered and likely voters) whereas President Trump has 42.8 percent, as of November 2.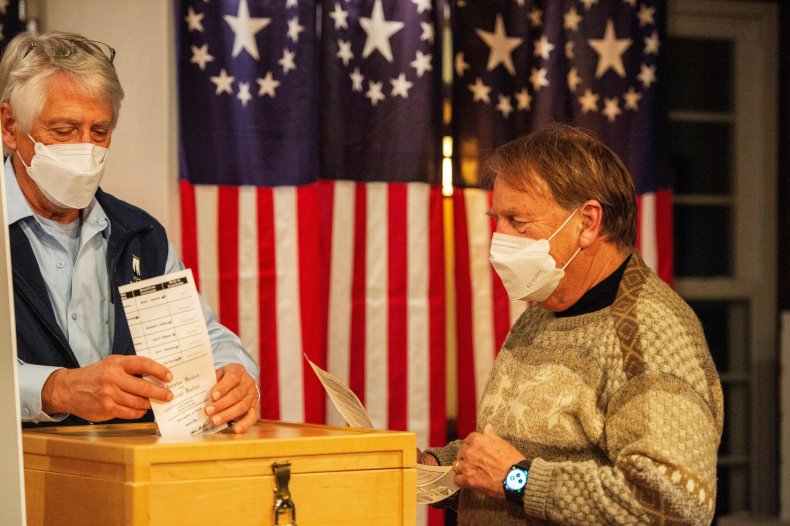 Finishing his video, Otten says: "We can become the conservative party that can lead American to greatness and prosperity again." The Dixville Notch resident was the first voter to post his vote at midnight on November 3.
The midnight vote, which has been a tradition for primary and general elections for decades, resulted in five votes for Biden and zero for President Trump.
To find your nearest polling place, visit Vote.org.