Lifetime Throws Down the Gauntlet to Hallmark With First Ever LGBTQ+ Christmas Movie
Lifetime's latest batch of Christmas movies will include The Christmas Set-Up, which will be the channel's first festive film centered on an LGBTQ romance. The movie, which will air in the fall, will air after years of complaints from queer fans of the movies that they tended to focus on relationships that were mostly between white, straight, cisgendered couples.
The network's head of programming Amy Winter said of this at a recent press event, "this year, we're even more proud to announce one of our Christmas movies will feature an LGBTQ lead story because, at Lifetime, the holidays truly are for everyone."
This could be seen as subtle shade to their holiday movie rivals Hallmark, who they are beating to the punch by featuring a gay couple in The Christmas Set-Up. In fact, Hallmark received criticism from LGBT activists in December 2019 after they pulled ads for wedding planning company Zola which featured two women kissing.
Though they eventually reinstated those ads and issued an apology for the "hurt and disappointment [they had] unintentionally caused," the incident served to make the company look out of touch compared to Lifetime, who in that same year laid the ground for their LGBTQ Christmas movie with a gay kiss in one of their movies.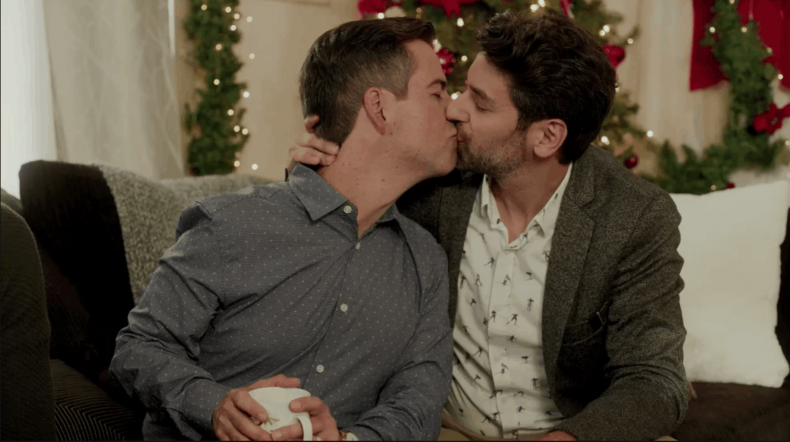 In the film Twinkle All the Way, released two weeks before Hallmark first pulled the Zola ads, the final on-screen kiss is between two men in a gay married couple, one of whom is the brother of the romantic lead.
Speaking to Daily Beast, actor Brian Sills (one of the two men in the kiss) revealed that it was an active choice on the part of Lifetime to show the two men kissing. He said: "We did a couple of takes with our kiss. We did a version with it included, and one without, with just Ryan and Sarah's. I wasn't sure until I was sent the final cut which they would use. I was thrilled to see they had used our kiss." In the same interview, he said, "It's a real testament to Lifetime taking diversity seriously."
Though The Christmas Set-Up means that Lifetime has beaten Hallmark in the race to announce an LGBTQ Christmas film, its rival could be following suit soon.
In November 2019, Crown Media Family Networks executive vice president of programming Michelle Vicary told The Wrap: "We are looking at pitches for LGBTQ movies ... and we are looking to expand and represent the United States as a whole."
Then, however, their 2020-21 lineup was announced and contained no LGBTQ+ leads. However, one of Crown Media Family Network's vice presidents said to NBC News that their Countdown to Christmas and Miracles of Christmas films, "will include LGBTQ storylines, characters and actors."
Newsweek has reached out to Hallmark for comment.
LGBTQ+ people are far from the only ones who are underrepresented by Lifetime Christmas movies. In fact, the fight to get people of color onto these films in many ways has led the way for more diverse storylines in general.
However, the fight for ethnically diverse Christmas films from Hallmark and Lifetime is far from over. In 2019, for example, Hallmark offered four original holiday movies with black leads out of 24, which was actually one less than they had the previous year.
This year's Black leads, meanwhile, include Rochelle Aytes, Tamera Mowry-Housley, Rukiya Bernard, Alvina August and Holly Robinson Peete, while Lucia Micarelli is one of the network's first leads of Asian heritage. Lifetime also has its first Asian-American love story this year.
Of course, it goes without saying that The Christmas Set-Up is only the beginning if Lifetime wants true diversity. Though casting has not been revealed yet, both male romantic leads are expected to be cisgendered men, and the two kissing husbands in Twinkle All the Way were both cis-men. It remains to be seen if and when Lifetime will commit to stories featuring transgender people, lesbians, bisexual people and other members of the LGBTQ+ spectrum.
This is especially true as when LGBTQ+ have previously appeared in Lifetime TV movies, they have often met with grisly ends that reinforce negative feelings about them. Though the channel has had some positive depictions of LGBTQ+ characters like Jeffrey Bowyer-Chapman's Jay in UnReal, they have also shown TV movies like 1997's Any Mother's Son, true story of a navy officer killed for being gay, 2006's A Girl Like Me about the murder of trans teen Gwen Araujo and Trapped, about conversion therapy.
Other TV movies like 2000's The Truth About Jane and 2001's What Makes A Family were positive family stories about lesbians, but the fact remains that if you are a trans or another LGBTQ+ person, you are more likely to die than to find love at Christmas.
The Christmas Set-Up is coming to Lifetime this fall.