'The Lighthouse' Is the One Thing You Must Watch on Amazon Prime in April — Bean Spillage Optional
Like a regularly scheduled delivery, there's a bundle of movies and TV shows surfacing on Amazon Prime every month—among them stone-cold classics, cult favorites and new originals. To help suss out some of the most worthwhile titles coming to the streaming service, Newsweek has assembled this list of recommendations, highlighting a mix of proven winners and promising prospects. And expect a fresh set of suggestions next month, just before the next batch of content arrives.
The Lighthouse
Gotta be honest: It's slim pickings for Amazon Prime Video this month. Now, don't be mistaken—there's a ton of incredible stuff already in the Amazon Prime library that you can stream at no extra charge. (Moonstruck! Midsommar! Sunset Boulevard!) But in terms of things that are new to the service, there's not much that we felt worth highlighting. (Apologies to any James Bond die-hards out there. A ton of 007 flicks did just make their way onto Amazon—if that's your thing, have a good time.)
But there is one film that we have to advocate for, one that's set to wash up on Amazon Prime halfway through the month. And that's The Lighthouse, director Robert Eggers' crazed, waterlogged and sexually frustrated (read: horny) second feature. To follow up his debut, 2015's instantly canonized horror film The Witch, Eggers cast Robert Pattinson and Willem Dafoe as a pair of lighthouse keepers isolated on a rocky island in the late 19th century. Dafoe plays Thomas Wake, a lifer of the trade and the last person you'd want to be trapped with in close quarters. He's an abusive boss, will damn you straight to Davy Jones' Locker if you dare criticize his cooking and he'll always insist that you have another drink with him. Also, he's unbearably gassy and not discrete about it. Pattinson, meanwhile, is Ephraim Winslow, an inexperienced wickie who signed up for life by the ocean in the hopes of a fresh start. Instead, he finds a dead end.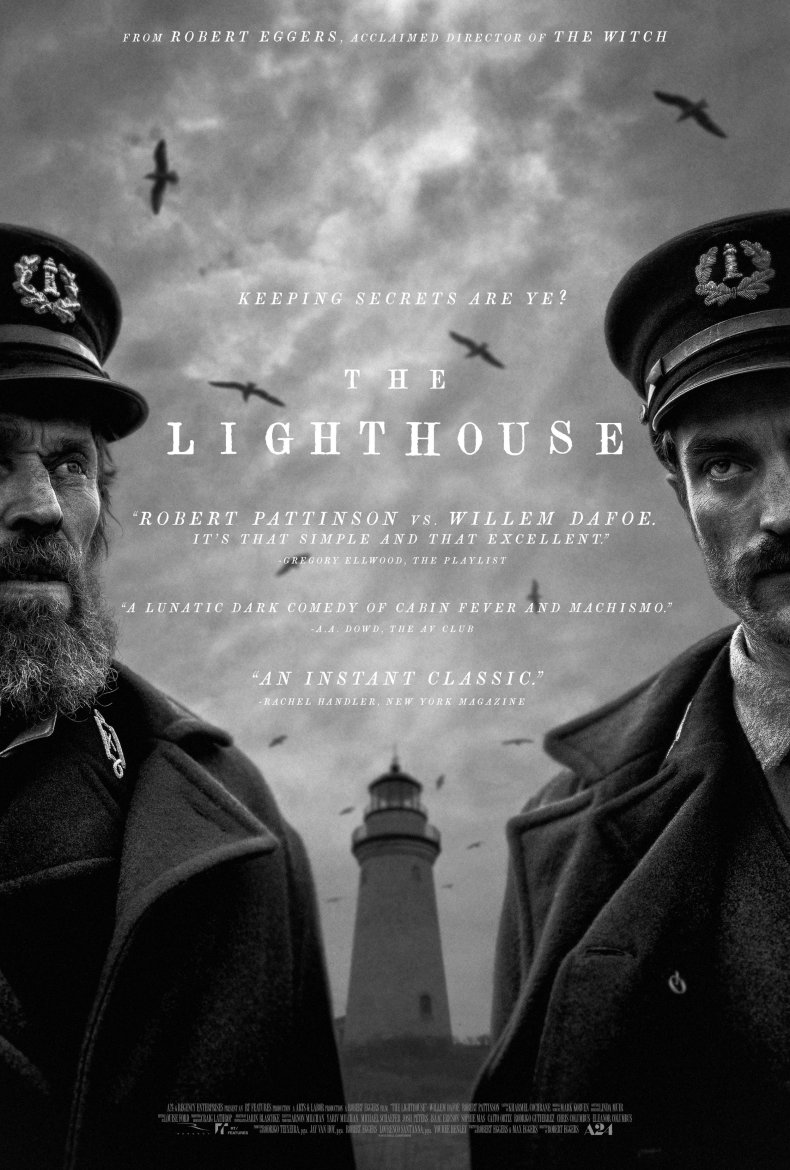 A storm keeps the duo stranded alone on the island, and that's exactly what we watch for the film's 109-minute runtime: Two guys trapped together, growing more delirious and spiteful with every passing moment. In other words, it's the perfect movie for our time of self-isolation. Winslow and Wake while away the hours by carrying out chores, getting stupid-drunk together, bickering and sharing a few intimate details about themselves. (A warning: You will never be able to un-hear Dafoe taunting, "Why'd ya spill yer beans?") The winds rarely let up, the seagulls are always watching, the chamber pots keep threatening to overflow and the picture's hemmed-in aspect ratio is as cramped as the living space. The whole thing's shot in gloomy black and white and dripping with bodily fluids.
If all that sounds deeply unnerving, you're right, it is. The Lighthouse is a grimly funny story of two people getting caught up in seemingly supernatural circumstances and succumbing to madness. But at least now you're better prepared for it than Winslow.
The Lighthouse begins streaming on Amazon Prime on April 16.