Lightning Strikes Plane, Seven Passengers Hospitalized
At least seven people were injured on a flight from Texas after lightning reportedly struck the plane.
Lufthansa flight 469, which was flying from Austin to Frankfurt in Germany, was diverted to Dulles International Airport in Virginia after experiencing "significant turbulence" on Wednesday night, a spokesperson for the Metropolitan Washington Airports Authority confirmed to Newsweek.
The plane landed safely at at 9:12 p.m., the spokesperson said.
"Authority personnel responded to the flight and transported seven people to local hospitals," they added.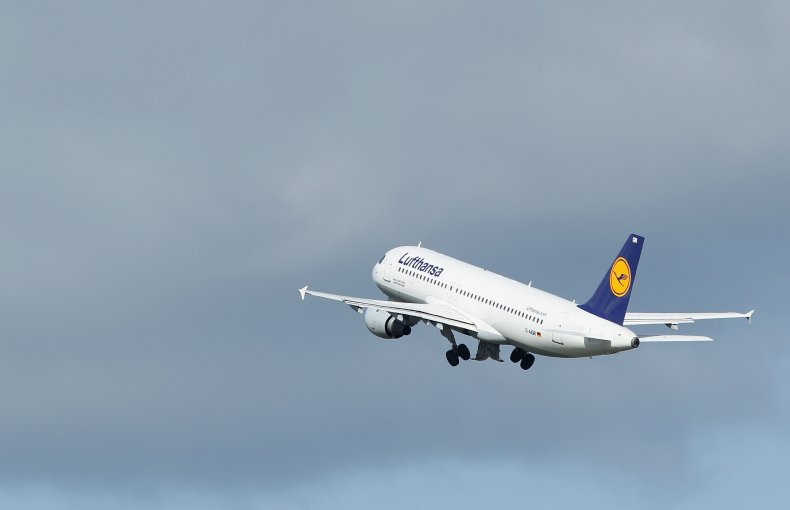 The crew of the Airbus A330 reported encountering severe turbulence at an altitude of 37,000 feet over Tennessee, the Federal Aviation Administration told Newsweek.
A Lufthansa spokesperson said the "brief, but severe" turbulence happened about 90 minutes after takeoff.
"The Lufthansa flight made an unscheduled landing at Washington Dulles Airport as a precautionary measure," an airline spokesperson told Newsweek.
"After the Airbus A330-300 landed, affected passengers received medical attention. Lufthansa ground staff at Dulles are currently attending to the well-being of passengers and rebooking them accordingly.
"Lufthansa regrets the inconvenience caused to passengers. The safety and well-being of passengers and crew members is Lufthansa's top priority at all times."
A Twitter user posted that his wife had been on the flight and that the people who had been injured were not wearing seat belts because the turbulence came as a surprise.
"My wife was on that flight she sent this pic," @ModerMuna wrote alongside a photo.
"This is what the inside looked like food everywhere, people who didn't have the seat belts fastened got hurt mostly cause it came as surprise without seat belt sign on and [lightning] hit the plane badly went 1k ft down & up."
Susan Zimmerman, a passenger on the flight, told CNN that she had just finished eating and was about to get up when the turbulence hit.
"During dinner service, there suddenly was a wind shear, the plane increased altitude, then we fell 1,000 feet," said Zimmerman, who is five months pregnant.
"It was like unexpectedly free-falling for five seconds off the top of a rollercoaster. Plates and glassware were up at the ceiling, and my purse from the floor flew behind me to the right."
She said she heard people screaming and glass breaking as the plane felt like it was dropping. "There was a moment of 'oh my God, am I going to meet my daughter,'" she said.
Zimmerman avoided injury, but said she saw other people who had been hurt. First responders came aboard and tended to those people when the flight landed, she said.
Update 03/02/23 4:43 a.m. ET: This article has been updated with comment from the Metropolitan Washington Airports Authority and an amended headline.
Update 03/02/23 5:45 a.m. ET: This article has been updated with additional information.
Update 03/02/23 10:50 a.m. ET: This article has been updated with comment from a Lufthansa spokesperson.