Lightning Bolt Caught on Video as It Strikes Near Woman, Dog
A woman walking just outside her home with her dog is seen nearly jumping out of her skin as a terrifying lightning bolt zaps the ground just feet away.
The powerful thunderbolt was filmed in Gypsum, Colorado, on July 20.
In the footage, the woman stands by her porch as the lightning strike hits the ground, sending up a huge puff of smoke, sparks, and dust.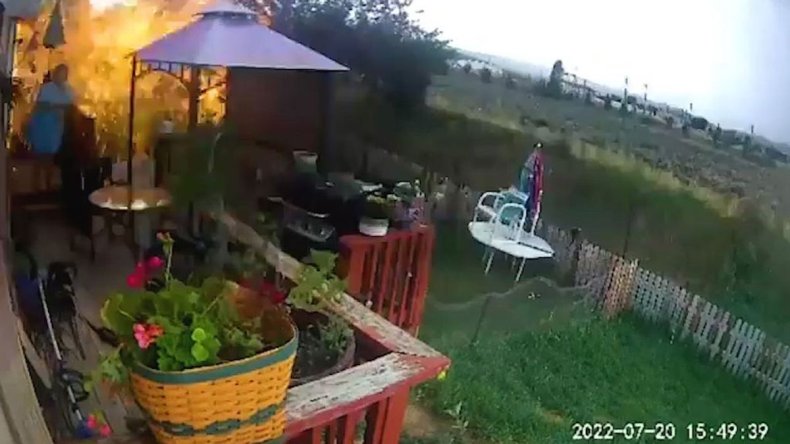 As she jumps into the air in shock, a loud bang can be heard.
The woman then covers her ears and puts her hand to her chest apparently in fright.
She seems so disturbed she staggers on the steps and cannot even seem to find her way to her front door.
Fire department officials said no one was injured in the incident and the property only sustained minor damage.
Gypsum Fire Protection District of Eagle County said Thursday: "Check out this amazing video of a lightning strike in Gypsum yesterday.
"We responded, and luckily there were no injuries and only minor damage to the house."
The fire department said at least three wildfires are raging in the Gypsum area after the lightning storm.
It stated: "At least three wildfires may have been sparked by lightning in the Eagle and Gypsum area.
"The Eagle County Sheriff's office says that several agencies are responding. They are working to put out fire at the end of Wapiti Road in Eagle, near Red Hill in the town of Gypsum and near Sylvan Lake State Park.
"The fire near Red Hill is called the South 133 Fire. It is estimated to be 10 acres in size and it's burning between Gypsum and Dotsero.
"The fire off Wapiti Road north of Interstate 70 near Eagle is contained."
"The sheriff's office asks if you see smoke in those three areas, do not call 911 as it could tie up the phone lines for other emergencies."
Gypsum Fire Protection District said: "Since 1911, we have been your neighbors, willing to help you at any time with any emergency. We exist to provide assistance in emergency situations safely, calmly and expeditiously. Through training we develop the 'we can do that' philosophy.
"We will provide exceptional emergency service. We are to provide assistance in emergency situations safely, calmly, and expeditiously.
"We will train to the highest level possible, nurturing firefighters with a 'can do' attitude. Provide the tools to firefighters to mitigate emergency situations efficiently.
"Since 1911, that same small town attitude still exists."
This story was provided to Newsweek by Zenger News.