Lightning Bug on Finding Confidence and Positivity for Their New LP 'A Color of the Sky'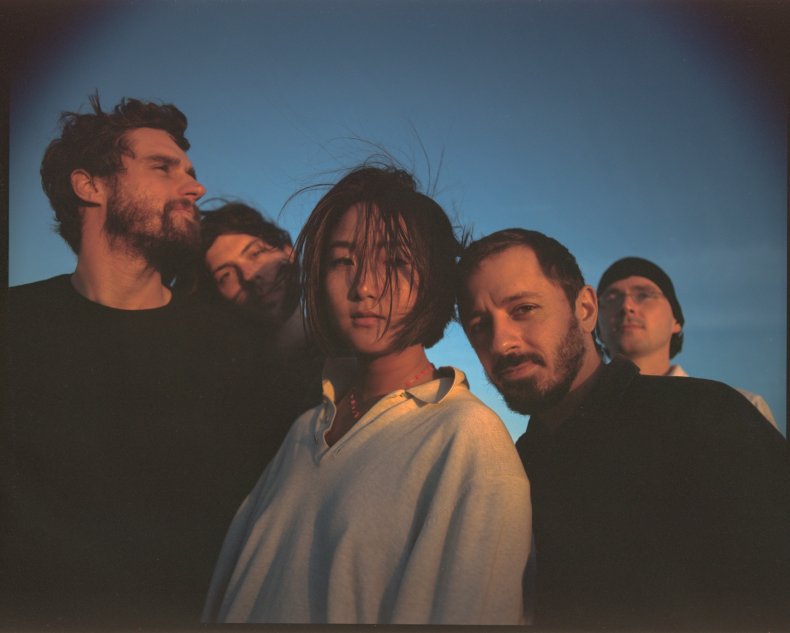 Lightning Bug, the New York-based alt-rock band, had just released their third album A Color of the Sky two weeks ago on Fat Possum Records, their first one for that respected independent label. But the five-piece group are not exactly resting on their laurels just because they have new music out. According to lead singer and songwriter Audrey Kang, she's already thinking about the next project.
"I'm so focused on new music right now," she tells Newsweek in a recent interview. "After releasing this record, I'm just writing new songs. It is nice to hear both good and bad things about the record. Honestly, I find the negative criticism a little bit more interesting than the positive. But I've been pretty focused on working on new stuff."
It's an optimistic assessment by Kang, given that the future of the group—whose core lineup includes herself, guitarist Kevin Copeland and synth player/engineer Logan Miley—was, for a time, somewhat in doubt. That positive perspective permeates on A Color of the Sky, a dreamy and sumptuous collection of textured and atmospheric soundscapes bordering between pop music and the avant garde.
"I really sought to be more uplifting and more of a positive force," Kang says," whereas in previous albums, that wasn't my purpose. I wasn't really seeking to be as universal as with this record. It's funny reading some reviews that describe it as music for sadness, because actually I was attempting to write more confident songs. So there's a huge difference really between the intention of the previous records and this record, where I was seeking to be more like empowering."
Not just reflected in the songwriting, but the group's music sounds more dynamic while retaining the warmth and intimacy of their past efforts, further bolstered by the addition of drummer Dane Hagen and bassist Vincent Puleo. "It definitely was a very different process writing- and recording-wise," says Copeland. "But in terms of the way it feels, it does feel like a very natural next step. [Previously] I would play drums and the bass, and Logan would do everything one bit at a time."
A majority of A Color of the Sky was already recorded just before the pandemic's arrival early last year at a home in the Catskills that became Lighting Bug's studio. "We knew we wanted to go somewhere to do it," said Copeland of the recording environment, "and we had a sort of list of requirements that this house hit every one. It was really cozy, and I feel like we were all much closer together than we would be in a studio and also it was snowing the whole time. [It] definitely seeped into the record."
The lyrical impetus behind the songs of the new album can be attributed to Kang's 2019 visit to the Pacific Northwest, where she not only camped and hike by herself, but also attended a kite festival in Washington. At the time, she was working through a period of extreme indecision and stress. "Obviously, New York City is like a rather stressful place to live," she recalls. "I had just left my job, I had broken up with my partner, and Lightning Bug was possibly over. Then you're in the Pacific Northwest, and every day all you have to do is go and watch these kites. I just sat on the beach and watched thousands of different kinds of kites. It's really a spectacle. It was just such a moment of peace and clarity for me. I think having that space to feel safe helped me find the confidence I was sort of missing."
Highlighted by Kang's exquisite voice and the otherworldly soundscapes by the band's musicians, the music on A Color of the Sky carries a mostly peaceful subduedness with the occasional moments of intensity. The first single released ahead of the record was "The Right Thing Is Hard to Do," a song that Kang says she wrote in a moment of inspiration.
"The song started from the final lyrics, which are: 'And closer to the root I see/When I look past the fallen leaves/Love steady grows.' I have this plant that I'm really obsessed with, that is one of my house plants. And I thought I was dying because it was losing all its leaves. (laughs) So it's actually a very literal inspiration because I was examining this plant and thinking about my own life subconsciously: 'Oh wow, I'm losing all these things. I feel like I'm dying.'
"Not to be dramatic, but I was feeling bad. I looked at this plant. I'm like, 'You're feeling bad, we're also feeling bad.' And I looked more closely at it and I realized that its roots are strong. So those lyrics sprang out of me at first. And then from there, the whole song grew outwards."
Then there's "September Song, pt. ii," a sequel to "September Song" from the band's previous album October Song. "It definitely is haunting," says Copeland of the track's vibe. "I feel like the way Audrey described that song when we started to make it was like the turn from summer to fall, when the air changes that one day you wake up and you feel like the world is different. I feel like fall is a very haunted period of time. Musically, all came out from that description."
Amid the record's mostly intimate and subdued nature comes "Song of the Bell," one of the more rocking and noisy numbers. "It's actually funny because we wrote that song to sort of fill a void that I felt was missing in the record," Kang says. "I knew that all the songs were relatively relaxed. And so I wanted a song that sort of hit harder and dug in more. It was actually the beginning of quarantine where we were both just getting used to the lockdown, and I was reading the Tao Te Ching and there was a phrase in it about emptiness: 'To be empty is to be full.' With this new time in quarantine, there's so much more free time. That sort of inspired me to write this song. It came together in 15 minutes between Kevin and I."
Lightning Bug formed about seven years ago—Copeland and Logan attended college together, and they and Kang shared mutual friends. "I was idly playing a melody that I had written when I was a child on the keyboard," Kang recalls. "Logan was there, and he was really drawn to that. He was like, 'We should start a band together.' I was like, 'I don't know how to be in a band.' He asked me if I had written songs, and I said, 'I do, but I don't take it seriously. I just do it for myself.' He sort of gave me the opportunity to flesh out a song for the first time, and that was "Lullaby no. 2," which is off our first record [Floaters]. That was the very first Lightning Bug song. And from there, I just kept writing songs and I kept bringing them to Logan and eventually Kevin."
Lighting Bug have drawn attention and acclaim in their relatively young career; Pitchfork gave their previous album October Song a 8.0 rating. While their hazy-sounding music have drawn comparisons to such shoegazing and dream pop acts like My Bloody Valentine, Mazzy Star and Cocteau Twins, the band members cite more eclectic inspirations. "The Flaming Lips are a huge one," says Kang. "I haven't seen them brought up once. I was really inspired by the record Donuts by J Dilla for this past record. I listened to that nonstop, all of us listened to that record. And a lot of folk. I think most Lightning Bug songs start out as a folk melody—a lot of Fairport Convention."
Adds Copeland: "I almost think of Lighting Bug more like classical music or film scoring, that's what it feels like. Sheryl Crow is a big inspiration. I laugh when I say it, but I'm serious. I think she effortlessly blends these sort of super-catchy melodies with country and rock in a way that I feel like no one ever does."
Lightning Bug are readying to perform live once again starting in late summer with dates opening for Bully. Meanwhile, both Kang and Copeland's attitude towards Lightning Bug's new record is the equivalent of inviting a listener to embark on a journey. "I hope people are able to stop and enter the world," Copeland says. "That's all that I really hope for, is that people can drop into that space for a moment."
"I feel like these days a lot of people are expecting things to be extremely entertaining," says Kang. "We have such an attention deficit and all these distractions. I hope that as people listen to this record, they can enter a world where that's free of that—where a song doesn't necessarily have to knock you over the head with the catchiest hook, but that you can continue to go back to and find new things every time."