Lightning Strike At PGA Golf Tournament In Atlanta Injures Six People
Six people were injured at a PGA tournament in Atlanta on Saturday after lightning struck a tree underneath which they were standing to seek shelter from a storm. It happened after play had already been suspended in the third round for almost half an hour when the strike occurred at East Lake Golf Club.
Officials from the PGA said the tree struck was at an area that's between the practice range, the 15th green and 16th tee. Six people — five men and a girl — were injured as a result from the lightning strike had been taken by ambulance for further medical attention.
"Our latest report is that their injuries do not appear to be life-threatening," The PGA stated. "The safety of our fans, players and partners is of the utmost importance. We will provide further updates as they become available."
A man making a food supply run on a golf cart told Channel 2 in Atlanta that he recalls when the lightning struck as he was in between runs.
"All of a sudden, it was just like a BOOM. Like a bomb went off," said Billy Kramer, owner of NFA Burgers. "There were people screaming."
Kramer himself was injured and seeking treatment at a hospital, according to WSB-TV.
James White, a spokesman for the Atlanta Police Department, said the six people sought shelter underneath the tree before lightning hit it. He added the injured persons were "alert, conscious and breathing," per this CNN report.
Another person seeking shelter near the lightning strike said it felt like an explosion, and that a breeze was immediately felt after the strike.
"There was just a big explosion and then an aftershock so strong you could feel the wind from it," said Brad Uhl of Atlanta. "It was just a flash out of the corner of the eye. It was raining, and everyone was huddled near the tree."
WSB-TV meteorologist Katie Wall had been tracking the storm as it moved through, and she described the thunderbolt's energy as it ripped into the golf course, damaging some parts of it.
"A lightning bolt has multiple tendrils. So you can have one lightning bolt step down, but it's 120 million volts trying to get rid of all that energy," Walls said. "And that's why we tend to see several locations in the area impacted"
East Lake Golf Club is hosting the FedEx Cup Championship this weekend.
The third round of the tournament will pick back up on Sunday morning at 8 a.m. ET with Justin Thomas leading the field in the third round. Brooks Koepka and Rory McIlroy trail Thomas by one stroke.
The Tour Championship has been held at East Lake GC every year since 2004, and this year's tournament will win $15 million.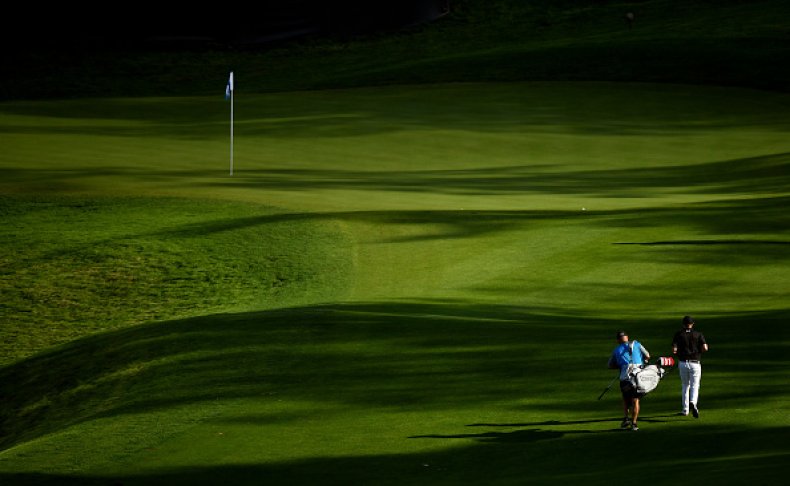 Lightning Strike At PGA Golf Tournament In Atlanta Injures Six People | News