Twitter has added a fact-check warning to tweets promoting a conspiracy theory about the origins of the coronavirus which were sent by China's foreign ministry spokesperson.
The retroactive decision comes a day after similar labels were placed on tweets sent by President Donald Trump, in response to queries from media organizations including Newsweek.
Twitter said it had added labels to the tweets sent two months ago by spokesman Lijian Zhao who warned, "It might be U.S. army who brought the epidemic to Wuhan." Another tweet from him linked to an article claiming the virus originated in the United States.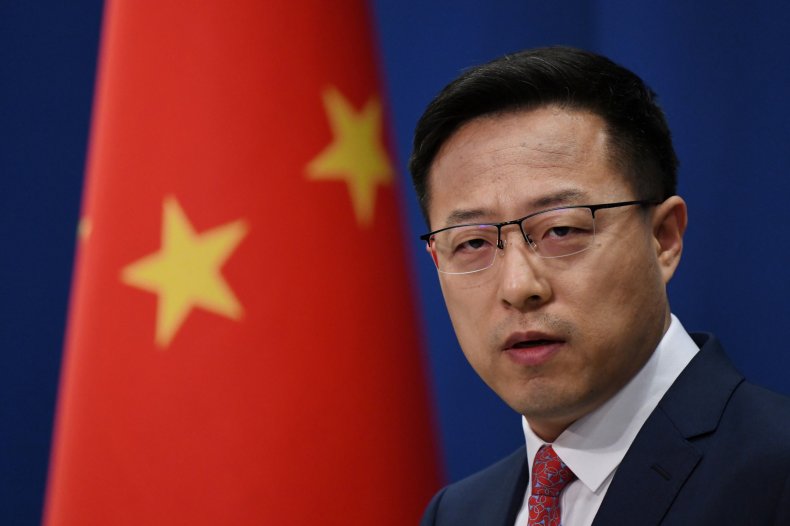 Under the tweets now there is a message directing readers to a page of tweets outlining the World Health Organization's research that the disease originated in animals.
The New York Post broke the story, accusing Twitter of a double standard in its treatment of Zhao and Trump.
In a statement to Newsweek Thursday, a Twitter spokesperson said: "The tweets in question contain potentially misleading content about COVID-19 and have been labeled to provide additional context to the public.
"These actions are in line with the approach we shared earlier this month."
The social media giant said that the move followed a broadening of its policy guidance which addressed content that contradicts authoritative sources of public health information about the disease.
On May 11, Twitter announced a new policy "to limit the spread of potentially harmful and misleading content," in particular regarding false information about the coronavirus.
The spokesperson said the labels and warning messages would provide additional explanations or clarifications "in situations where the risks of harm associated with a Tweet are less severe but where people may still be confused or misled by the content."
Trump has threatened to take action against social media companies which he has accused of trying to "silence conservative voices," saying that "we will strongly regulate, or close them down, before we can ever allow this to happen."
Social media outlets are protected both by the First Amendment and Section 230 of the Communications Decency Act, which allows social media companies to moderate what goes on their platforms.
Clay Calvert, First Amendment expert and professor of law at the University of Florida, told Newsweek: "President Trump has no legal authority or standing to close down a social media platform such as Twitter or Facebook on his own."
Facebook CEO Mark Zuckerberg has taken aim at Twitter, telling Fox News it would not intervene in censoring public posts unless there was a threat of imminent harm.
"We have a different policy, I think, than Twitter on this," Zuckerberg told Dana Perino, host of the Fox News show The Daily Briefing, in an interview clip.
"I just believe strongly that Facebook shouldn't be the arbiter of truth of everything that people say online. In general, private companies probably shouldn't be, especially these platform companies, shouldn't be in the position of doing that," Zuckerberg said.