'Like a Dream Come True': Habitat for Humanity Completes First 3D-Printed Home
April Springfield and her 13-year-old son have officially moved into Habitat for Humanity's first completed and occupied 3D home in the United States.
Habitat for Humanity Peninsula and Greater Williamsburg partnered with 3D printing home construction company Alquist to construct the home in Williamsburg, Virginia.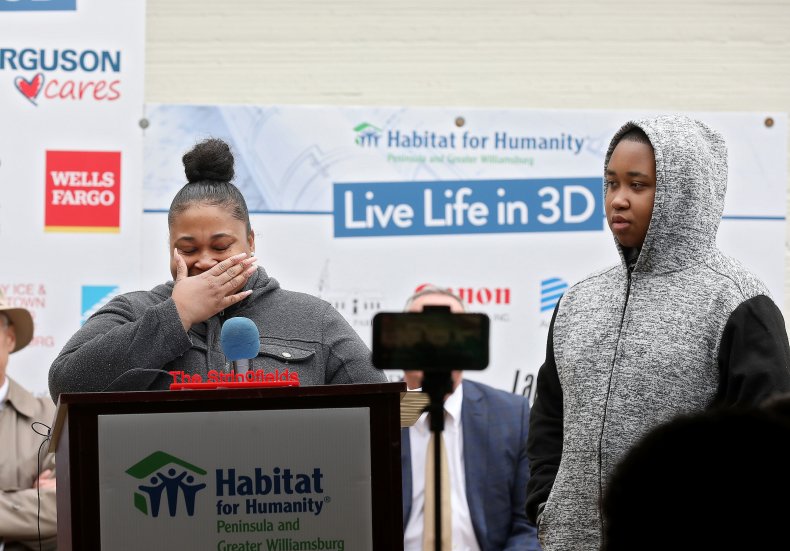 The entire exterior of the 1,200-square-foot, three-bedroom, two-bathroom home was constructed using 3D technology.
"I've always wanted to be a homeowner and it's like a dream come true. [I]t's hard work raising my son but I think I'm doing a good job," said an emotional Springfield during the December 21 ribbon-cutting ceremony outside her new home. "I'm trying to show him if you believe in something then you can do it."
The new home reminds her of her childhood home, she added.
Concrete used by Alquist to construct the 3D exterior resulted in estimated savings of up to 15 percent per square foot in building costs. Concrete provides additional long-term savings due to better temperature retainment, savings on heating and cooling costs, and better resistance to tornado and hurricane damage.
Each new home constructed by Habitat for Humanity Peninsula and Greater Williamsburg also adheres to EarthCraft certifications or participation in a voluntary green-building program that aims to reduce utility bills and minimize environmental damage.
Springfield has worked at a local hotel for nearly five years supervising laundry facilities. However, her income remains less than about 80 percent of her community's median income.
Due to being part of Habitat for Humanity's homebuyer program, Springfield's home has resulted in monthly mortgage payments no greater than 30 percent of her income, as well as her real estate taxes and homeowner's insurance.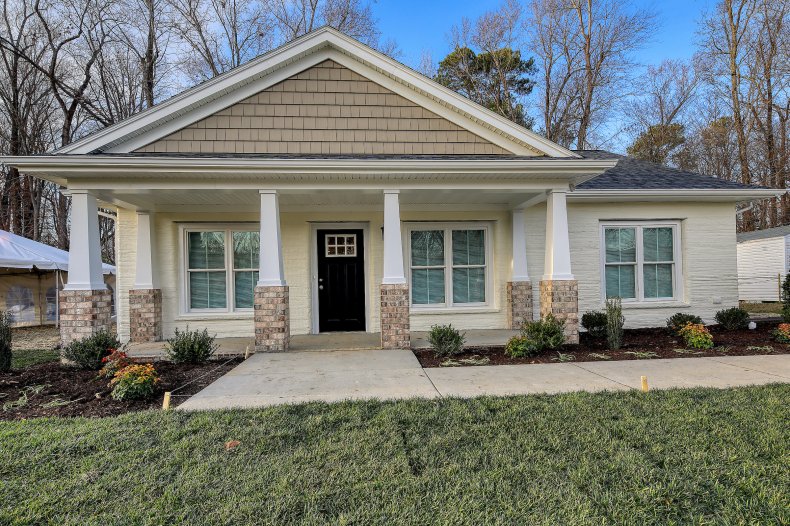 Janet V. Green, CEO of Habitat for Humanity Peninsula and Greater Williamsburg, told Newsweek that many people think the nonprofit organization simply constructs homes left and right without stipulations attached.
That's not the case, she said, as homeowner families still need to apply and show need, steady employment and good credit.
In Springfield's case, she applied to the homebuyer program in 2019 along with four other families in Williamsburg. She was then proposed with the option to receive a 3D home.
"I wouldn't say it was as much as luck [to get the 3D home offer] as she was next on the list with Habitat," Green said.
Springfield was first approached about utilizing the technology in summer 2021. Then, construction began in late July, early August and the home was dedicated December 21.
Green said it took about 28 hours to print the exterior of the home, reducing the standard construction schedule by four weeks. The home's interior mimics any other traditional home.
Springfield and her son spent their first night at the home on December 26. The appraisal has not yet been completed, so it's unclear what the total cost savings will be due to utilizing the technology.
"We hope that this technology will be utilized quite a bit moving forward," Green said. "We like to say this is another tool in the toolbox."
She clarified that she doesn't believe 3D construction will replace standard technicians, in addition to the countless volunteers that participate in Habitat projects.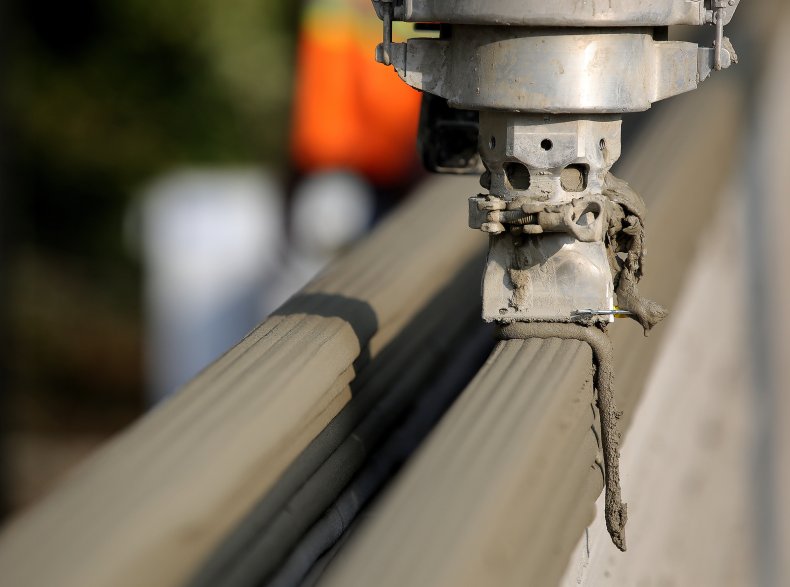 For Green, who has been with the local Habitat organization for 20 years, it's always a thrill to complete any home and see the gleam in children's eyes as they are likely to grow in a community and contribute in numerous ways as they age, she said.
But this build was unique.
"The difference primarily with this home is we were so very honored we had numerous partnerships and generosity with many builders and donors," she said. "Over 50 companies contributed to this home, either by donating cash or in-kind products."
Alquist's future 3D projects include homes in rural communities in Arkansas, California, Iowa, North Carolina, North Dakota and Pennsylvania.