With elections in Georgia scheduled for October 2024, opposition figures in the country warn that the country's long-sought integration with the West will depend largely on the result of a vote that is unlikely to be fully free and fair.
Fifteen years ago last month, Russian forces rolled into the independent Republic of Georgia, which was battling forces sympathetic to Moscow in two breakaway provinces . In a conflict that foreshadowed in many aspects the one that began six years later in Ukraine in 2014, Russia continues to occupy the 20 percent of Georgian territory it gained in that invasion, a presence that has afforded it significant influence over the parliamentary government in Tbilisi.
"Russia very successfully used the elections in 2012," Salome Samadashvili, a member of parliament from the Lelo for Georgia party and the country's former ambassador to the European Union, told Newsweek. "The current government's propaganda spread the message that the 2008 war was the fault of the pro-Western political bloc, and that they are the only ones who are capable of avoiding a war with Russia."
However, unlike in its 2022 invasion of Ukraine, which saw Moscow's troops make a run for Kyiv in the opening days of the war, the Russian forces who fought their way into Georgian territory in 2008 stopped without making a serious attempt to seize the capital.
Instead of trying to overthrow the administration of then-president Mikheil Saakashvili by force, Russia ceased offensive operations after only five days. It then set to work contributing to the removal from power of Georgia's pro-Western government by democratic means.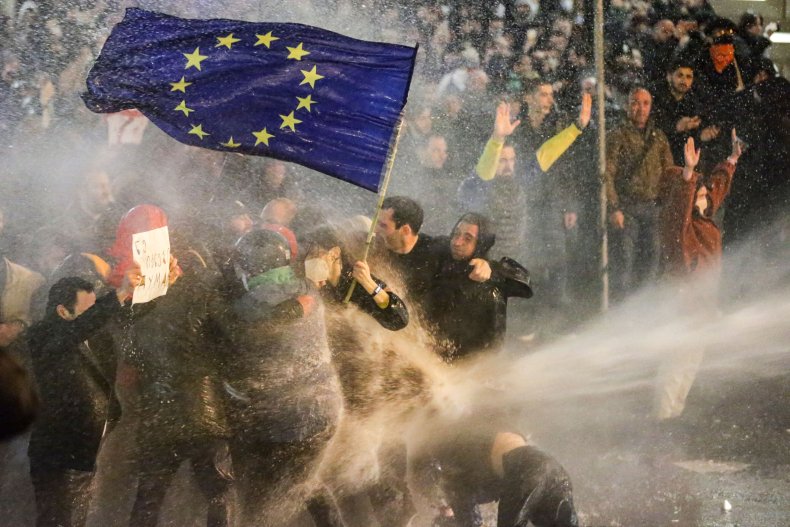 Despite polls from the International Republican Institute showing that 89 percent of Georgians still support their country's further integration with the European Union, the ruling Georgian Dream party, which has held office for the past 12 years, appears to be intent on steering the country off of its formerly pro-Western course.
The EU is expected to hold a vote this December regarding Georgia's candidacy status. Most observers expect that the Tbilisi government's failures to implement necessary pro-democracy and anti-corruption reforms will lead to yet another refusal from Brussels, just as it did the last time the question came up for a vote in June 2022.
On a visit to Tbilisi last week, High Representative of the EU for Foreign Affairs and Security Policy Josep Borrell made clear that when it came to integration, "the door is open, and we want to support you on the way."
But Borrell went on to say that "candidate status is not something that countries are entitled to. It needs to be earned...through serious reforms and adherence to the European Union's values, and to be frank, there is still quite a bit of work to be done" by Georgia.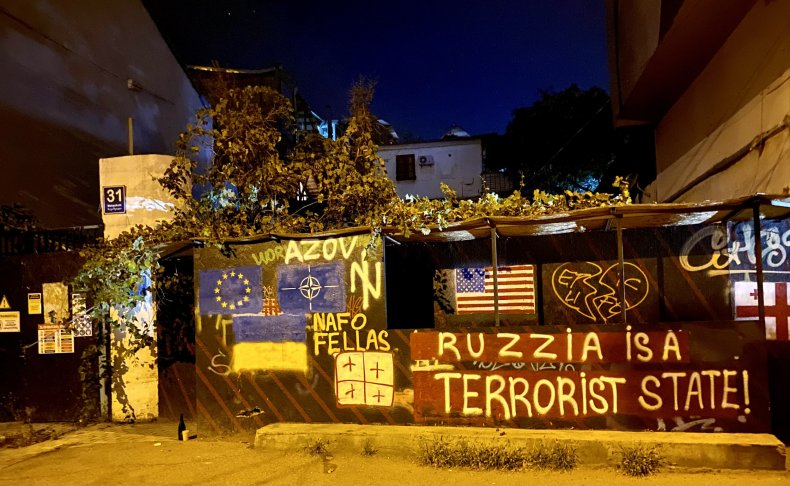 Samadashvili argues that the failure of the Georgian Dream party to take the steps necessary to obtain a positive vote in Brussels could put its political future at risk.
"Georgian Dream is gambling by alienating the EU," she said.
Samadashvili raised the example of former Ukrainian president Viktor Yanukovich, who in November 2013 decided against signing an association agreement with the EU. The move inspired a grassroots protest movement that saw him flee to Russia for refuge only three months later.
But she said that Georgian Dream is avoiding withdrawing their country's EU membership bid unilaterally, seeking instead to accomplish the same end by "trying to behave so poorly as to make it impossible for the EU to grant a candidacy status."
"How this will impact their political future remains to be seen," she added, "but I believe it will blow up in their face."
The office of Georgian Prime Minister and Georgian Dream member Irakli Garibashvili did not respond to Newsweek's request for comment.
Nika Gvaramia, founder of the independent Mtavari television network, said pro-government media outlets regularly refer to the country's opposition as "the global party of war" and as "international agents," going so far as to claim that the EU's decision regarding Georgian candidacy will be determined by whether or not the country "agrees to open up a second front against Russia."
But he noted that the Georgian Dream party attempts to walk a fine line.
"There are elections coming up, and if they openly say 'we are for Russia,' they know they will lose," Gvaramia explained. "Maybe after the elections they will come out and announce their true allegiances, but there's a reason why they talk about being 'for peace' instead of saying that they are 'for Russia.'"