Lil Nas X is promoting his upcoming album MONTERO in original style with a series of eye-catching billboards.
The "Call Me By Your Name" singer has placed a number of parody advertisements up across Los Angeles and shared the evidence on his social media accounts.
Following on from his 2019 EP 7, MONTERO is Lil Nas X's debut studio album and it's available to buy, stream and download now. The new record also has features from Miley Cyrus, Elton John, Megan Thee Stallion, Doja Cat and Jack Harlow.
What Do Lil Nas X's Billboards Say?
Lil Nas X shared four photos on his social media channels of different billboards put up around the Los Angeles, California. Each image is reminiscent of classic lawyer advertisements, asking the reader loaded questions.
Here's everything the billboards say in full:
Gay? You may be entitled to financial compensation!
Are you single, lonely and miserable? You may be entitled to financial compensation!
Do you hate Lil Nas X? You may be entitled to financial compensation!
Do you miss the real America? Visit welcometomontero.com to see how we can take our country back.
Each billboard features that same web address and a QR code. The website in question is his promotional album website, which features Lil Nas X's now iconic album cover of him naked and ascending, surrounded by bright colorful imagery.
The website features the full album's track list, links to listen, the video for his newest single, "That's What I Want," and links to a "baby registry" that features a number of links to charities where people can donate.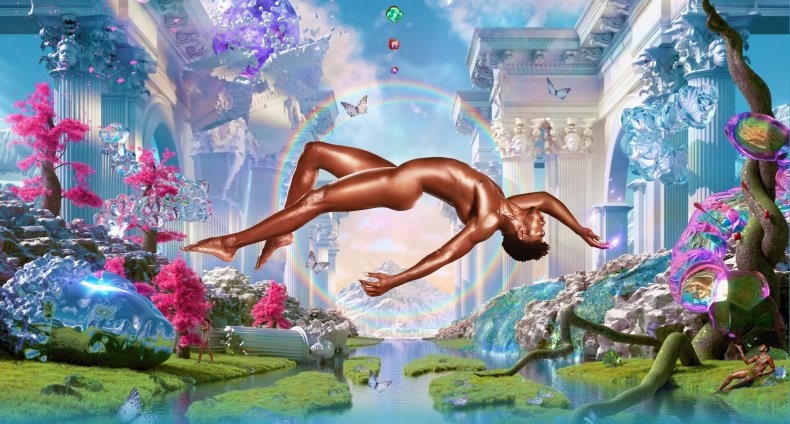 Another MONTERO Promotional Push
Lil Nas X has been using his social media channels to promote his upcoming album in several imaginative ways.
He'd been teasing that he was pregnant for a while, featuring pictures and videos of him preparing to give birth on his Twitter, TikTok and Instagram.
Early this morning, the day of his album release he shared a minute-and-a-half long video of himself going into labor, suffering with contractions.
After pushing, the album cover appears from beneath his hospital gown and he cradles it like a newborn baby. The video has already gained millions of views across his social media channels.
Before the birth, he'd also set up a fake daytime talk show called The Montero Show where he was the eccentric host interviewing a pregnant Lil Nas X.
Recent Red Carpet Looks
Lil Nas X had a busy weekend in the build up to his album release.
At the MTV Video Music Awards 2021 he arrived wearing a curly wig and a prom dress before going on to perform and win at the VMAs.
Two days later he made an impact at the 2021 MET Gala with his trilogy of looks on the red carpet. Starting out with a huge ball gown, he disrobed to reveal a slimming gold robotic look, before taking those armor plates off to unleash a skin-tight gold encrusted suit.