Lil Nas X Satan Shoes Inspire Illuminati Conspiracy Theories
Conspiracy theorists have labeled rapper Lil Nas X a member of the fictional Illuminati after he revealed his controversial pair of "Satan Shoes."
The pair of black and red sneakers feature a pentagram and inverted cross design and, most controversially, each of the 666 pairs contains a single drop of human blood, according to the creator.
New York-based MSCHF made the sneakers by modifying Nike Air Max 97s and have priced each pair at $1,018, a reference to the Bible passage Luke 10:18, which reads: "I saw Satan fall like lightning from heaven."
Nike has distanced itself from the design and told CNN: "We do not have a relationship with Lil Nas or MSCHF. Nike did not design or release these shoes and we do not endorse them."
The shoes will go on sale online via a "drop" later today and just days after Lil Nas X premiered the video for his track "Montero (Call Me By Your Name)" on Friday, March 26.
Lil Nas X's Satanic-inspired design and new music video, which features the rapper twerking on the Devil, was criticized online, including by people who said it showed the artist was either a member or puppet of the Illuminati, a fictitious global conspiracy.
One account, which has about 11,400 followers, said: "Lil Nas X is a puppet!!! All that s*** is Illuminati. That video. Them ugly a** shoes. His whole brand screams Illuminati. It's some weird and crooked s*** that's been going on with the media."
Another account with more than 1,060 followers tweeted: "Rapper Lil Nas X unveiled a limited edition of 'Satan Shoes' that contain human blood and are limited to 666 pairs.
"The Illuminati is at work and openly letting the public know its affiliation with Satan. God's judgment is on its way."
A third account with 1,670 followers posted a reply to a person who was angry people were not listening to Lil Nas X's music, but continuing to listen to artists they believed were members of the Illuminati.
The message read: "Probably because none of these or rumored Illuminati artists have slid down a stripper pole to hell, or given Satan a lap dance. The difference is that the other artists are rumored to have these beliefs. Lil Nas X showed that he does without a doubt worship Satan."
Lil Nas X, whose real name is Montero Lamar Hill, appeared aware of attempts to connect him with the Illuminati conspiracy theory in a tweet posted on Friday.
The Georgia singer said: "I'm gonna be so pissed if I don't get any Illuminati conspiracy videos. I worked so hard for this."
His video sparked wider outrage from Christians, including from South Dakota Governor Kristi Noem and Pastor Mark Burns.
The Republican Governor said of the shoes in a tweet: "Our kids are being told that this kind of product is, not only okay, it's 'exclusive.' But do you know what's more exclusive? Their God-given eternal soul.
"We are in a fight for the soul of our nation. We need to fight hard. And we need to fight smart. We have to win."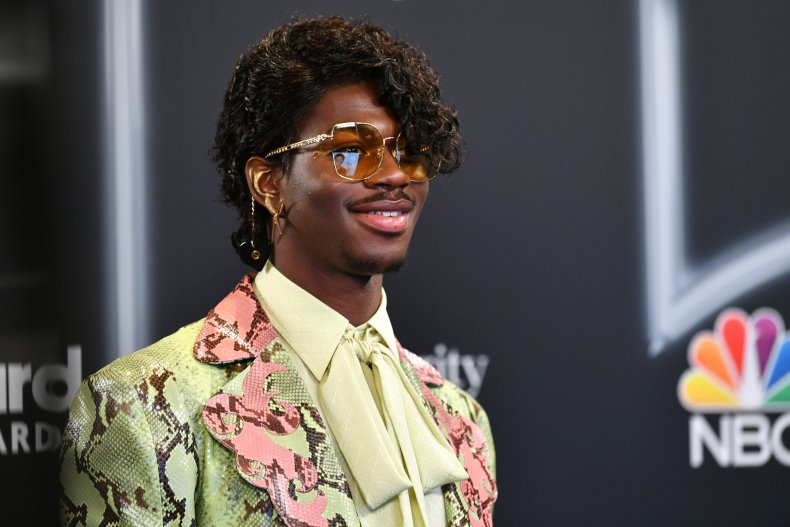 Lil Nas X went on to share a video on his YouTube channel called "Lil Nas X Apologizes for Satan Shoe" where the rapper at first appeared to be offering an olive branch to the outraged.
But, the video instead cut to a part from his latest music video that showed him twerking on the Devil before breaking the demon's neck and removing his crown to wear for himself.
Newsweek has contacted MSCHF and Nike for comment.