Lil Nas X's Controversial 'Satan Shoes' Sold Out in Under a Minute
Rapper and singer Lil Nas X's "Satan Shoes" feature a bronze pentagram and an inverted cross containing a drop of actual human blood. They also come with a $1,018 price tag, but that didn't stop fans from quickly buying up the exclusive kicks, which sold out immediately after going on sale on Monday. In fact, the entire inventory of the shoes sold out in less than a minute, according to the company that made them.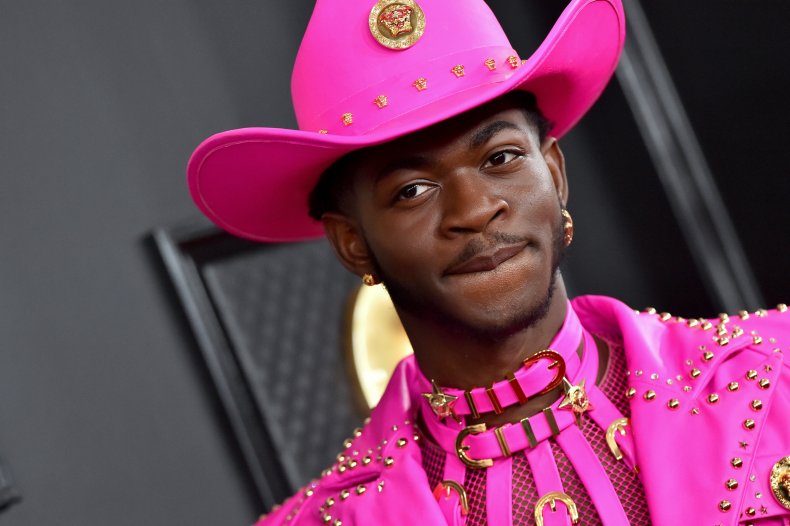 That inventory was relatively small, though. Only 666 pairs of the black and red sneakers were produced in the limited edition run. The $1,018 price attached to them is a reference to the Bible passage Luke 10:18, which reads: "I saw Satan fall like lightning from heaven." Naturally, all of the devil themes around the shoes have drawn the ire of some conservative pundits. And the controversy over the footwear also comes amid the equally provocative video for Lil Nas X's new hit single, "Montero (Call Me By My Name)."
Despite the presence of the infamous swoosh on the side, the shoes are not a direct design of Nike. Instead, it was New York-based art collective MSCHF who made "Satan Shoes" using Nike Air Max 97s. In a statement, Nike wrote: "Nike did not design or release these shoes and we do not endorse them."
The "Satan Shoes" went on sale at 11:00 a.m. EST. To pick them up, one had to download the official MSCHF app from https://satan.shoes. Before "Satan Shoes," MSCHF once made "Jesus Shoes." Also designed using Nike Air Max 97 sneakers, the 2019 limited-edition "Jesus Shoes" made headlines because they came with a steel crucifix and what the company claimed was "holy water" from the Jordan River.
One of MSCHF's founders, Daniel Greenberg, responded to an email from Newsweek about the "Satan Shoes," which he described as "a direct follow up to our Jesus shoe." As to whose idea the collaboration was between the collective and Lil Nas X for the blood-containing Nikes, he said it was MSCHF's idea. He also said MSCHF has yet to be contacted by Nike.
Conservative figures have been decrying the shoes since their release was announced on March 26. Author and political commentator Candace Owens was one of the more prominent people who criticized the shoes' demonic imagery, as well as the scene of Lil Nas X lap-dancing on Satan in the "Montero" video. On Monday, she tweeted, "Why has 'oh, but I'm gay' become a default excuse for immorality? ... Now it's the reason Lil Nas X needs to make a satan shoe with human blood?"
Just this past weekend, Owens and the "Old Town Road" hitmaker sparred on Twitter. After Owens posted an earlier message lashing out against the shoes, Lil Nas X replied by retweeting her and writing, "you know you did something right when she talks about it."
The shoes also drew the attention of Kristi Noem, the Republican governor of South Dakota. She tweeted about them on Sunday, writing, "Our kids are being told that this kind of product is, not only okay, it's 'exclusive.' But do you know what's more exclusive? Their God-given eternal soul." Lil Nas X quickly replied to her, writing, "ur a whole governor and u on here tweeting about some damn shoes. do ur job!"
On Monday, Lil Nas X also released an "Extended Satan's Version" of "Montero (Call Me By Your Name)," which extends the music and lyrics to 2 minutes and 50 seconds, up from the original release's 2 minutes and 17 seconds.