Lil Nas X Temporarily Decides He's Not Gay After Losing at the Grammys
Lil Nas X threatened to go back into the closet after losing in every category he was nominated in at the 2022 Grammy Awards.
The outspoken "Industry Baby" singer handled his loss pretty well as he instantly made a joke that threatened to break the internet. Lil Nas X had an all round eventful night out at the Grammys in Las Vegas, and he made sure to document it all on his Twitter account.
After the ceremony had finished and he realized he'd lost all five categories he was up for, Lil Nas X tweeted, "can't believe i lost all my grammys. i am now no longer gay!" Within an hour the tweet had gained over 100,000 likes as well as thousands more retweets and comments.
His comment could be a reference to the fact that he won two Grammy Awards for the song "Old Town Road" before he had publicly come out as gay. He continued the joke with a tweet featuring just two emojis.
He went back on his comments just 12 minutes later when he joked that he'd changed his mind on, and that he was planning on having a "good time" at the Grammys after parties.
Lil Nas X was nominated for Record of the Year, Album of the Year, Song of the Year, Best Melodic Rap Performance, and Best Music Video, but he lost in every category. He did take the stage and put on an impressive medley performance of his songs "Dead Right Now," "Montero (Call Me by Your Name)" and "Industry Baby" featuring Jack Harlow.
The musician showed his social media followers how much of a good time he was having throughout the night. He took selfies with Harlow, Lady Gaga, Doja Cat and SZA, and shared them across his Twitter and Instagram accounts.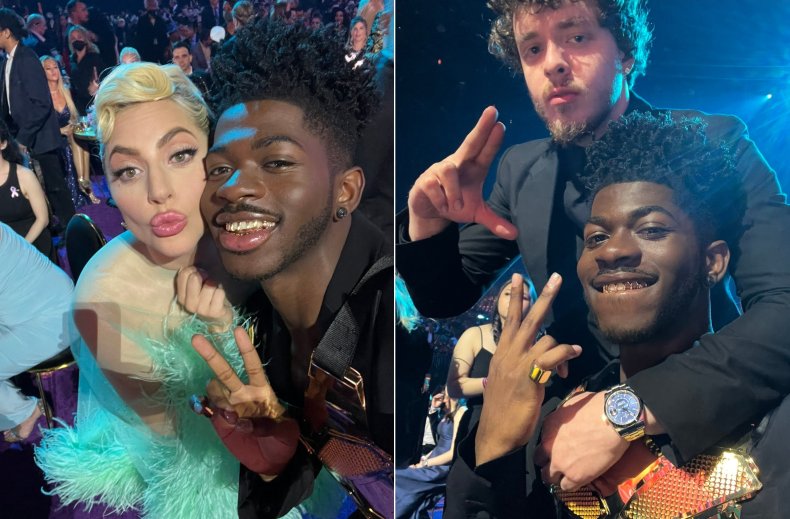 The fun with his fellow musicians continued after the ceremony finished as he wheeled SZA around in her wheelchair. SZA went up to accept her Grammy Award with Doja Cat using crutches to get up on the stage. He said on Twitter that he's now SZA's "personal care taker."
He expressed his disappointment over losing on his Instagram stories after the show finished. Filming himself topless in a bathroom and singing into the mirror, he posted a video to his Instagram stories which sees him say things like "I didn't win no Grammys, that s*** make me cry, zero for five Grammys, that s*** make me cry."