Lil Nas X Claps Back at Angela Stanton King Over 'Black Culture' Tweet
Lil Nas X has won the internet again for an effortlessly vicious clap back to a homophobic tweet.
Republican congressional candidate and ally of President Donald Trump, Angela Stanton King singled out the "Old Town Road" singer in a tweet criticizing "black culture."
Lil Nas X, whose given name is Montero Lamar Hill, just released his highly anticipated new single and accompanying video "Holiday."
Stanton King shared a promo image for the song which featured Hill and a clone on the verge of kissing while dressed in racy festive attire.
"So this is what black culture is pushing to our youth now?" King tweeted Monday. "Sex with everything and everyone including yourself? Is lil nas x tonguing himself down? #BlackCulture #MerryChristmas."
The singer, who is known for his engaging social media presence—complete with 5.3 million followers—replied cuttingly with: "just say ur turned on and go."
Hill's reply has garnered significantly more attention than King's with more than 200,000 likes at the time of reporting. Meanwhile, Stanton King's tweet has just over 2,000 likes.
Hill's witty comeback is being widely praised by fans who have been posting about the amusing exchange.
"You invented sex with yourself??? YOUR IMPACT," one tweet reads. While another person added: "again, these mfs only care when a gay artist posts something provocative. They're silent when a straight rapper has mfs twerking in their music videos. Just say you're homophobic and go lol."
Another person posted: "Im just tying to figure out how race has anything to do with this."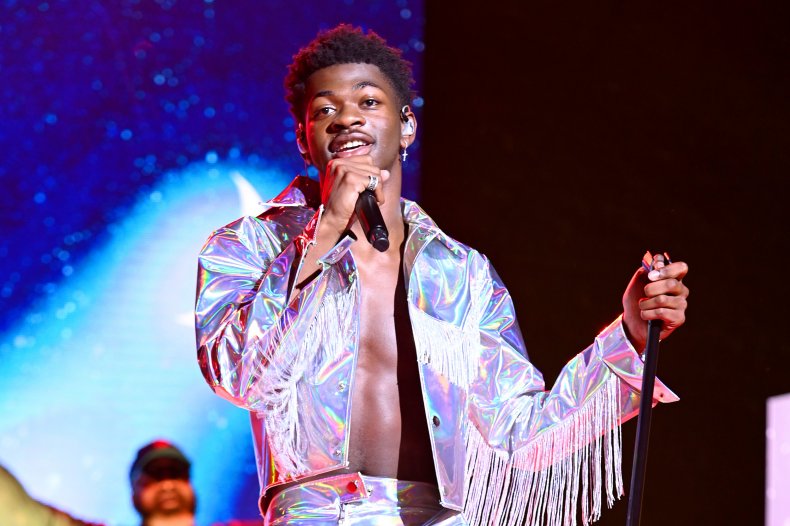 Earlier this year, Hill shut down rappers 50 Cent and Dave East for making fun of his Nicki Minaj Halloween costume using homophobic slurs.
"bro i don't bother a soul in this industry," he tweeted. "all i do is tweet and make bangers. leave me alone damn."
In October, Stanton King stormed out of a video interview after being asked about her apparent support for QAnon. The politician walked away from a Guardian interview after facing questions about her support for the baseless conspiracy theory.
"Who accused me of that?" she asks. "Who accused me of that? Because what is an accusation? That's something that has been proven in court? Have I ever gone on record to say that I'm a member of QAnon? Because I have not."
Nikema Williams defeated Stanton King in the House race for Georgia's 5th congressional district with almost 84 percent of the vote. The seat was previously held by the late Rep. John Lewis.