Why Was Lil Pump Arrested? Rapper Removed From Flight After Being Accused of Bringing Drugs on Plane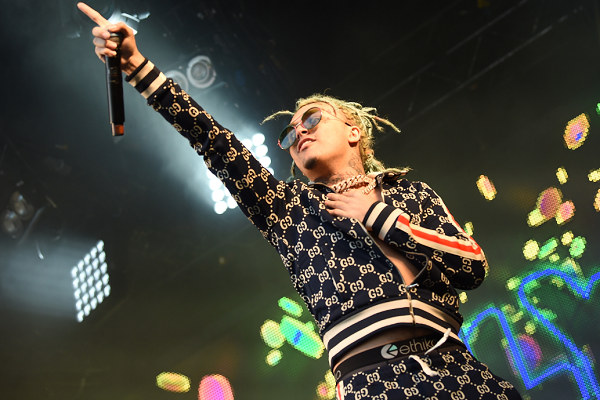 Lil Pump was kicked off a flight in Miami and arrested, according to a TMZ report on Friday. The Florida-born rapper, whose birth name is Gazzy Garcia, was accused of attempting to bring marijuana onto the flight by baggage handlers and the airline pilot, which escalated to a heated encounter between Pump, his manager and the captain.
The name of the airline Pump was scheduled to fly on was not released. Authorities confirmed to TMZ Pump and his manager were arrested for disorderly conduct in the airport after engaging in a spat with the flight captain, who approached Pump with questions regarding the contents of his luggage. The pilot and TSA handlers claimed there was a strong aroma of marijuana coming from a bag suspected to belong to Pump. The bag also had the name tag "Garcia" on it.
Pump denied having any paraphernalia in his bag, and reportedly exchanged harsh words with the pilot, resulting in the pilot removing Pump and his manager from the flight. When they continued to behave disorderly in the flight terminal, airport police arrested them.
Despite their arrests, no drugs were found in the bag upon inspection. The bag didn't belong to Pump, but rather a member of his team.
It's unclear if Pump and his manager have been released as of yet or if a bail has been set.
The incident marks Pump's latest run-in with the law this month. The 18-year-old was arrested by Danish police in Finland hours before he was scheduled to appear on stage at a concert on December 4.
He was also arrested in late summer after police pulled him over in Miami and discovered he was driving without a license. The "Gucci Gang" rapper was behind the wheel of a white Rolls Royce and told authorities he never had a license when asked for identification in August.