Lil Pump has endorsed Donald Trump for president. The rapper took to social media Sunday to declare his support for the republican while also extending insults to Democrat nominee Joe Biden.
"THE DAY I MET TRUMP #trump202022020," he wrote alongside a photo of him and the president.
Born Gazzy Garcia, the "Gucci Gang" rapper went on to shared an expletive-laden video on Instagram further explaining his support for Trump, while citing Biden's proposed tax rates as the reason for his vitriol against him.
"All I gotta say is Trump 2020 b****" he said. "F*** I look like paying a extra 33 is tax for Biden, b***** ass n—. F**** sleepy Joe n— Trump 2020 b****."
The Miami based rapper seems to be following 50 Cent's lead since the rapper himself expressed concerns over Biden's proposed taxed rate for top earners last week.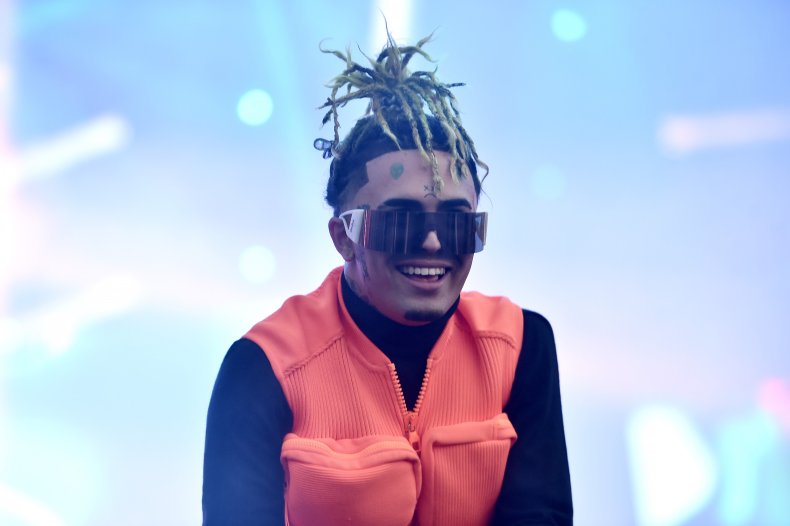 Born Curtis James Jackson III, last week the "In Da Club" rapper tweeted: "WHAT THE F***! (VOTE ForTRUMP) IM OUT," tweeted Jackson. "F*** NEW YORK The KNICKS never win anyway. I don't care Trump doesn't like black people 62 percent are you out of ya f***ing mind."
The graphic that Jackson shared was taken from the CNBC program Power Lunch and included figures from a Tax Foundation analysis of Biden's plan. It concluded that the top one percent of earners in New York City could face a combined tax rate of 62 percent.
However, Jackson has since claimed he "never liked" Trump after his ex-girlfriend comedian Chelsea Handler publicly scolded him over his support for the Republican president.
News of Lil Pump's endorsement is spreading on social media where people are reacting to his move.
"This is definitely an unexpected endorsement," director and producer Robby Starbuck tweeted.
"Lil Pump has endorsed Donald Trump. He really does not seem like a fan of Sleepy Joe. Not exactly my style of endorsement but..."
He also pointed out Garcia's reach on social media—17 million followers on Instagram, 1.1M on Twitter followers and 17.5M YouTube subscribers.
"Trump is getting support from unconventional places," Starbuck added.
Conservative activist Kyle Kashuv tweeted: "LMAO LIL PUMP JUST ENDORSED TRUMP."
While men's rights activist Mike Cernovich added: "lil Pump is another person I had never heard of, wish I never had, but yeah..... loooooooots of low key / first time support for the orange man bad. Unprecedented!"
Garcia's endorsement of Trump is at odds with his previous public political leanings. Shortly after the 2016 presidential election, he tweeted: "F*** DONALD TRUMP."