A Lil' Tribute to Biggie: The Larger-Than-Life Rap Icon Who Brought Hip-Hop to the Masses
On March 1, 1997, "Hypnotize," the first single from the Notorious B.I.G.'s Life After Death album, was released. This firestorm of a track would go on to peak at No. 1 on Billboard's Hot 100 chart in May of that year. If your head did not start nodding when you heard Biggie launch into his lyrical flow, you did not have a pulse. The song manifests itself as a shot of adrenaline to the heart.
On May 2, 2020, Biggie will be honored with induction into the Rock & Roll Hall of Fame. Since Grandmaster Flash and the Furious Five received the honor in 2007, despite whimpering protests from traditionalists, five other hip-hop artists, including groups like Run D.M.C. (2009) and solo performers like 2Pac (2017), have been inducted in a gradual but steady stream. Biggie, however, is a unique addition to their ranks.
Biggie was an instrumental contributor to the soundtrack of a generation. Millions of fans experienced an outpouring of grief when the 24-year-old was assassinated by a still unknown assailant in Los Angeles on March 9, 1997. Despite his untimely death, he produced two of the most impactful and celebrated rap albums of all time. Prophetically titled Ready to Die and Life After Death, they sold around 9 million records combined.
This number is sure to increase as many revisit his music thanks to the media's coverage of the Hall of Fame's class of 2020. His albums' popularity speaks to his ability to appeal to an audience beyond the hip-hop community. His legacy is deeply connected to the shift of rap music and hip-hop culture from a counterculture to the mainstream.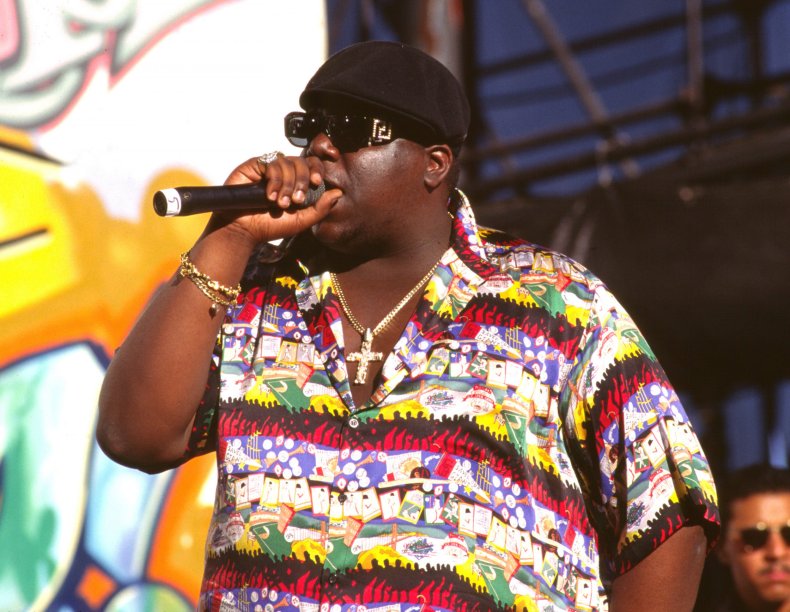 Biggie's music became the soundtrack to so many different lives. While I was researching medieval history in a Ph.D. program in the early 2000s, Bach and Chopin drifted expectedly from most of the department offices. Meanwhile, I was down the hall wearing out my Ready to Die CD.
If Biggie did anything, he transcended boundaries. His music touched even the most unlikely fans. In my case, he grabbed a Long Island–raised history professor and Fleetwood Mac fan. I simply added his CD to a playlist heavily influenced by an enduring devotion to the mystical, angst-filled ballads of Stevie Nicks and the masterful fingerpicking of guitarist Lindsey Buckingham.
The voice of the Medici family, whose letters littered the desk of a graduate student hard at work on a dissertation, emerged like lyrics. They emerged, in some respects, as the gangsters they were. Biggie talked about making it big in the track "Big Papa," with the retort "f*ck a dollar and a dream." Success was about "money, hos and clothes."
Knee-deep in 15th-century political history, I smiled at a timeless truism for so many who claw their way into positions of power. A high school dropout understood the realities of the world far more clearly than a Ph.D. candidate of the same age. We are all trying to make it, and Biggie projects that reality with every lyrical rhyme. With the reach of his message, he defied notions of a narrow, targeted audience.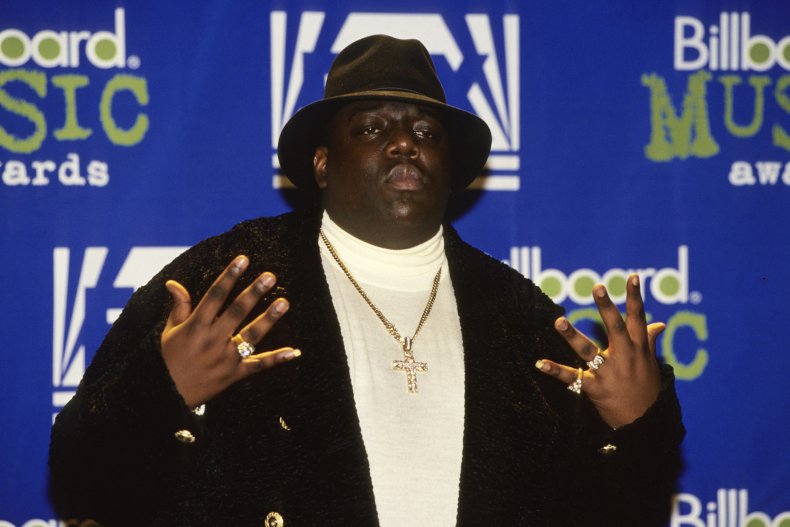 On a visceral level, Biggie's heavy, breathy, honest voice resonates with anyone going through a struggle, as well as anyone searching for an identity in hard times. He sugar-coated nothing in his guttural delivery. Like Biggie, we all ask the timeless philosophical question "Who am I?" The critical search for answers defines us and our place in a too often cruel world. Identity becomes defined by our membership in cultural, social, economic and political groups. Our sense of self then adapts to a time and place, and, to that end, Biggie is a beacon illuminating New York's Brooklyn in the 1990s. In doing so, his portrait captured the imagination of so many of his fans.
His induction into the Hall of Fame will undoubtedly usher in some difficult conversations about the nuance-filled gray area that often surrounds labeling what is cultural appreciation and what is cultural appropriation in the context of hip-hop music. To find a cultural appreciation of Biggie's legacy, you need look no further than the streets of Brooklyn.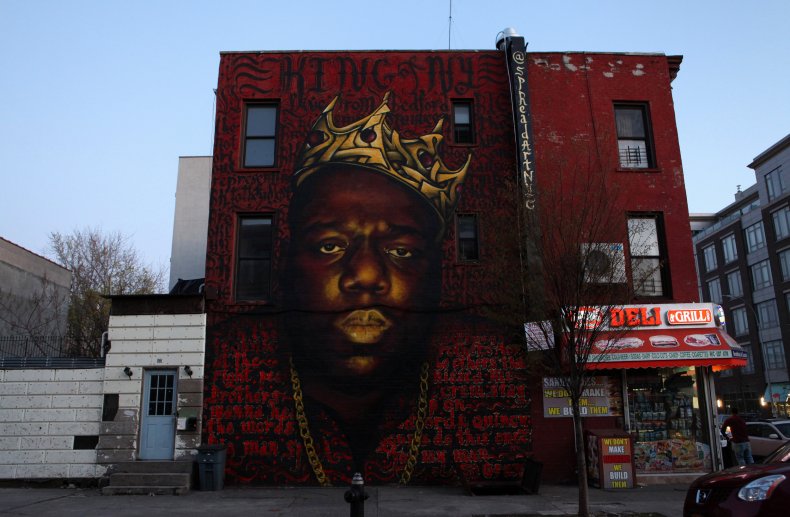 Biggie was formed on those streets, but would he recognize Brooklyn 20 years later? Probably. Would he like what he saw? Probably not. Gentrification has dramatically changed the landscape in his old neighborhood of Clinton Hill and Bedford-Stuyvesant. His "one-room shack" at 226 St. James Place now rents for a mind-boggling $4,000 a month.
Despite the shock, it seems that little has survived gentrification better than Biggie. There are countless odes, and at times it seems that Biggie's popularly level is on par with that of pizza in Brooklyn; it is so rare that someone says they do not like him, so when they do it is hard not to be taken completely aback.
Haters will be haters, of course, but Brooklyn does spread love (as Biggie says in "Juicy"). Last summer, St. James Place, between Fulton Street and Gates Avenue, was renamed Christopher Wallace Way (after Biggie's legal name). A commemoration like this is complicated, communal work. It is the most civic of actions to place his name on a street sign. The ceremony was reminiscent of accolades given to the return of a prodigal son. The civic reality is that New York City's boroughs are like city-states in the ancient world.
Biggie was a Brooklynite, not a New Yorker. Like the ancients, we are New Yorkers first only when facing an outside threat. For Biggie, that was the East Coast/West Coast hip-hop battle, which secured his legacy as something much larger than a kid from the neighborhood. This rivalry started as a lyrical war between Death Row Records on the West Coast and Bad Boy Records on the East. Both 2Pac and Biggie would be killed in the violence that ensued in the mid-'90s. That kid from Brooklyn went to war a New Yorker.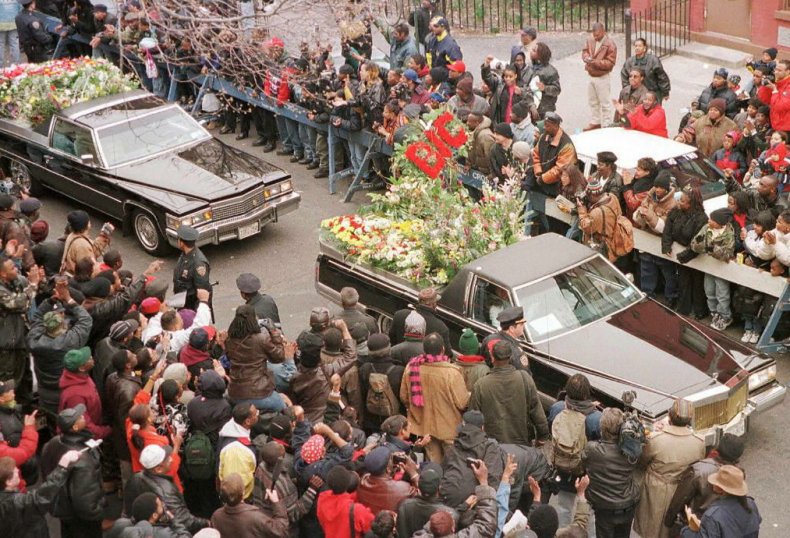 Biggie was armed with an education gained in the proverbial school of life. He was quoted in a New York Times article, published the day after his death, as saying, "Me hustling and selling drugs, it schooled me to the streets a lot. I learned a lot."
I team-taught a class with a professor who was an administrator in Biggie's high school. In an end of semester conversation about discipline in the classroom, I was floored by the tales of truancy. He lamented that Christopher Wallace, for example, had great potential, but "what a pain in the ass." I joked, "Were you the teacher who told him he would never amount to nothin'''? (And would eat his words later, I might add.) Biggie did not hide that he was "a terror since the public school era."
The fact that Biggie, Jay-Z, Busta Rhymes and DMX all battled inside the walls of George Westinghouse Career and Technical Education High School shows that Brooklyn was the cultural incubator for a quintessential generation of visionary hip-hop artists who broke into the mainstream.
There is of course an important intellectual discussion that should continue to explain why this happened in Brooklyn. But we should remember too that Biggie's music is visceral, and this, at least in part, explains its popular appeal. The beats he created are organically the pulse of Brooklyn: the slalom-style merging of the cars, the cacophonous lurching of the box trucks, the relentless flashing of streetlights and the haphazard flow of people on the sidewalks. Biggie gave his fans the gift of a clear-eyed yet impassioned glance at the ephemeral streets that forged him.
So along with Biggie, a piece of Brooklyn herself enters into the Rock & Roll Hall of Fame in her rawest, truest and, dare I suggest, most beautiful form. You do not have to know Brooklyn to be moved by Biggie's music. He continues, more than 20 years later, to take the mainstream along for the ride.
--
---
Christine Contrada earned a Ph.D. in history from Stony Brook University. She is a professor specializing in Italian history who is deeply inspired by her students to explore avant-garde intersections of history and popular culture in her writing. As Bernini had the temperament of a Neapolitan and the precision of a Florentine, she has the heart of an Italian the mind of a New Yorker. She contributes regularly to The Florentine.