Meet Lil Uzi Vert: He Might Have Lost Best New Artist, But You Should Know This Rock Star's Music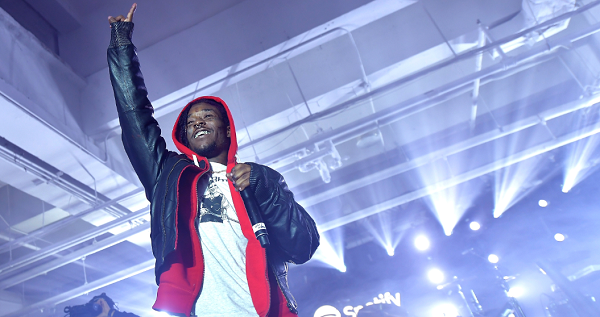 Lil Uzi Vert isn't a rapper. He's a rock star.
Although his flow falls under the category of rap, in just about every interview featuring the Philadelphia-born artist, Uzi, as he's referred to by adoring fans, describes himself as a rocker. And the success of his debut album, Luv is Rage 2, which topped Billboard's Hot 200 Albums list in September 2017, made it clear that Uzi is exactly that. His rock cred was firmly established with the banger "XO Tour Llif3," the album's debut single, released last February. With both heavy metal and hip-hop influenced beats, the edgy single sounds like a mash-up between Marilyn Manson and Lil Wayne, with Uzi rapping on the chorus: "Push me to the edge/All my friends are dead."
Considered one of the biggest songs of 2017, the track was certified quadruple platinum in October and landed Uzi Song of the Summer at the 2017 MTV Music Video Awards and received quadruple platinum status, as did his previous single, "Money Longer," from the 2016 mixtape Lil Uzi Vert vs. the World.
It's no wonder the 23-year-old was nominated for Best New Artist at the 2018 Grammy Awards. And even though Uzi lost the award on Sunday night to Alessia Cara, you should still give him—and his music—your attention.
Born Symere Woods, Uzi had 5 solo projects before he released his first studio album. In addition to Lil Uzi Vert vs. the World, the emcee self-released his first EP, Purple Thoughtz EP Vol.1, in 2014; The Real Uzi, his first mixtape in 2015; and Love is Rage and The Perfect Luv Tape, in 2016. Together they amounted to millions of streams on Spotify, Apple Music and SoundCloud.
For a taste of why fans love the dreadlocked rap rocker, check out his best singles: "Do What I Want," "Erase Your Social," "Sauce it Up," "You Was Right," "7 AM," "Ps & Qs" and "Super Saiyan."