Lil Uzi Vert Will Pay Temple University Student's $90K Tuition, But the Student Had to Promise to Finish
Grammy-nominated rapper Lil Uzi Vert agreed to pay a Temple University student's tuition, but before the student got the cash, he had to promise to finish and not just party.
On Thursday night, Zacariah Ahmad posted a video on Instagram of the rapper walking through a department store in Philadelphia. When Raheel Ahmad, who was in the department store, saw the rapper, he asked if he could spot him $90,000 for his college tuition. The rapper agreed, but put several conditions on the donation, including that the student had to graduate.
At a time when an estimated 45 million people collectively hold around $1.6 trillion in student loans, the cost of higher education is a topic on many people's minds. Presidential candidates have proposed plans to forgive student loans and create free college options and they're not alone in attempting to solve the problem.
Companies, including UPS, Disney and Walmart have tuition reimbursement programs and several celebrities have reached into their wallets to help a student or two. Recently, Taylor Swift donated to a Canadian fan's college education fund, marking at least the second time the Lover singer helped finance a fan's education.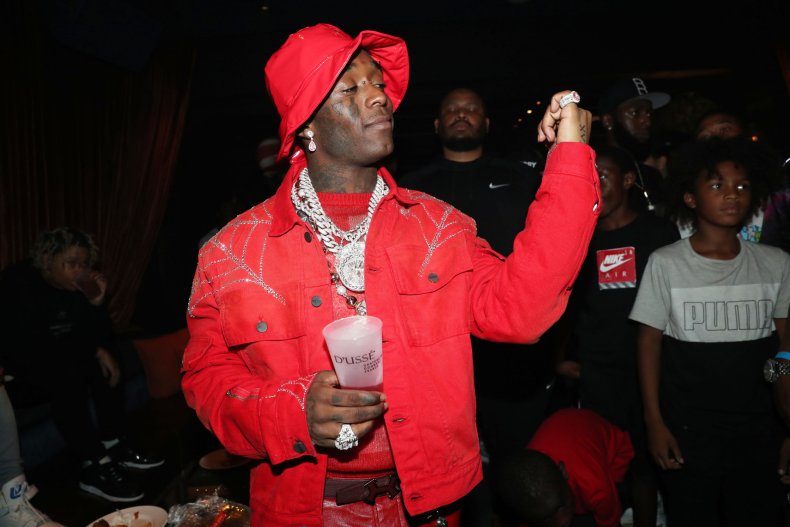 In the video, Uzi is seen walking with an entourage of people and acknowledged Ahmad, who called out to him. As the moment was seemingly passing by, Ahmad seized on his opportunity and yelled, "Can you pay for my college tuition?"
At first, it appeared as if Uzi would continue through the department store, but he turned around and asked how much the student's tuition was. "Ninety grand, I go to Temple, bro," Ahmad said.
"Ninety grand? I could pay for that ... but this is the thing, though. If I pay for your college tuition are you going to finish college or are you going to bulls***?" the rapper asked.
Uzi asked the student for his name on Instagram and told him to send him his transcripts, proving he was a student. If he gave him all the proper documents, the rapper said Ahmad would get the $90,000 he needed for tuition. Newsweek reached out to Lil Uzi Vert and Ahmad but did not receive a response in time for publication.
Temple University, a large public higher education institution located in Philadelphia, costs about $20,000 a year for in-state students and an estimated $34,000 out-of-state, although, the average financial aid package is more than $13,000. More than 73 percent of students graduate within six years, according to the College Board, and Ahmad's Instagram said he was set to finish school in 2021.