Has Lil Wayne Married Denise Bidot? Rapper Says He Is 'Happiest Man Alive'
Lil Wayne fans are speculating that the rapper has got married or engaged after he tweeted about being the "happiest man alive."
Weezy and his girlfriend Denise Bidot seem to be back on after their split four months ago and the "Lollipop" hitmaker posted a joyful tweet about their relationship on Tuesday.
"Happiest man alive! Today is the beginning of our forever," the 38-year-old tweeted. "Forever?? Forever, ever?? FOREVER EVER!!!!! The Carters."
Wayne's full name is Dwayne Michael Carter Jr. It sounds like Bidot has made him the "happiest man alive" by agreeing to marry him, but there is no confirmation on whether they have already tied the knot.
Some fans believe the phrase "today is the beginning of our forever" suggests they are now married.
Lil Wayne hinted at their reunion earlier this month after he posted to Instagram Stories a video of Bidot, 34, on the beach. The clip showed the model drawing their names in the sand surrounded by a heart.
The couple started dating in summer 2020, but spilt around the time the rapper endorsed Donald Trump for re-election in October.
In early November, Wayne tweeted a cryptic message about love: "I live the way I love and love the way I live. I'm a lover not a lighter bekuz they burn out. I am an eternal fire and burning love, either leave with a tan, a 3rd degree burn, or stay and die in love. You're sweating. Sincerely, the fireman."
This prompted Bidot to scrub him from her Instagram, but the couple seemed to be back on by Thanksgiving when she posted, "Thanksgiving weekend was just perfect. Thankful every single day," alongside a series of snaps of them on vacation.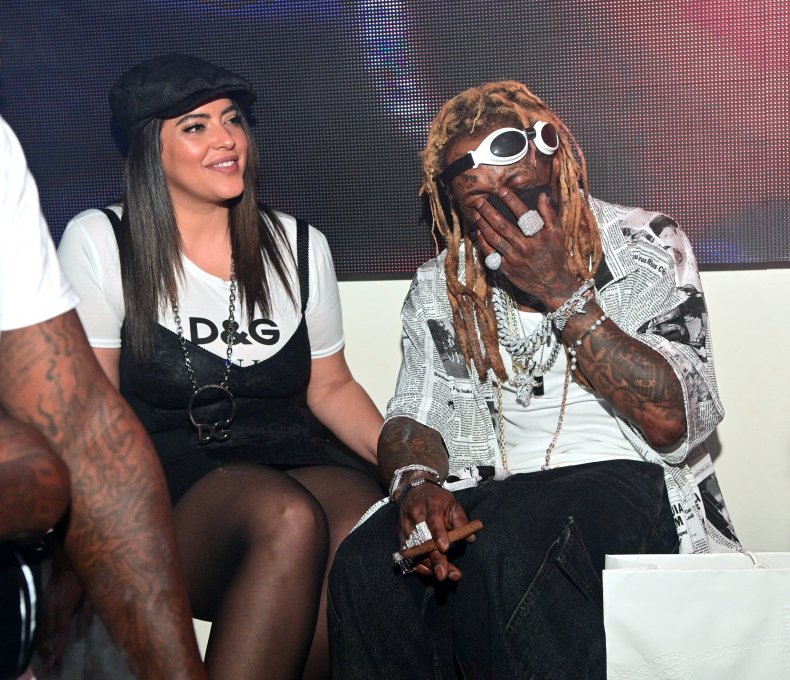 The relationship appeared to get rocky again in January. The pair unfollowed each other on social media and Bidot posted: "Pretty disappointing when you defend someone throughout everything and they turn out being just as sh*tty as everyone said they were."
Fans are now eagerly waiting for the couple to post some engagement—or wedding—photos.
Wayne was pardoned by Trump on the final day of his presidency after the rapper had pleaded guilty to illegal possession of a firearm—a loaded gold-plated handgun—on a private jet to Miami. He was expected to face a sentence of up to 10 years in prison at a court hearing scheduled for January 28.
The White House press release announcing the pardon in January read: "Mr. Carter has exhibited this generosity through commitment to a variety of charities, including donations to research hospitals and a host of foodbanks."