Lil Wayne Says He May Quit Blink-182 Tour Due To Small Crowds; Leaves Stage After A Few Songs
Concertgoers with Blink-182 tickets this summer shouldn't hold their breath that they will also get to see opener Lil Wayne at the show, as he may quit the tour. The rapper revealed to the crowd at Thursday's concert in Bristow, Virginia, that he wasn't enjoying his time or his shows — and then he walked off the stage after only 20 minutes.
From the way he addressed the topic, it seemed Lil Wayne was used to playing for larger crowds than the Virginia show had. The "Uproar" rapper said the crowd size was "not my swag," and also revealed it's what was apparently making him reconsider the entire tour. Videos of Lil Wayne's revelation were available on Twitter, along with fan comments from the show amid the confusing moment.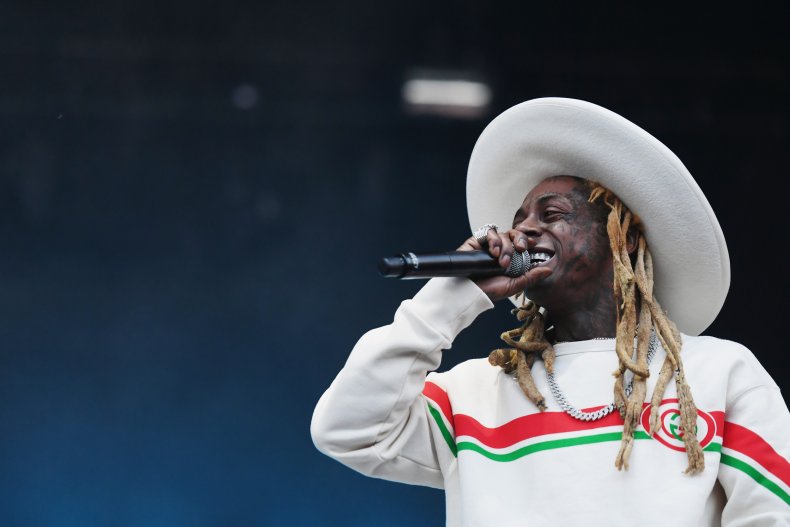 Lil Wayne cut off a song to share his thoughts. "I just want the people to know, if you're wondering, please forgive me, but I am so-not used to performing to a crowd... and there's not too many... that's not my swag," he said on stage. "I'm not sure how long I'm gonna be able to do this tour, but make some noise for Blink-182 for including me anyway. This might be my last night, though. Let's go."
Newsweek subscription offers >
Attendees claimed the Blink-182 show brought out around 7,000 people, at the 25,000 capacity Jiffy Lube Live venue, located approximately 35 miles west of Washington, D.C. The region experienced torrential downpours Thursday night, which is potentially why the crowd at the outdoor pavilion was small in Lil Wayne's mind. Some Twitter users trying to attend the show were upset he left the stage because they were stuck traveling to the concert in rain-slowed traffic, and when they finally got to the concert, he'd already stepped off.
Lil Wayne did continue with a few more songs after the message. Some Twitter users who attended said he played five songs total, while others counted six. Lil Wayne has not made a statement on his thoughts post-show, or regarding whether he will really leave the tour. Blink-182 has also been silent.
Most fans were disappointed in the rapper's decision to leave the stage after such a quick set. Some seemed to understand where he was coming from, but still expressed they were let down.
The Virginia show on Thursday was only the tenth tour stop out of 46 planned shows for both Lil Wayne and the band, according to the Blink-182 website. Lil Wayne is scheduled to appear on the vast majority of those stages, though there are a few Blink-182 solo and festival shows he was not scheduled to attend. With or without Lil Wayne, the Blink-182 tour will continue until October 11.
Lil Wayne Says He May Quit Blink-182 Tour Due To Small Crowds; Leaves Stage After A Few Songs | Culture