'I'm a Non-Monogamous American Politician'
To come out publicly as non-monogamous as an elected official—especially a queer, brown, non-binary, Muslim elected official in the South—is not a small thing. I was elected to the Atlanta City Council in December, 2021. My partners, Kris and Sarah, and I spent almost a year planning how we would come out before we did so in September, 2022.
I met Kris almost a decade ago, when I was 24 and we exchanged numbers in a bar. I see her as my own personal miracle. I was in a really bad place when Kris and I met, and when we started dating, that was the first time I felt really happy.
Kris was the first person with whom I could see myself wanting to build a future. I told her from the beginning that I wanted to date but I didn't feel I could be monogamous, and I didn't want her to be hurt by that.
I've always known that I was non-monogamous, and I think this is because of some of the marriages I saw growing up. Most of the people in my family were not happily married. I never wanted to be in that situation, where I was putting that much pressure on someone to be my be-all and end-all. To me, that just didn't seem sustainable.
Kris and I had a long conversation about non-monogamy and she said, "OK, let's give it a try." From the start, there was a lot of communication and we opened up very slowly. I don't think either of us really dated anyone else until three or four years into our relationship.
Embarking on a non-monogamous relationship
I met Sarah in September, 2020, through a non-monogamy support chat group during the pandemic. When Sarah and I realized we were attracted to each other, I came home and told Kris. We talked, and she was supportive. A couple of weeks later, I introduced Sarah to Kris, and they started working on their own relationship. The following January, Sarah moved in. Kris and Sarah now consider themselves "life partners."
We are a triad. Everyone has permission to see other people if they would like, but that's not something that any of us are currently doing. This is a family, so there has to be a lot of communication around that because we've worked really hard to build what we have.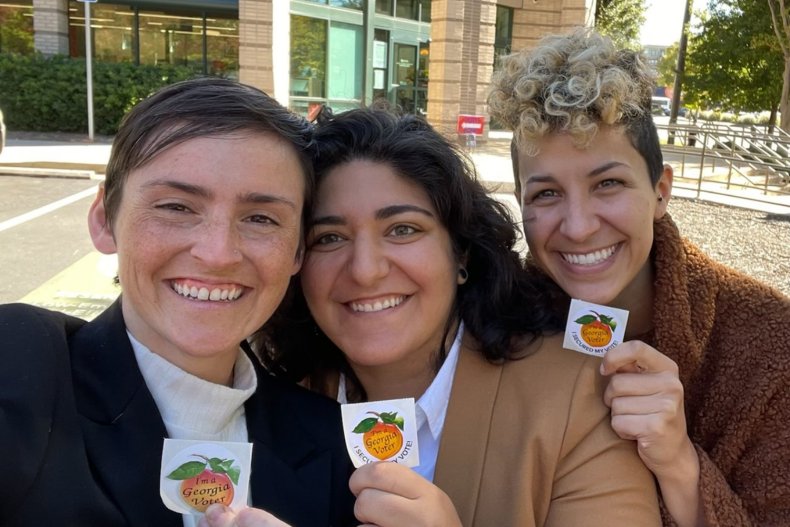 Kris and Sarah are both the best partners you could ask for. I enjoy our relationship because I get to live with and love my two best friends. We can do everything from a cross-country road trip to sitting at home in complete silence, in our pajamas, watching Schitts Creek, and be completely happy.
I also love that the three of us are very ambitious in our own ways and balance each other out really well. They make me a better person, and make me more equipped to do the work that I want to do.
When the three of us first went into the relationship, we didn't know what was going to happen. But when we realized we had the depth, the substance, the connection, for us to be a family and to build a life together, that's when we started making plans to come out.
Being non-monogamous as a politician
We came out to our friends, family and our immediate circles. But for almost two years, I did not go public with my relationship with Sarah. We wanted to be intentional about the story and how we came out. Kris and I didn't want Sarah to get hurt.
It wasn't easy, and it wasn't fun. It took some getting used to, especially for Sarah. At political events, I would introduce them as Kris and Sarah, and it was hard not being able to say who Sarah was. I've been with Kris for almost 10 years, and she ran both of my campaigns, so people are very familiar with her. So if I was with Sarah and someone asked, "Where's Kris? Where's wifey?" or something like that, it was difficult because Sarah was right there.
It's a hard thing to feel like you're devaluing someone you love in the public eye. I felt a lot of guilt around that, even though we were making plans to come out.
Kris and I wanted to come out because we felt we had found the person with whom we were going to spend the rest of our lives. We want to have children, too—Sarah is planning on carrying, and we also want to adopt.
We also wanted people to know about our relationship because we feel we have nothing to be ashamed of. We're super proud of our relationship. It's a completely valid way of living: it's loving, it takes a village to raise a child anyway, and it is very possible to be in love with more than one person. We want to de-stigmatize non-monogamy for other people as well. Whether you recognize it or not, many people are involved in non-monogamous relationships. It has been a practice for thousands of years and is not a new phenomenon by any means.
Life after "coming out"
We "came out" in an article with NBC, in September, 2022. On that day, I feel like everything played out exactly as it needed to. I honestly couldn't be happier with how it happened.
I've since received so many text messages, emails, social media messages and comments. A lot of people have said they had to move out of Georgia in order to practice their polyamorous or non-monogamous relationships, and they were really glad to see the public representation.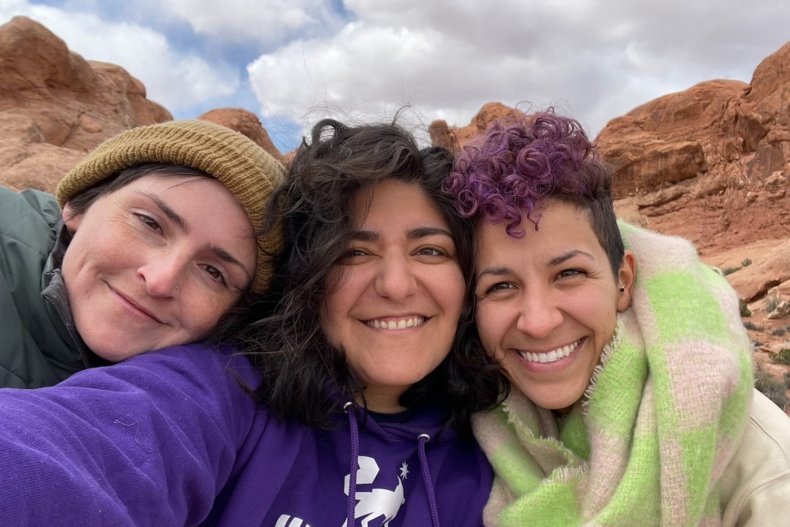 One gentleman wrote to say that he was openly in love with two men and, because he wasn't hiding it, his child's teacher had contacted child services and tried to have his child taken away from him. There were a lot of stories like that, where people had felt bullied or judged for their relationships by family members or friends, and how hard it had been for them.
Some of my constituents wrote just to tell me how happy they were for us. A lot of people who are in monogamous, hetero relationships wrote to tell us: "I'm just happy you're happy."
My colleagues and everybody at the district and City Hall have been super supportive. Atlanta is very different from rural parts of Georgia. The response here has been great. If somebody has an issue, they're not saying anything!
The internet, however, was a different story. We've had a lot of comments like, "You're going to hell," or, "What a gross way to live." I can't help but laugh at comments like that. It is clear we are taking up space in their minds, rent-free, while we continue to live and enjoy our lives.
But in our personal circles and in politics, everybody has been super supportive and kind. The positive messages I've received make me feel seen and happy.
Before we came out, I remember acquaintances saying, "You're never going to be able to come out," and I was like, "Just watch me." I think the immediate assumption is that when you hold office, your ambition is to be mayor or president, and my ambition is just to do crisis relief work. I've done it my whole life, and I want to keep doing it, and reaching more and more people in the community. So when someone made a comment, like, "Aren't you worried that it's going to ruin your future goals?" I replied, "No. I'm not."
If people decided not to elect me again because I'm in a happy, healthy, loving relationship, then this wasn't the right fit for me anyway. But I think my district measures me more by my work than by my personal lifestyle.
I truly don't think that coming out will affect my chances of running for office in 2025. I know that I'm an incredible councilmember, that I show up and that I'm extremely accessible. If anything, my relationship makes me a better representative because I have two partners grounding me and supporting me.
Liliana Bakhtiari is on the Atlanta City Council. She is on Twitter at @LilianaforATL.
All views expressed in this article are the author's own.
As told to Katie Russell.