Lilly Pulitzer's Target Line Turns into Lilly for eBay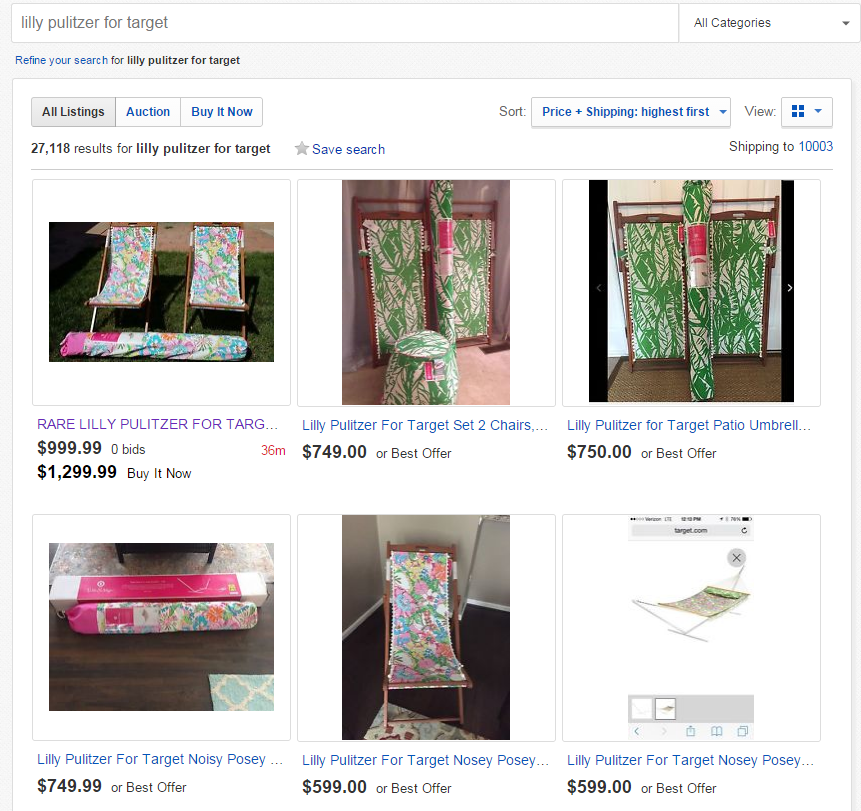 In the wee hours of Sunday morning, thousands of Lilly Pulitzer enthusiasts sat at their computers, frantically refreshing the Target website as they waited for the first moment the collaboration between the historic Palm Beach fashion brand and the big-box retailer became available. The collection was highly anticipated (and a subject of heated debate) among Lilly lovers. It was both a complete success and an incredible failure.
East Coasters stayed up until 5 a.m. to shop the line, which launched on Target's website amid numerous problems: an accidental release of various items on the mobile application before midnight; internal service errors; order confirmations not being sent; e-carts emptying after having just been painstakingly filled; and, perhaps most frustratingly, some items selling out before many shoppers could even load the website.
At one point, the website became so overloaded that Target took it offline completely, for about 20 minutes. The traffic was similar to what the retailer experiences on Black Friday, one of the busiest shopping days of the year.
Lilly Pulitzer is no stranger to crashing websites. During its semi-annual sale, the brand's site often slows and crashes. It has worked on prevention, though, and the most recent semi-annual sale did not crash the website and orders were fulfilled quickly.
Target, however, was far less prepared. Due to the heavy website traffic, most users found themselves stuck on a locked screen or with an error message after pressing the "Check out" option. Many of these users did not receive order confirmations and assumed they missed out on their purchases.
Target on Monday began sending shipping notifications for orders that stalled during the website meltdown and appeared not to go through. This reporter attempted to place three orders, and received confirmation for only two on Sunday. On Monday, a shipping notification arrived for the third, though no confirmation ever arrived. A Target customer support representative confirmed that others were experiencing the same problem with the Lilly for Target sales process.
Although the glitch means some shoppers will receive items they thought they might have missed out on, it also means duplicate items are likely to arrive and will have to be mailed back or returned to Target stores, whose Lilly shelves were very quickly cleared out on Sunday morning.
In-store sales began at 8 a.m. on Sunday, by which time some Lilly lovers had waited for hours to get inside. Many of them rushed to buy the home goods and iconic shift dresses, made famous by Jackie Kennedy.
Unlike other high-low collaborators such as H&M, Target does not limit the quantity of product a shopper can purchase from a coveted designer collaboration line. This makes Target collaborations ripe for eBay users, who attempt to sell off the goods at much higher prices. An eBay search for "Lilly Pulitzer for Target" on Monday brought up 27,118 results.
Lilly Pulitzer does not often make home goods, and so its pillows, chairs, towels and ceramics were among the highest-priced lots on eBay. As of midday on Monday, a hammock and beach chair set that retailed for about $300 was being sold on the site for $1,300 (plus $100 in shipping). Dozens of people were watching the lot. A $25 towel was being sold for $200.
Although Lilly has made the shift dress for years, the prints sold at Target were custom and extremely limited editions. During a preview of the line in New York, shoppers were most attracted to a neon pink and pink lace trim shift. That dress was up to $255 on the auction site; its retail price was $38. Meanwhile, a Lilly Pulitzer-proper shift dress is about $200.
The eBay phenomenon was also seen after the release of the Missoni for Target line. In one instance, espresso cups sold for more than $200 on the auction site after retailing for $40. Years after its launch, the Missoni for Target line remains popular on eBay. A new duvet cover with tags is $500, hundreds of dollars more than the retail price.
Lilly fans have taken to social media to complain as Lilly for Target has turned into Lilly for eBay. They urge one another not to purchase the higher priced goods, but many lots have bidders and watchers. Others fans have decided to barter. On Instagram, shoppers post purchases with the #LillyforTarget hashtag and photos of the items along with captions naming the items they want. Some Instagram shoppers also offer more reasonable prices than those on eBay, such as simply the highest offer or $15 above retail.
And Lilly Pulitzer, in an effort to quell the rage of the pastel-wearing masses, was offering a mystery gift with purchase on Monday, a consolation to those unable to shop the Lilly for eBay (Target) line.