Lily Allen and David Harbour Are Getting Married—Here's Everything We Know About Their Relationship for Sure
Apparently, Lily Allen and David Harbour may be getting married sometime soon. The pair registered for a marriage license in the state of Nevada on Sunday, which gives them a full year to get married, TMZ reported Tuesday.
It may come as a surprise to some that pop star Allen and Stranger Things lead Harbour are even a couple to begin with, let alone that they're on the cusp of tying the knot. They haven't revealed much about their relationship or talked about when, exactly, they came together. But things seem to be serious, not just because of the marriage license. Throughout the year or so that they've been together, Harbour and Allen appear to have solidified a family life, far past their own relationship.
Judging from Allen's Instagram account, Harbour and Allen have spent much of the coronavirus pandemic quarantined together, along with Allen's two children. The "LDN" singer has shared a few photos of the pair and their recent adventures, including birthday moments and vacation time. Harbour has also shared small glimpses into their relationship, mainly through sharing photos of Allen's daughters, Marnie and Ethel Cooper.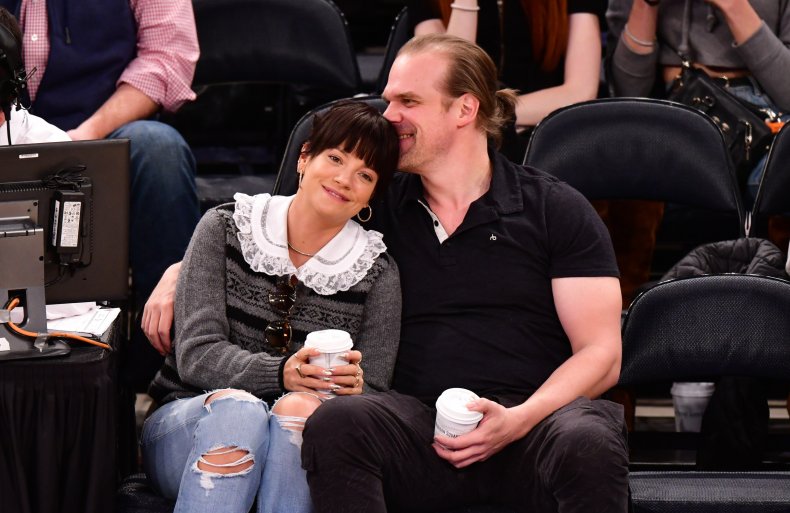 The first appearance Harbour and Allen made as an official couple came back in January, when they attended the Screen Actors Guild Awards together. Months' worth of paparazzi photos have shown the couple together as early as August 2019, though, according to Harper's Bazaar.
Allen confirmed their relationship by posting a photo from the SAG Awards with the caption "plus one."
Harbor also got in on the social media fun around Halloween of 2019, when he called out a paparazzi article that claimed Allen was making a "rare appearance" without her boyfriend. The Stranger Things actor shut down the implication that they may be having troubles by teasing that Allen isn't that skilled at playing Mortal Kombat.
Since those earlier posts, it seems that their family life has become the couple's biggest priority. In August, Allen shared a photo of herself and Harbour, with her daughters, on vacation in Croatia. In a slideshow, a video of Harbour dancing with one of the children also shows how tight-knit the family has become.
Harbour's Instagram features the girls, too, even more than Allen herself. Most recently, he shared an optical illusion video that's been viewed almost 1.5 million times.
Allen was previously married to decorator Sam Cooper, though they divorced in 2018. Harbour has never been married.
Though they've taken time off during COVID, as most of Hollywood has, Allen and Harbour have both achieved big success in their careers. Allen has been in the pop world since her first album, Alright, Still in 2006 and Harbour rose to mega fame after he appeared in television series like The Newsroom and Stranger Things.