Lily Collins Talks About The 'Emotional Twists And Turns' In 'Inheritance'
In an interview with Newsweek, actress Lily Collins talks about the emotional highs and lows that her character, Lauren Monroe, endures in the twisted family drama, Inheritance.
A wealthy and powerful family is left grief-stricken after the sudden death of their patriarch, Archer Monroe (Patrick Warburton). Lauren discovers what her father has been secretly working on behind closed doors. Hidden from the rest of the world, Morgan Warner (Simon Pegg) has been chained up and locked away underground. Whatever Morgan Warner knows, his very existence threatens Lauren and the rest of her family, including her mother, Catherine Monroe (Connie Nielsen).
Director Vaughn Stein's suspense thriller had its world premiere at the recent Tribeca Film Festival. Due to the coronavirus outbreak, Tribeca screened its entire lineup online this year. Not to be missed on Video On Demand (VOD), Collins delivers a memorable and riveting performance as Lauren uncovers more shocking truths about her father.
The 31-year-old-actress is the daughter of Genesis musician Phil Collins and Jill Tavelman, the ex-president of the Beverly Hills Women's Club. Ten years ago, she landed the breakout role of Collins Tuohy in the Academy Award-winning The Blind Side (2010). More dramatic roles have since followed as Collins has demonstrated her own prowess, especially with The Mortal Instruments: City of Bones (2013) and Extremely Wicked, Shockingly Evil and Vile (2019).
With Inheritance available now, Collins opened up during our phone conversation about playing the lead role, knowing when to show her character's vulnerable side, and shared her thoughts on how the pandemic has affected Hollywood.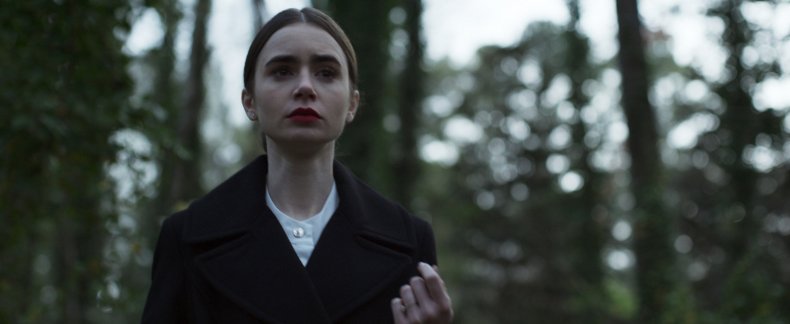 How did you become involved with Inheritance?
It was quite a quick process actually. I received the script. I read it literally within two hours after receiving it. They were like, "It's moving really fast. If you respond to it, you can speak with Vaughn and then it might be something that moves quite quickly." So when my team says that I act accordingly, I trust them. I went home. I read it super fast and then I said, "It's intriguing. It kept me guessing. And it's a page-turner."
And so, I said I wanted to meet with Vaughn. I think it was either the next day or two days later, I Skyped with him. And he's someone who's so passionate, and his belief in whatever it is that he's doing is so infectious, coupled with how intense the script was, I thought, "Oh wow! This is definitely something to consider!" Because it's a different character for me. It really happened quite quickly. Next thing I knew I was on set.
I related to how your character, Lauren, is grieving for her father. While mourning for him, she struggles to see past her memories of him. Tell me about finding the emotional arc of your character.
It was very interesting for me because she does go through so many emotional twists and turns. She's somebody who was very fiercely independent. But at the same time, she has always craved the love of her family, the acceptance of her family, and especially the acceptance of her dad. It's this dual emotional experience of wanting to stand on her own two feet and prove that she's capable of doing things on her own. And keeping it together, especially as a district attorney.
At the same time, she's human. She has this incredibly emotional side that is seeking understanding of her father's past. It's something that we can all associate with in terms of. We all want to be the most put together versions of ourselves. We want to do our best in our jobs and in our life with our family. At the same time, we are human and we're going to have moments that we struggle. We seek understanding when we're confused.
In the movie, we see Lauren in the courtroom as district attorney. How much research did you do for the role?
I actually got to speak to a district attorney, a young district attorney who works in New York City. She was a friend of someone who worked on the movie. I got to speak to her about her experiences and how she handled them, how she was in court. I got to speak with her, ask her some questions, which was wonderful! Obviously, there's a lot legal stuff that she couldn't tell me. The basics of her personality in court versus her personality out of court goes about questioning.
I got to ask a lot of those kinds of questions. I did do a lot of research online. It's not a role that I had played before. That was super appealing to me and it pushed myself out of the box. It was fun because no one really wants to be put in a box, no matter what industry you're in.
Lauren's supposed to be the youngest district attorney. I'm very aware that I look very young and Lauren has a very young feeling about her. That's part of what was intriguing to me! She could easily be underestimated by her peers. She has this fervor and this determination to succeed and exceed all expectations. That's something that I related to, whenever I was maybe underestimated in. There's an element about her that a lot of people could relate to.

Tell me about working with Simon Pegg, who plays Morgan. In the movie, Morgan has been locked away in a secret chamber, thanks to Lauren's father. To show how traumatized Morgan has become over the years, Pegg's face is layered under tons of makeup.
First of all, Simon's such an incredibly kind, hilarious, and giving human being. I had the most fun working with him. He's so funny! It was so hard for me sometimes to remember that! It was actually Simon because his comedic roles are quite iconic and he's so witty! We'd be on set and one minute, we're doing an intense scene. And the next minute, we're joking together about something utterly ridiculous! And we had to keep going back and forth! It was really hard. But he committed 110% and made me feel so supported in all those moments.
The thing that I respect so much about him is that even when he's not on camera he's giving exactly the same amount of performance and support to me when I'm on camera. The dynamic between the two of us is so necessary. It's intense throughout the story because that's what leads to Lauren's journey of discovery. That's the fire of story! I can't speak highly enough of Simon and his commitment to everything that he does. He trained a long time for this physically. It's a different type of character for him. So I commend him for really seeing himself in that position.
Tell me about working with Connie Nielsen who plays Catherine, Lauren's mother. You two have this great scene together! Lauren wants to talk to Catherine about Morgan, but she has difficulty reading her mother. Does her mother know? If she doesn't know, will Lauren end up hurting her instead? Was that a challenge to play a character who knows more than the other and has to carefully pick the right words?
That's an interesting question! With Connie, she brought so many smart and creative questions to rehearsals. In terms of what she knows, what she doesn't know, figuring out the family history, that's never fully alluded to and that was never scripted. She really helped create this backstory for the family. We knew going into it how much each of our characters tries to discover and how much we had known.
She does help lead the downward spiral of Lauren at the end of the movie. Not giving everything away, but she's the catalyst that creates all this change for Lauren. As a mother figure, she also wants to help shield her children from this history. Once she knows that Lauren's involved, she has to jump to her instincts into sharing everything to help save her daughter and her family.
It was really interesting to act with her because she is a mother. She would tell me about her experiences with her kids. She brought a lot to the character.

Inheritance had its world premiere at Tribeca, which then went online due to the pandemic. Has the pandemic changed how you view choosing roles now?
That's so interesting! I don't know if it's changed how I've decided to look at roles. I think it's really interesting to read scripts now. With all the new guidelines that are slowly coming in, how are certain scripts or how certain scenes going to be worked. Because of the amount of actors that can be on set at the same time, what kind of scenes are going to be permitted or not.
It's more about reading scripts than you think. Is this something that can be done? Is this something that's going to have to be reworked to a certain extent? How far along is this in the financing department? Everyone's figuring out what's going on in their own part of the industry.
I've always just been driven to respond to character. Is it something I've done before? Is it not? Is it someone that I respect? And if I don't have a lot in common with the character, is it something that I can find understanding in? Is there a trajectory that interests me? Is there vulnerability I can show?
All those things, while using the guidelines in analyzing the character, I think it's how these things can be shot. What's the probability that this kind of a movie can be made? That's how we're all viewing in the industry with every type of project. Podcasts can be shot in your closet or recorded in your closet, which is way easier. It does not involve crazy special effects! It's like you just don't know. Everything's unknown. What can actually be the new normal? It's unknown territory for all of us, which is scary! It's going to have to just be what it is. So I think we're all kind of in motion.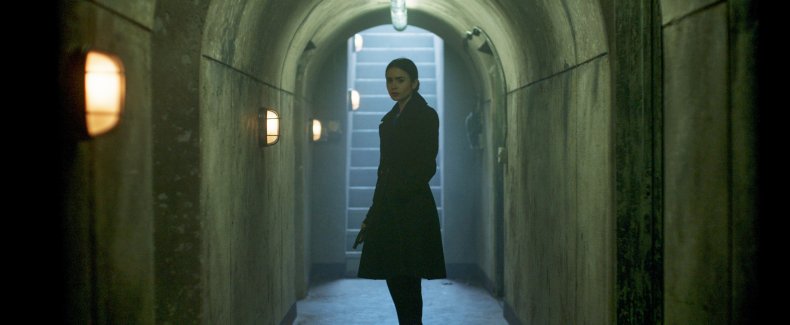 What are you working on next?
I feel very lucky! Right before all of this quarantine came into place, I filmed a series called Emily in Paris over the summer in Paris! Darren Star [Sex and the City] created and I'm an executive producer. It was so fun and has more of a romantic comedy vibe. I finished within a matter of weeks before quarantine started.
David Fincher's next film is called Mank. It was an incredible experience and opportunity! It's a very drastically different type of character for me. My characters have been able to kind of keep me on my toes, as much as the storylines themselves.