Lily James Has Been Linked to Dominic West but the Actor's Already Married to Catherine FitzGerald
Dominic West's marriage is doing just fine, thanks for asking. The Affair alum was spotted kissing Lily James in a restaurant in Rome this past Sunday which started major unfounded rumors about the state of West's marriage.
Amid the speculation West insisted that he and wife of 10 years, Catherine Fitzgerald, are still together. He and James are currently filming an adaptation of The Pursuit of Love for the BBC.
FitzGerald and West spoke to the press outside their home in London Tuesday morning, People noted. They kissed for a few pictures, and shared a handwritten note that read: "Our marriage is strong and we're very much still together. Thank you. Catherine and Dominic."
The day before, Just Jared reported that FitzGerald was "shocked" and "devastated" by the photos.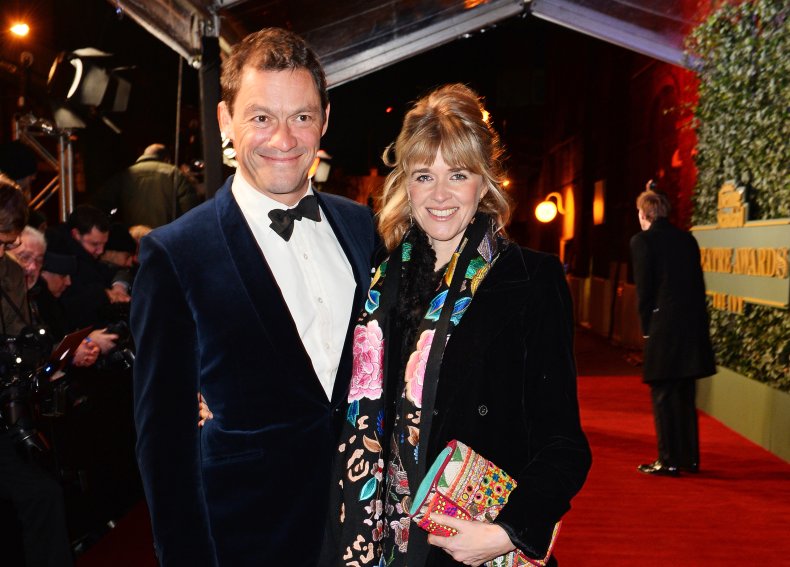 West married the Irish landscape designer and gardener in 2010. They share four children: daughters Dora (13) and Christabel (seven), along with sons Senan (12) and Francis (11). West and Fitzgerald met in the 1990s and began dating while they both were undergraduates at the Trinity College Dublin. They split up and ultimately got back together in 2007.
"We went out together for six months, and we had great fun. He actually came to my 21st [in Northern Ireland], then he left and we split up," FitzGerald told the Belfast Telegraph in July 2019. "Our best friend was also at Trinity with us. We all went on to have separate lives, but were linked through our best friend, Dominic Geraghty, also an actor."
"And I went to Wisley, and did all this garden stuff and retrained," she continued. "Then, when Dominic was doing The Wire, we met again through our friend Dominic (Geraghty); I was 32 then. I feel so lucky."
FitzGerald was previously married to British musician Edward Lambton, 7th Earl of Durham, between 1995 and 2002.
FitzGerald is a member of the Irish FitzGerald dynasty that originated in Norway. Her father, Desmond FitzGerald, was the 29th and last Knight of Glin. Her net worth is estimated to be roughly $12 million.
She and West bought Glin Castle, her family's ancestral home which dates back to the 1300s, in 2019. They wanted to prevent the ancient castle, where FitzGerald grew up, from being sold on. Since, they renovated it, and it's now available to rent.