'Mamma Mia' Star Lily James on How She Captured the 'Magic' Meryl Streep Brought to Donna Sheridan
Audiences were first introduced to the musical joyride, Mamma Mia!, in 2008. The film, directed by Phyllida Lloyd, earned an impressive $609.8 million at the worldwide box office. It's respective sequel, Mamma Mia! Here We Go Again, will look a bit different to fans who see it Friday due to the inclusion of a new castmate: Lily James.
James, 29, catapulted her career by starring as the titular character in Disney's live-action picture, Cinderella, in 2015. She's been featured in acclaimed series Downton Abbey alongside films such as Baby Driver and Darkest Hour. In Mamma Mia! 2, she plays a young Donna Sheridan—a character last portrayed on the big screen by Academy Award-winning talent, Meryl Streep. The sequel follows Sophie (Amanda Seyfried) in the early stages of her pregnancy as she learns more about her mother's past during her absence.
Taking on a part once portrayed by Streep, who is often regarded as one of the greatest actors in the business, didn't come without its intimidation. James went through an intense audition process. She broke her toe during filming, which resulted in her taking a lot of painkillers. She additionally modified her voice to best emulate Streep's. More importantly, she did her homework to do this role, fans of Mamma Mia! and Streep justice.
"It was pretty daunting and overwhelming at times for obvious reasons," James told Newsweek. "In the end, I just realized what a gift, what an honor, what an opportunity to draw on and kind of capture some of that magic that's the essence of what Meryl Streep created in Donna Sheridan. [It's] the fearlessness. The sort of spirit that's so...magnificent. I just watched her over and over again in the original movie, and I studied some of Meryl's other early films. I just wanted to try and see if there was a way to draw something similar without doing an imitation."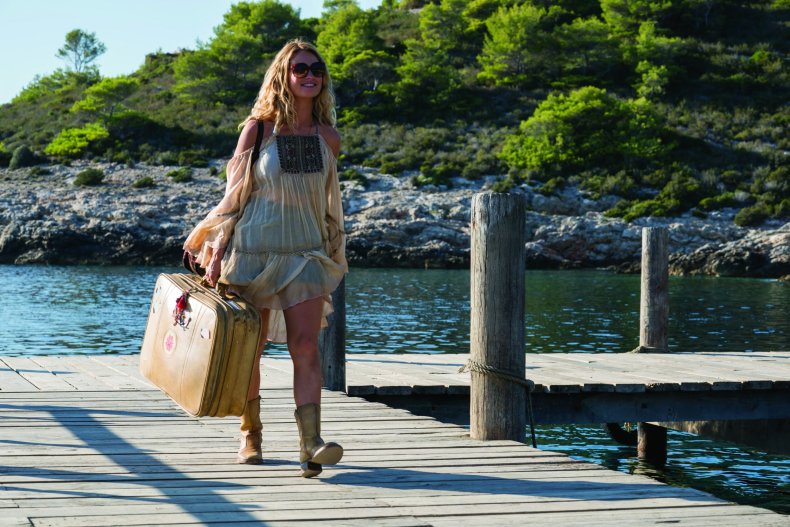 James suggested the audition process was "intimidating." For her tryout, she had to sing a couple of songs and perform a scene in front of the film's creators, director and choreographer. A couple of days later, she learned that she received the part. James joined returning cast members Seyfried, Pierce Brosnan, Colin Firth and Christine Baranski, among others.
The British actress has a deep familiarity with the stage production of Mamma Mia!. As a child, she had seen the musical several times. James said landing this role, however, made things "feel" as if they had come full circle.
"I knew every word to every song in Mamma Mia! 1. I'd grown up singing to them [ABBA]. Dancing to them. I was dancing to ABBA at my mom's birthday last year on the table," James explained. "A couple of months later, I was recording with [ABBA members] Benny [Andersson] and Björn [Ulvaeus] in Stockholm. The whole thing had this magic about it. It almost felt like it was meant to be."
"I think sometimes as an actor, you realize that there are parts that just are for you. I know Amanda [Seyfried] felt like that in the first film. She really felt like this was something she really, really wanted and it felt right. I kind of felt like that with this," she added.
James couldn't go into the logistics of her upcoming projects outside the Mamma Mia! sequel, but she starred in both The Guernsey Literary and Potato Peel Pie Society and Little Woods in April. She was featured as Tessa Thompson's character's "white British voice" in Sorry To Bother You as well. James, however, claims her "heart" lies in musical theater. A possible return to such musically inclined parts is something she "really would like" to do.
"It just felt so right and I loved it," James said of returning to do so in the Mamma Mia! sequel to Newsweek. "I felt happier than I've ever felt."
Mamma Mia! Here We Go Again hits theaters Friday.