Who Is Lily Meola? Meet the 'America's Got Talent' 2022 Golden Buzzer Act
The competition on America's Got Talent is seriously heating up, with audiences tuning in to see singers steal the hearts of the judges, dance troupes show off their moves and death-defying stunts.
During the latest episode of America's Got Talent, another act received the final prestigious golden buzzer and sailed through to the live finals during the latest audition round, joining Avery Dixon, Madison Baez, Sara James, and Mayyas.
Judge Heidi Klum pressed the buzzer for the 27-year-old singer-songwriter, Lily Meola, and audiences watching at home have been obsessed with her jaw-dropping performance since it aired on Tuesday's show.
So, who is Lily Meola? Newsweek has everything you need to know.
Who Is Lily Meola?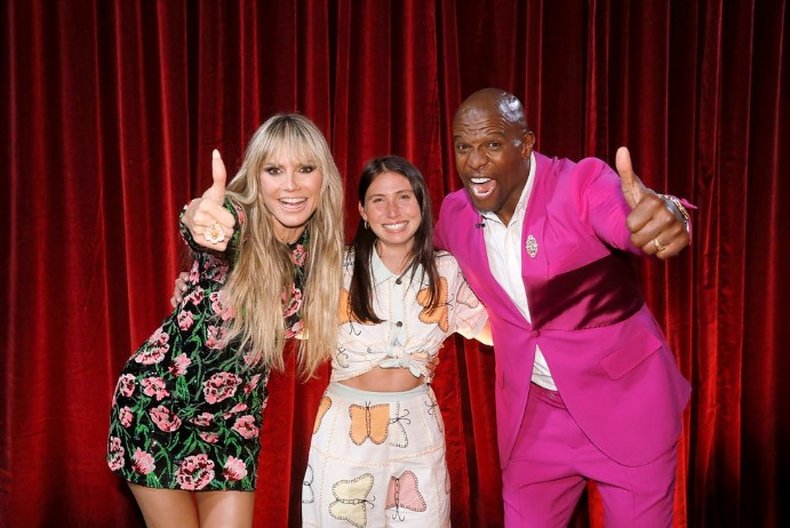 Lily Meola is a 27-year-old singer and songwriter from Maui, Hawaii.
Her late mother, Nancy Meola, was once the assistant to famous entertainment manager, Shep Gordon.
Meola is also the sister of a professional surfer, Matt Meola.
Meola is no stranger to the spotlight, having toured with country legend Willie Nelson, who spotted Meola performing at her weekly residency at Cafe des Amis in Paia, Hawaii.
She also sang with Nelson on the song "Will You Remember Mine?" which appears on his 2013 album, To All the Girls.
She also sang with with Steven Tyler, Kris Kristofferson, and Sammy Hagar.
Speaking to Wasserman Music, Meola shared that her idols are Ella Fitzgerald, Joni Mitchell, Nina Simone, Billie Holiday, Frank Sinatra, Cat Stevens, and James Taylor.
Meola's music is also available to listen to via Apple Music and Spotify. She self-released her EP Daydream in March 2022 which features the tracks "Daydream," "Smallest Things," "Got Your Way," "Sunshine" and "Flaws."
For her America's Got Talent audition, Meola performed her original song, "Daydreams."
Meola shared with the judges Simon Cowell, Heidi Klum, Sofia Vergara, and Howie Mandel that she began writing the track when things in her life were going better than she could ever have dreamed of, with a record deal on the table.
Meola said the song and its meaning had "kind of evolved over the past couple of years."
She explained: "I wrote it at a time when things were really beautiful and I was essentially living my daydream. I had a major-label record deal. I had a publishing deal. I had butterflies I was hatching. It was magical. And so, that's where it originated."
The song took on a whole new meaning after her mom was diagnosed with cancer in 2016 and Meola became a full-time caregiver, ultimately losing the record deal.
"Then my life flipped upside down," she said.
Reflecting on losing her record deal, Meola said: "I think maybe it was a bit of a blessing because it gave me some extra time to be there for her. She was my biggest cheerleader."
She continued: "I don't know how I'm going to be able to make it through a song without crying.
"But you know, singing was something my mom and I really connected with, and it's how I fell in love with music in the first place—her playing music in the car. So, I'm just trying to make her proud and continue to live my daydream."
Meola's mother died in June 2020.
Her performance moved the judges and studio audience so much that Klum decided to award Meola her golden buzzer, meaning she had a solid spot on the live shows, which are set to begin in August 2022.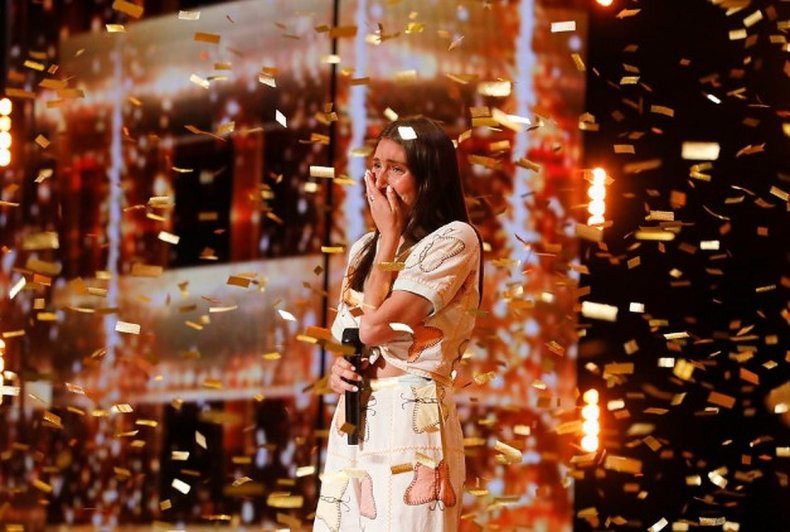 Klum said: "I'm speechless. Just everything about you, you just light up. I see a light around you. Immediately, I fell in love with you...I really really like you, so I'm gonna push this Golden Buzzer for you. It's you!"
Klum's fellow judges were also big fans. Vergara said, wiping away tears: "I think your mother was watching you tonight."
Cowell added: "There is something special about you. I'm sure those memories came flooding back to you during that audition."
Speaking to PEOPLE about choosing Meola as her golden-buzzer act, Klum said: "Coming into this season, I was not planning on pushing my Golden Buzzer for a singer, as I feel strongly that I need to push for a variety act."
She continued: "After hearing Lily's story about her mom passing and her struggle with it, my heart was already melted. And then she sang and my gut told me, 'She is yours.'"
"All of a sudden, [my] little heart starts beating faster and [my] stomach is like, 'Push the Golden Buzzer!' I could not help but take her under my wing."
America's Got Talent airs Tuesdays at 8 p.m. ET on NBC.