Limited Edition BMW M4 CSL Has a Flair for the Dramatic
The 2023 BMW M4 CSL is an amped-up version of the hot-selling 4 Series that combines the motorsports engineering with sporty styling. It debuts as the automaker's M program's 50th anniversary celebrations gain steam.
It sits atop the 4 Series lineup in power and price.
The CSL naming designation stands for "Competition, Sport, Lightweight", all hallmarks of BMW models of this caliber.
Many of the BMW M4 CSL's components, including the body, chassis and interior parts are made of carbon fiber or carbon fiber reinforced plastic (CFRP). Its new body weight is 3,640 pounds, a smidge more than a base model 4 Series Coupe, but with twice as much power.
It has a coupe body style and two-seater configuration. The car's M Carbon bucket seats reduce the car's weight by 53 pounds compared to if the traditional M4 Competition seats. A further 46 pounds has been saved by removing the rear seats and seat belts, and integrating a partition between the cabin and trunk.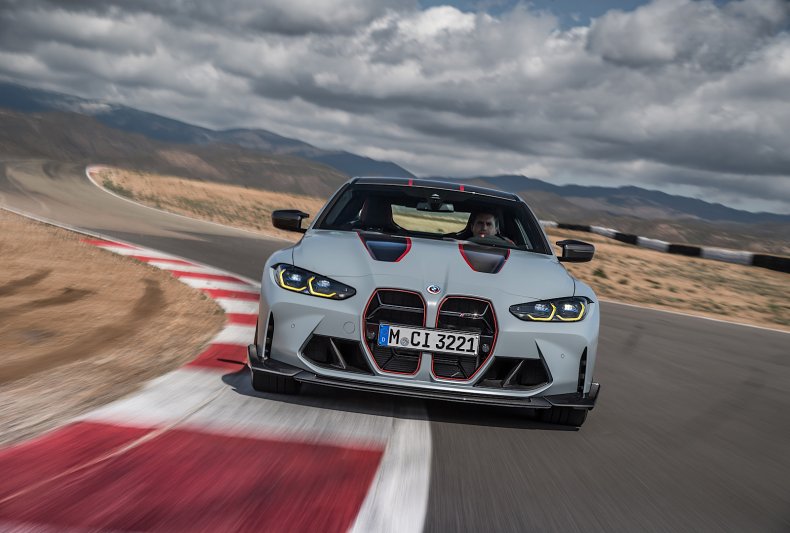 Different, heated seats are available, offering just a 21-pound weight savings.
The employment of M Carbon ceramic brakes and forged light-alloy wheels, springs and struts reduced weight by another 46 pounds while switching to ultra-lightweight sound insulation saved 33 pounds. Changing out the traditional exhaust system for a Titania rear silencer cut 9 pounds and modifications to the grille, rear lights floor mats, and automatic climate control shaved off another eight.
With its twin-turbocharged six-cylinder engine, the M4 CSL can move from zero to 60 miles per hour (mph) in 3.6 seconds and 120 mph in 10.5 seconds.
Power figures for the model are 543 horsepower and 479 pound-feet of torque.
The engine is paired with an M-tuned eight-speed automatic transmission, which has been tuned to be faster-reacting than the transmission in the M4 Competiton.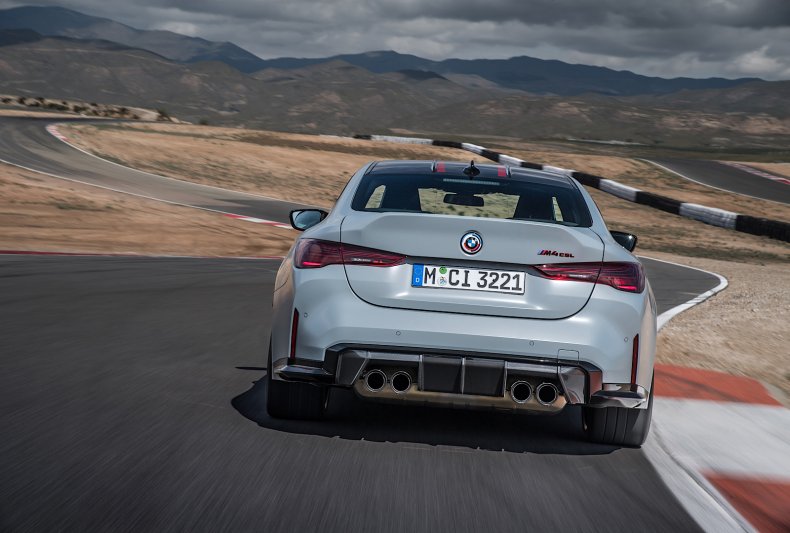 Its top speed is electronically limited to 191 mph.
The car's test run at the Nürburgring's Nordschleife circuit, yielded a 7:20.2 lap time, making it the fastest time ever for a series-production BMW.
BMW's engineers have calibrated the car to deliver track-like handling on the road or the circuit.
The braking system's red-painted calipers clamp onto 15.7-inch front and 15-inch rear disc brakes that are housed adjacent to the model's 19-inch front and 20-inch rear matte black forged M light-alloy wheels that are wrapped in Michelin Pilot Sport Cup 2 R tires. The braking system delivers a 31.5-pound weight savings.
Freshly tuned Dynamic Stability Control is designed to react faster than ever before thanks to the control unit's relocation to the engine management. The stability control system can also be completely disengaged for a more spirited ride.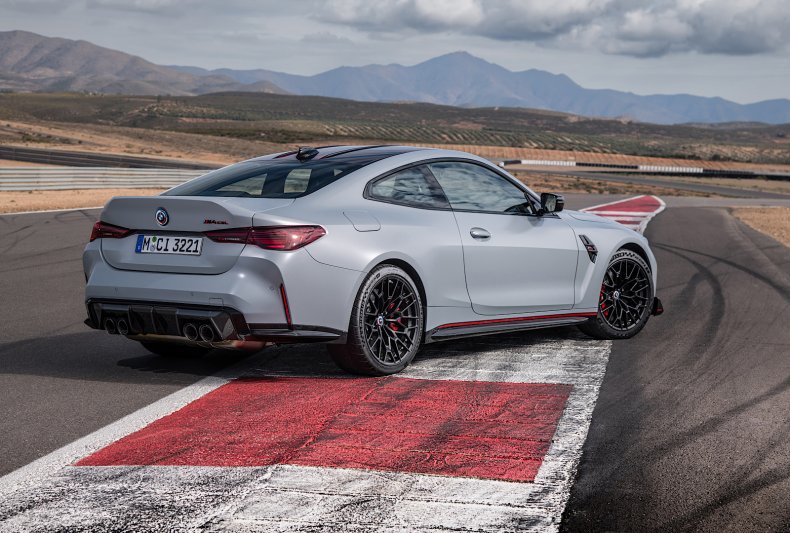 The car's M Traction Control function in the new BMW M4 CSL has been specially configured for track use with stages six to 10 based on an application for touring car racers to make allowances for pavement temperatures and tire conditions.
Three drive modes allow for some customization: Comfort, Sport and Sport Plus.
Each model has a steering wheel that features a red center marker at the 12 o'clock position and carbon fiber inlays on the three spokes. CFRP paddle shifters allow drivers to take more control of the model.
The styling of the M4 CSL's exterior comes courtesy of unique paint techniques. The car's carbon fiber hood features unpainted channels outlined in red, visually emphasizing the car's double bubble roof. The color extends to its side sills and grille, which also features "M4 CSL" badging.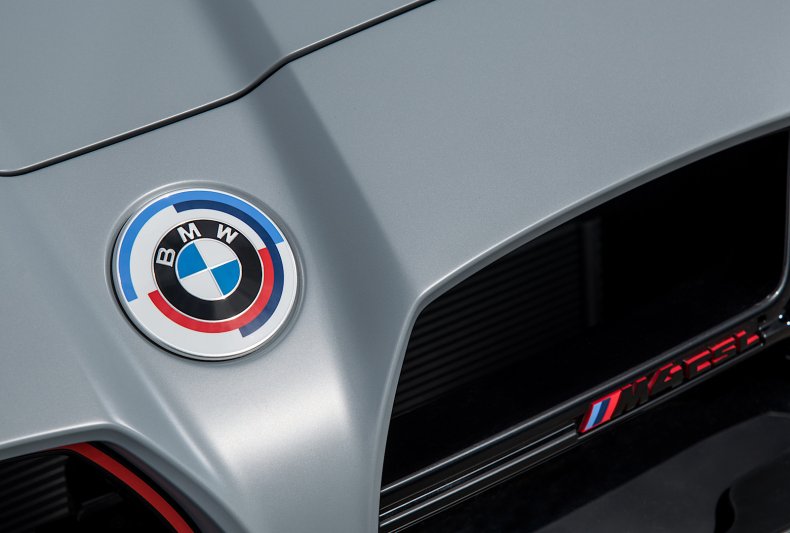 Each model gets BMW M 50 Years emblems on its hood, trunk lid and wheel center caps, marking its place in the 50th anniversary celebrations lineup. The design of the emblems recalls the blue, violet and red logo that was used in BMW Motorsport GmbH racing cars in 1973.
BMW customers can spec their M4 CSL with Frozen Brooklyn Grey, Alpine White or Black Sapphire metallic paint.
At the rear, new technology makes its debut in a series-produced car. All the light functions use LEDs that are housed within glass that has light threads woven into it. These threads illuminate via laser technology creating a unique visual effect.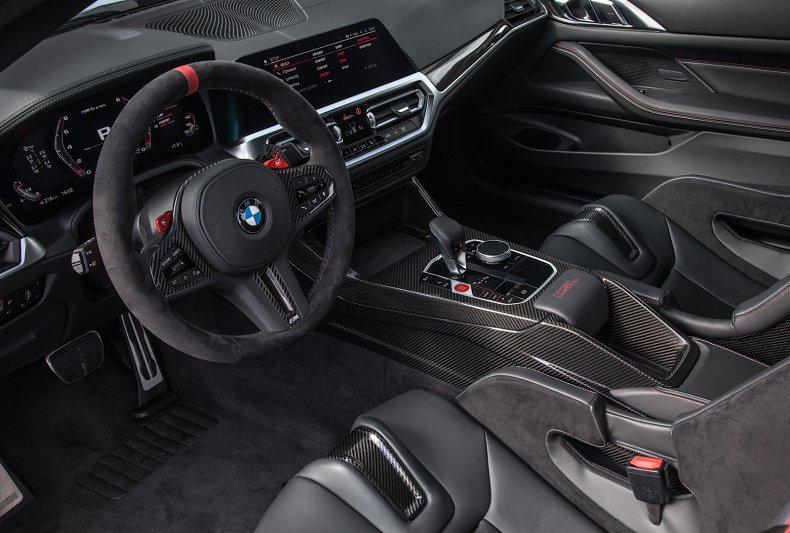 BMW will begin making the M4 CSL at its Dingolfing, Germany plant, where the iX is also made, in July 2022. It will be limited to 1,000 units globally at a cost of around $140,000 all-in.