Limo Crash: What Happened in Upstate New York Crash? Everything We Know So Far
New details are still emerging about the limousine crash that killed at least 20 people in upstate New York over the weekend. Seventeen people were passengers in the limo celebrating a birthday when they were killed. Criminal charges have since been filed.
Here's what we know so far about what happened in the limo crash.
Crash
Eighteen people were inside a 2001 Ford Excursion stretch limousine when it went through a stop sign and crashed into a parked car in Schoharie, New York, some 25 miles west of Albany, on Saturday. The limo was reportedly rented by the passengers as part of a birthday celebration.
Seventeen passengers, the driver and two pedestrians were killed in the crash. Police were still investigating exactly what caused the crash. It was not immediately clear whether there was driver error or if the vehicle malfunctioned.
Victims
Among those killed in the crash were 17 passengers, two pedestrians and the driver. The driver was identified as Scott T. Lisinicchia.
The 17 passengers included four sisters and a newlywed couple, who were celebrating the birthday of 30-year-old Amy Steenburg, who was married in June. Steenburg and her three sisters were all killed. The other victims, including Lisinicchia and Steenburg, included: Amanda Halse, Patrick Cushing, Erin McGowan, Shane McGowan, Brian Hough, James Schnurr, Axel Steenburg, Allison King, Mary Dyson, Rob Dyson, Abigail Jackson, Adam Jackson, Rich Steenburg, Michael Ukaj, Amanda Rivenburg, Rachael Cavosie, Matthew Coons and Savannah Bursese.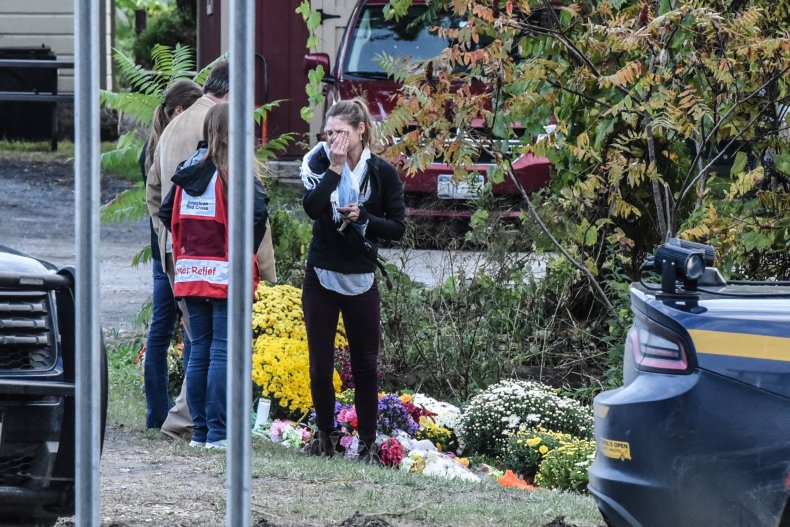 Vehicle
The modified stretch limo involved in the crash, operated by Prestige Limo, failed a state inspection in September and should not have been on the road, New York Governor Andrew Cuomo said. The driver of the car also did not have the necessary license to operate the limo, according to CNN.
"The vehicle was subject to inspections, and the owner was warned not to operate the vehicle," said DOT spokesperson Joe Morrissey, according to CNN.
Limo Owner
The owner of Prestige Limousine, Shahed Hussain, was reportedly a former FBI informant, ABC News reported. A man by the same name testified in two suspected terrorism cases, according to The New York Times.
Hussain reportedly became an informant in 2002 following an arrest for alleged illegal activities while working at a DMV. Hussain was believed to have returned to Pakistan.
Criminal Charges
Nauman Hussain, the operator of the limo company involved, was arrested on charges of homicide following the crash. Hussain, 28, pleaded not guilty to one count of criminally negligent homicide on Wednesday and posted bond.
"The sole responsibility for that motor vehicle being on the road on Saturday rests with Nauman Hussain," said New York State police superintendent George Beach, according to CBS News. "That vehicle was placed out of service by the Department of Transportation in September of this year and should not have been on the road."
Hussain's attorney, Lee Kindlon, said his client was not guilty and "does not want sympathy or pity from anybody."