Lin-Manuel Miranda Changes Lyrics to 'Hamilton' Song to Take Aim at Bolton
Lin-Manuel Miranda has given some Hamilton lyrics a major rewrite, in service of a cheeky subtweet. On Thursday, the playwright extraordinaire took aim at former National Security Advisor John Bolton, whose upcoming book, The Room Where It Happened, has a title similar to "The Room Where It Happens," a song from Miranda's blockbuster musical.
Miranda brazenly tweeted the lyrics from another Hamilton tune, "Who Lives, Who Dies, Who Tells Your Story," but with a sly shoutout to Bolton, who previously worked in President Donald Trump's administration for roughly a year and a half, until September 2019.
The Hamilton creator wrote on Twitter: "Let me tell you what I wish I'd known/When I was young and dreamed of glory/You have no control/Who lives, who dies, who [borrows your song title to write a cash-in book when they could have testified before Congress] tells your story..."
Miranda, who is known for being politically active, also included a link to get involved with the Fair Fight Action, which aims to build a more inclusive Georgia and make sure every voice is heard.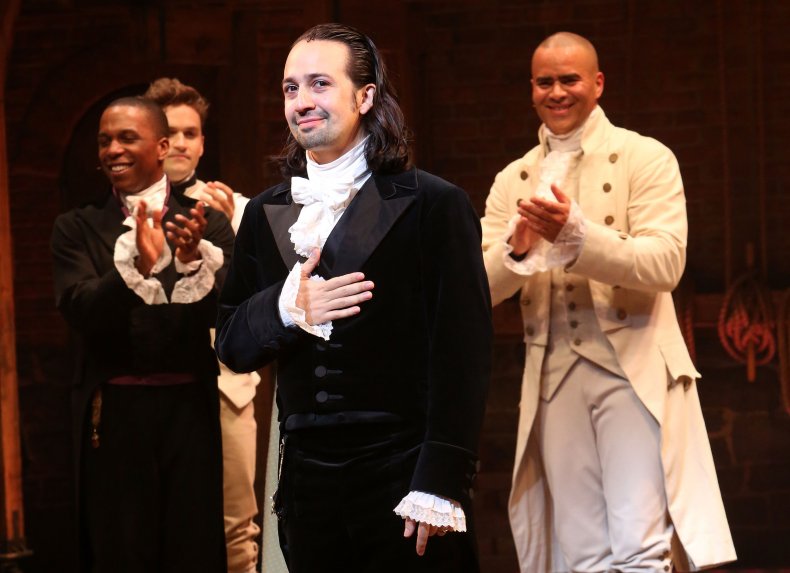 The song that Miranda's referencing in that tweet, "The Room Where It Happens," comes in Hamilton's second act, and which focuses on what it's like to be a part of important political decisions. During the number, Alexander Hamilton, Thomas Jefferson and James Madison have a secret meeting and make a political compromise.
Mic noted back in 2016 that many historians tried to figure out what really happened based on Jefferson's account of the meeting, but no one can be entirely sure. The song alludes to the fact that throughout history, it's hard to know what happened behind closed doors.
And that's more or less what the title of Bolton's book seems to be communicating—that we're being let into a secret room. However, the book's name does not appear to be an allusion to the Tony-winning musical or the jazzy song. According to Simon & Schuster, The Room Where It Happens is a "White House memoir that is the most comprehensive and substantial account of the Trump Administration, and one of the few to date by a top-level official."
"I am hard-pressed to identify any significant Trump decision during my tenure that wasn't driven by reelection calculations," Bolton writes, according to the book's synopsis. Bolton also claimed that he warned Attorney General William Barr about Trump's potential "obstruction of justice."
Bolton, who worked under the Republican administrations of Ronald Reagan, George H.W. Bush and George W. Bush, said he resigned from his position as National Security Advisor, in contrast to Trump's assertion that he fired Bolton.
On January 23, the White House issued a formal threat to stop Bolton from publishing his book and cited national security concerns, according to CNN. The Room Where It Happened will be available for purchase on Tuesday, June 23.
When contacted by Newsweek for additional comment, Miranda's representative declined to share any further remarks, saying that the tweet speaks for itself.