'Hamilton' Creator Lin-Manuel Miranda on the Show's Journey to Cultural Phenomenon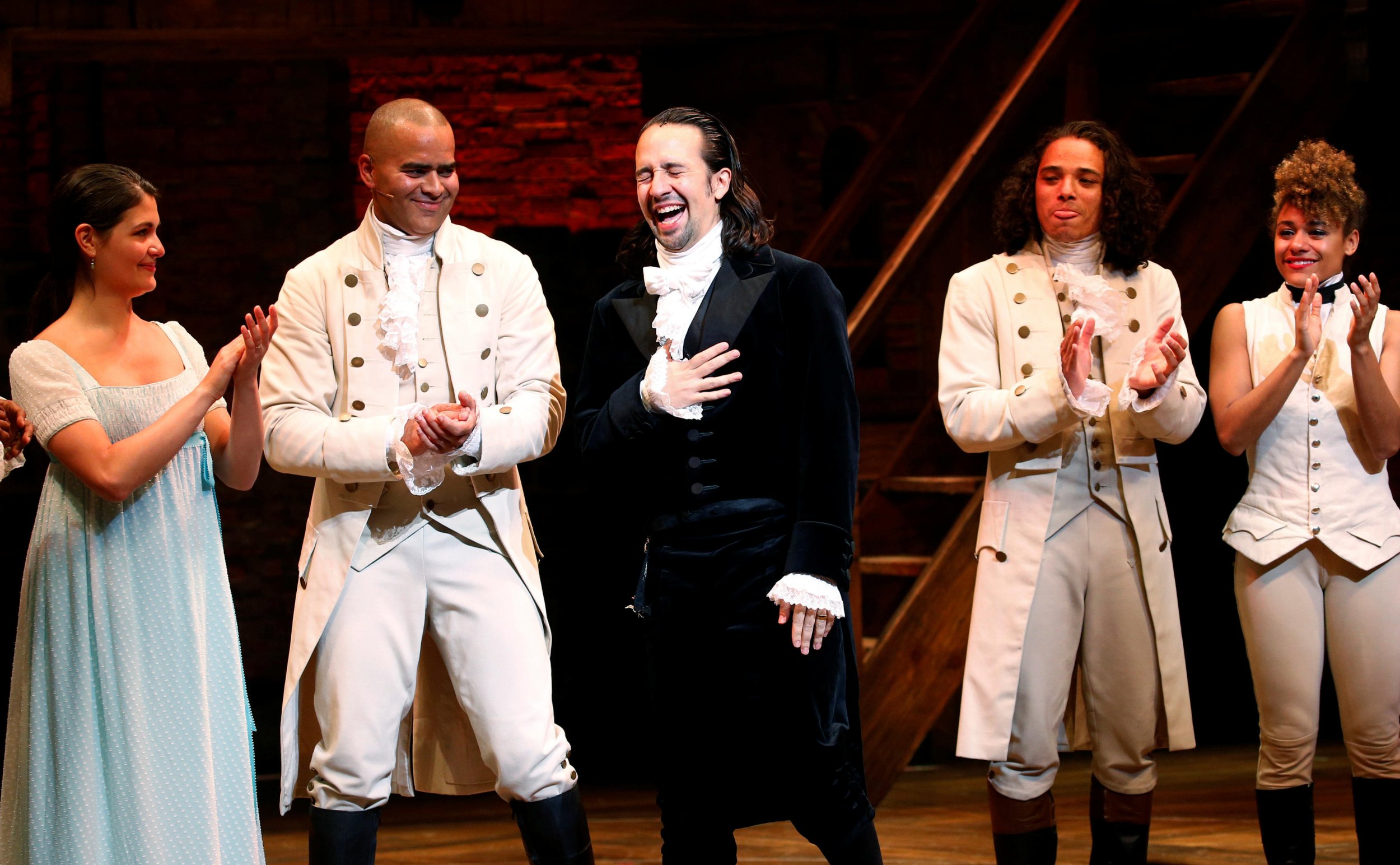 This interview with Lin-Manuel Miranda, along with other articles about Broadway phenomeon, Hamilton, are featured in a new special edition about the musical hit.
When did you know what you had in your imagination was more than a mixtape?
When we performed the songs at the Lincoln Center Songbook series, we realized we were hopefully on our way to creating not just a series of songs, but a satisfying evening in the theater.
Was there a specific moment you realized the show itself was going to be bigger than Broadway or was it a series of events?
I was quietly confident that we'd get lots of school groups. History teachers have been using the White House clip since it went up in 2009, so I knew they'd come see the finished product and hopefully bring their students. Everyone else has been a revelation.
What's been most surprising to you about the show's success?
One of the riskiest things about it was to make it through-composed. There's very little in the show that's not on the cast album. I had a moment of, "Well, aren't we giving the whole thing away?" And that turned out to be an incredible asset because there are legions of fans who haven't yet had a chance to see the show, and love the album on its own terms, and the production they're creating in their own minds. That's how I soaked up many cast albums growing up, so that's been wonderful.
What does it mean to you to hear an iconic artist like Nas, or a leader like President Obama tell you what the show meant to them?
Nas is one of my favorite writers, full-stop. Nothing can prepare you for kindness from your heroes. And President Obama's kindness—first of all in inviting me to perform at the White House in the first place, but then following that up with his support of the show when we finished it—has been truly humbling and thrilling.
What has been the most gratifying award or recognition for the show?
It's the dedicated student matinees, no question. Our educational program, created with the Rockefeller Foundation and the Gilder-Lehrman Institute, will bring 20,000 students to Hamilton each year over the life of the show. At these matinees, before the show starts, they perform their own history-inspired works for their peers and our company. And they are the most rollicking, spirited, inspiring audiences I've had the privilege to perform for in my life. My only regret about leaving the role is the energy from those student matinees. They have changed my life.
A candidate for president referenced the show in her first major address as the Democratic Party's nominee. Does something like that register to you as astounding, or is it par for the course at this point?
It's still astounding. And it's happened so quickly. We went from being a brand new Broadway musical to the titles of these songs becoming cultural shorthand SO quickly. I see "The Room Where it Happens" quoted in political coverage, and I still get whiplash. I remember writing that while walking my dog, so to hear it on Meet The Press or in a politician's briefing remains very surreal.
As the show continues to cement its place on Broadway, there are several Hamilton-related items on the horizon: The Chicago staging; the start of a national tour in San Francisco; The Hamilton Mixtape; Hamilton's America on PBS; the London staging. What about these projects is most exciting to you?
We worked for six years to make this piece of theater. I want the world to ideally see it in that form first, so the tours are exciting because it's the energy of incredible new actors bringing this theater to more people all over the country and the world in the form in which we intended. Hamilton's America is a wonderful intersection of where Hamilton's story and the real world meet: the director, Alex Horwitz, has been following me around since 2012, and he has these incredible moments that I'm grateful have been captured for posterity.
As for the Mixtape, it feels like a closing of the circle. When I first conceived this piece, I was casting my favorite musical artists as the Founders. It turns out I had to write the musical first, but the way in which the show has in turn inspired so many of my musical heroes is thrilling. I can't wait for you to hear what they've made.
Hamilton is in many ways about living with an awareness of how you'll be remembered. What do you hope future historians will say about Hamilton and the impact it's had? What (if anything) can you do to ensure that's the case?
The answer is in your question. The show is about how you can't control your legacy; it is determined by who survives. All you can control is the work. Make the best thing you know how. The world will do with it what it will.
For more articles about the Broadway phenomenon, check out Newsweek's Special Edition Hamilton, by Issue Editor Tim Baker. For a backstage pass to the Broadway musical sweeping the nation, pick up a copy today.