Lin-Manuel Miranda Begs Philip Pullman for More Info About 'His Dark Materials'
Philip Pullman, author of the His Dark Materials and The Book of Dust trilogies, put a spotlight on one of the unvisited corners of his fantasy world in a Thursday morning exchange with actor Lin-Manuel Miranda, who plays one of Pullman's characters in a joint BBC and HBO adaptation.
In the His Dark Materials TV show, Miranda plays Lee Scoresby, a Texas aeronaut who uses his gunslinging and hot air ballooning skills to aid Lyra Silvertongue in her journey to the Arctic to save her friend, who was kidnapped by a group conducting experiments on children in the hopes of unlocking cosmic secrets. While Scoresby brings a lot of Texas flavor to the adventure, we never visit Texas in The Golden Compass or in any of the other books in the two trilogies set in Pullman's parallel world.
"I've so enjoyed seeing more of Lyra's world in the new books," Miranda tweeted on Thursday. "Any more you can tell us about Lee Scoresby's Texas?"
"You played a magnificent Lee," Pullman replied via Twitter. "Texas in Lyra's world - very good question. It would have be different, but not too much. Maybe there's a hint in that recently discovered photo of Billy the Kid playing croquet..."
The North American continent, let alone Texas, barely features in His Dark Materials, which is set primarily in Europe, the Arctic circle and fantastical locations. In the most recent entry in The Book of Dust trilogy, 2019's The Secret Commonwealth, Lyra journeys from Oxford in Brytain to Turki in Eastern Europe.
But there are several hints at the state of America and Scoresby's Texas home. We know, for example, that the crocodile on the alethiometer has a symbolic resonance indicating America. The books have also mentioned a North American Arctic Survey Station in Alaska.
The big difference, however, is that there's no United States. Instead, Texas is its own country, located between New Denmark and Hispania Nova (Scoresby himself is of New Danish descent). But what we know about Texas comports well with Pullman's description of it as "different, but not too much."
Scoresby and other Texans introduced in the books have been fur trappers, gold rushers and sharpshooters. Scoresby won his balloon in a poker game.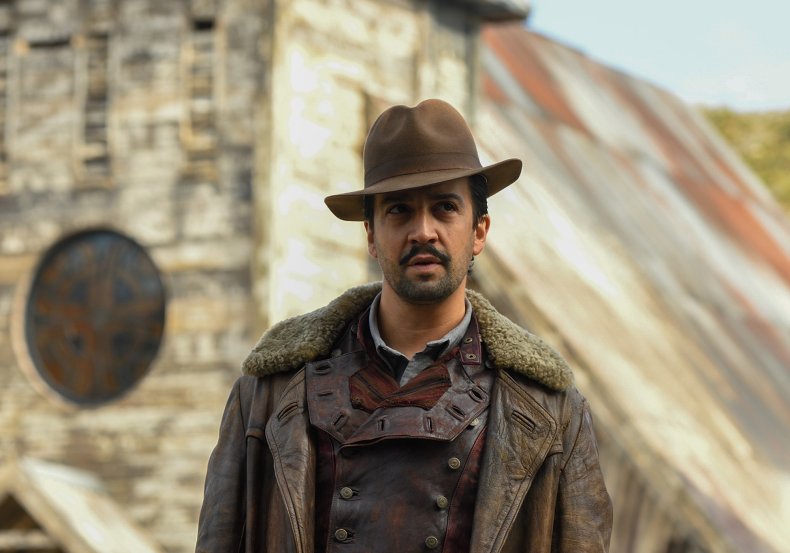 While there are many fantastical elements in both His Dark Materials and The Book of Dust—that human souls are divided into two bodies, one a shapeshifting dæmon, is only the most obvious—Pullman's books are also an alternate history of sorts. The author unpacked that idea in a 2019 interview with Newsweek, upon the release of The Secret Commonwealth.
Answering a question about the differences between the world of the books and our own, such as the existence of Napoleon, but the nonexistence of the Pope, Pullman described the main event dividing their history from ours.
"The pivot point deals with the Church, because in Lyra's world when Calvin became the Pope—an unlikely move we might think, and I don't go into all the theology and politics of it; that's for science fiction, if you'd like—the implication is he became Pope and promptly dissolved the papacy, in the name of what we'd call now populism perhaps."
In Lyra's world, the 16th-century Protestant Reformation figure John Calvin instead becomes the final pope. After transferring the papacy to Switzerland, Calvin turns his Holy Church into Europe's dominant power. Upon his death, the papacy is abolished and the book's Magisterium—the powerful church that wields its authority across Europe—rises.
Much of Lyra's world is shaped by that single change. The American Revolution and the resulting United States never come about, so North America remains separated nations that still rely heavily on frontier industries.
Many events known to our history still occurred, just with a twist, such as the Battle of the Alamo, which involved Danish and French combatants.
Pullman adds to our sense of Texas in his latest exchange with Miranda, by describing an image from our world that he sees as also capturing something about his fictional version of Texas. While he's partially being flippant on social media—it wouldn't be wise to read anything too concrete about The Book of Dust series from his tweet—Pullman's reference to the photograph of Billy the Kid is certainly evocative.
In 2010, a collector discovered the faded photo inside a cardboard box in a California junk shop. It was later confirmed in 2015 to depict Henry McCarty, more commonly known as Billy the Kid, a famous outlaw gunfighter who was shot to death by Sheriff Pat Garrett at the age of 21. In the photo, McCarty is seen playing croquet at a wedding in New Mexico in 1878. It's the only second known photograph of Billy the Kid to be discovered.
Croquet first became popular in England in the 1860s and soon spread because it was one of the few sports that men and women could play together. And while it had a certain amount of respectability among the English, in the United States it eventually became associated with inappropriate drinking and partying.
What Pullman sees in the photograph is up to interpretation, but it would seem to suggest that the Texas of His Dark Materials and The Book of Dust combines traditional Old West aesthetics with idiosyncratic cultural features.
On Wednesday, it was announced that a His Dark Materials story written for a 2004 charity auction will get a wide-release publication. Called Serpentine, the new story is set between His Dark Materials and The Book of Dust, following a teenaged Lyra Silvertongue back to the northern kingdom of Lapland, where she first met Scoresby and the bear king Iorek Byrnison. While unlikely to deal all that directly with Texas, there will undoubtedly be new hints to uncover about Lyra's world.
"When I wrote Serpentine, I had no idea that I was going on to write another trilogy, showing Lyra as an adult, but she and her world wouldn't leave me alone," Pullman said to The Guardian recently. "When it comes to human affairs, a billion invisible filaments connect us to our own pasts, as well as to the most remote things we can imagine; and I hope that, above all, these books are about being alive and being human."
Serpentine will be released in October, with actor Olivia Colman (The Favourite, The Crown) narrating the audiobook release. The third and final book in Pullman's The Book of Dust trilogy, which will take Lyra to Central Asia to uncover the secret of roses, doesn't yet have a release date.