Lin-Manuel Miranda's latest Hamilton news will be music to theater fans and history buffs alike.
On May 12, Miranda announced on Twitter that the musical juggernaut will be available to stream on Disney Plus, starting July 3, just in time for Independence Day. "It's only a matter of time...Our Hamilton film" he tweeted.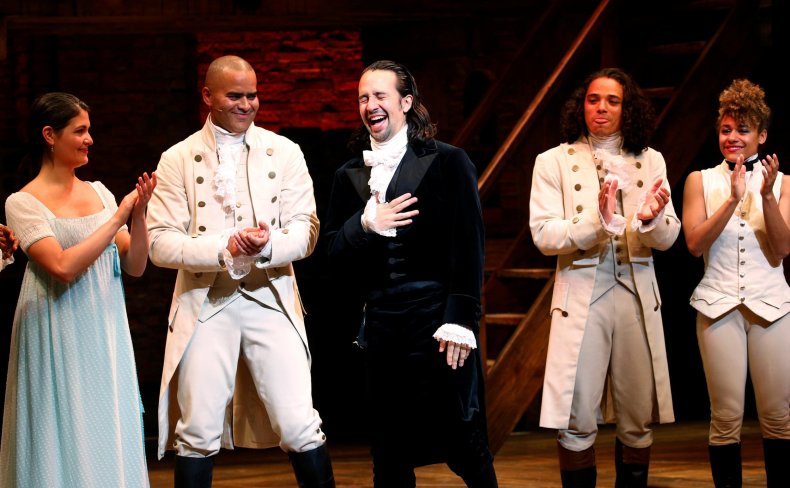 The filmed version of the musical was originally slated for a theatrical release in October 2021. Now, fans will scramble for their remote to watch and sing along in the comfort of their own home.
The musical was filmed in June 2016 at Richard Rodger's Theatre. The original cast was part of this production, including Miranda as Hamilton, Daveed Diggs as Marquis de Lafayette and Thomas Jefferson, Renée Elise Goldsberry as Angelica Schuyler, Leslie Odom, Jr. as Aaron Burr, Christopher Jackson as George Washington, Jonathan Groff as King George, Phillipa Soo as Eliza Hamilton, along with many others.
Disney described the filmed version of Hamilton as a "leap forward in the art of 'live capture,' which transports its audience into the world of the Broadway show in a uniquely intimate way." The media company reportedly paid $75 million for the musical's worldwide rights.
"I'm so proud of how beautifully Tommy Kail has brought Hamilton to the screen. He's given everyone who watches this film the best seat in the house," Miranda said in a statement. "I'm so grateful to Disney and Disney+ for reimagining and moving up our release to July 4th weekend of this year, in light of the world turning upside down. I'm so grateful to all the fans who asked for this, and I'm so glad that we're able to make it happen. I'm so proud of this show. I can't wait for you to see it."
Hamilton debuted on Broadway in 2015. It has won 11 Tonys in its tenure, including Best Musical. Additionally, Miranda won the 2016 Pulitzer Prize for Drama.