Play and songwriter Lin-Manuel Miranda sent a special message to New York hospital staff on Monday.
Appearing in a live video briefing held by NewYork-Presbyterian Hospital Chief Operating Officer Dr. Laura Forese, Miranda shared his gratitude with the hospital system's frontline health care workers, who continue to treat those suffering from COVID-19 amidst the ongoing coronavirus pandemic.
"Hi, it's Lin Miranda. I just wanted to thank the 50,000 NewYork-Presbyterian workers who are working so hard every day to keep us safe," Miranda said in the video briefing appearance. "I know you all have families. I know you are putting yourself on the line and you never asked for this, but you are heroes and you are doing incredible work. I'm grateful for your service. New York City is grateful for your service. Thank you so much. Keep continuing to let us know how we can help."
The NewYork-Presbyterian hospital system includes 10 campuses in the Greater New York area, with more than 47,000 employees and affiliated physicians. The non-profit, academic hospital system includes two medical schools and was rated the best hospital in New York City in 2019, according to U.S. News & World Report.
Miranda, the writer of Broadway musicals Hamilton and In the Heights, is just one of thousands of voices celebrating medical workers as they take on the coronavirus pandemic.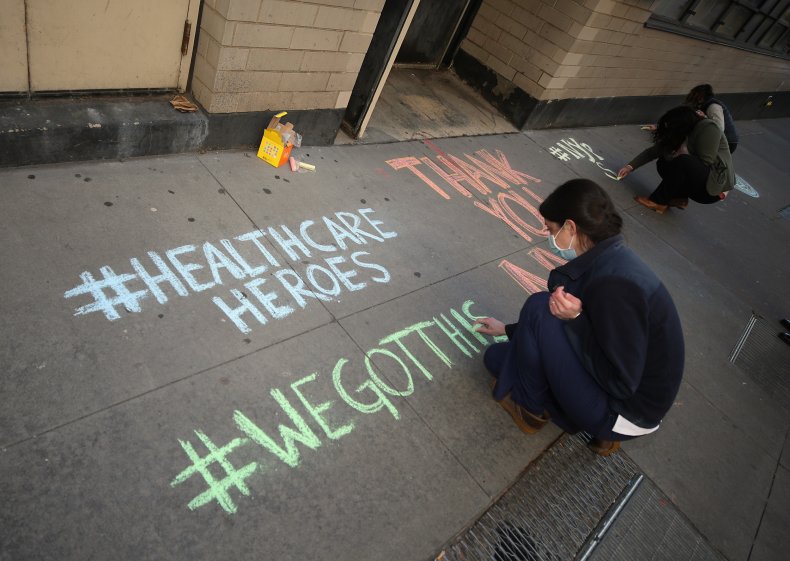 Other celebrities addressing well-wishes to NewYork-Presbyterian health care workers and other frontline medical responders include Good Morning America anchor Robin Roberts and former football quarterback Eli Manning, in addition to the FDNY and other residents of New York City.
New York City now has more than 57,000 confirmed cases of the coronavirus, while more than 1,500 have died from COVID-19, putting a strain on hospital resources and staff. 58 percent of all beds, throughout the NewYork-Presybyterian system are occupied by COVID-19 patients, with five hundred people on ventilators in the hospitals' intensive care unit.
"This has fundamentally altered the way we care for patients in the hospital," NewYork-Presbyterian president Dr. Steven Corwin told USA Today.
In response to COVID-19, NewYork-Presbyterian Hospitals have instituted new protocols for visitors and patients, while establishing a public hotline for people who think they may have been exposed to the virus or have other questions. The COVID-19 Public Hotline can be reached at 646-697-4000. NewYork-Presbyterian has also established a Virtual Urgent Care system for live video consultations with doctors.
The hospital system is also looking to hire new physicians, registered nurses, respiratory therapists and other health professionals.