Lin-Manuel Miranda's Father Shares Heartwarming Photo of Another Puerto Rican Victory After Governor Resigns
Luis A Miranda, Jr. celebrated Puerto Rico Governor Ricardo Rosselló's resignation by sharing a photo of his son, Hamilton creator Lin-Manuel Miranda.
Rosselló originally said he would not seek reelection but would not resign. Multiple protests ensued and Rosselló faced heavy criticism from many, including Luis and Lin-Manuel, who both spoke out on Twitter. On Wednesday, the governor told the public in a Facebook video that his resignation would be effective August 2 after hundreds of pages of group messages were leaked that contained racist and misogynistic comments.
"Puerto Rico deserves better. Those of us in the diaspora are committed to continue pushing Puerto Rico's agenda but as we fight the good fight, we need a Governor that will be respected in the halls of Washington and in the streets of El Barrio," Luis posted on Twitter.
After the accomplishment of the Puerto Rican people, Luis wrote on Twitter on Thursday morning that he felt "victorious." In honor of the moment, he shared a photo of Lin-Manuel from the 2008 Tony Awards.
"Let me share the victory of another Puerto Rican, and as he said when he won 'this is for Abuelo Guisin & Puerto Rico,'" Luis captioned the photo on Twitter.
While many people know Lin-Manuel for the musical Hamilton, in 2008, Lin-Manuel became the youngest person to win best original score at the Tony Awards for his Broadway musical In the Heights.
"And with that, I want to thank all my Latino people. This is for Abuelo Guisin and Puerto Rico," Lin-Manuel said as he waved a Puerto Rican flag at the end of his acceptance speech.
In the Heights is set in New York City in the largely Hispanic-American neighborhood of Washington Heights. It opened in 2008 and won four Tony Awards before closing in 2011. It's scheduled to be released as a movie in 2020.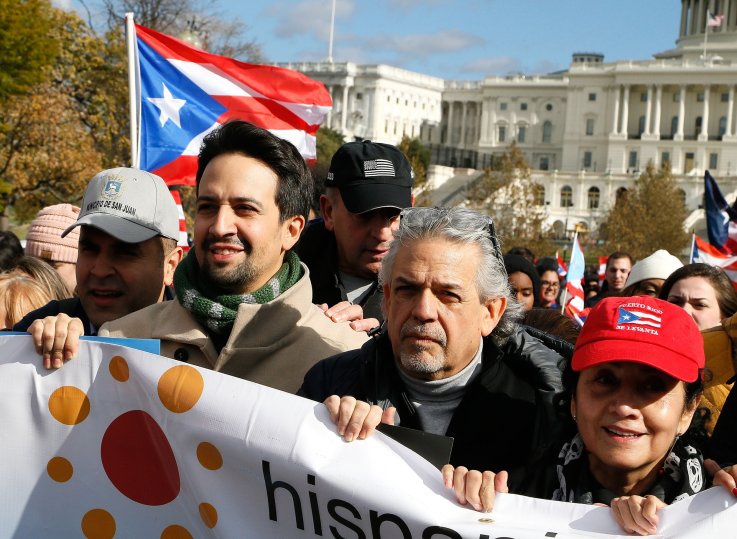 On Wednesday night, Luis wrote on Twitter that "people power is no joke" and noted that he lived through a historical moment as he listened to Rosselló's resignation. In an op-ed for Time, Luis credited the people of Puerto Rico for knowing they deserve better and setting an example for others.
"Something in Puerto Rico has changed forever. For those of us who migrated to New York or Spain or anywhere in the world, our job is to take the lead from our family in Puerto Rico," Luis wrote. "It is our responsibility to make sure that this change results in a more resilient and prosperous Puerto Rico."
Before the messages were leaked, former secretary of Puerto Rico's department of education Julia Keleher and Ángela Ávila-Marrero, who led Puerto Rico's Health Insurance Administration, were arrested for allegedly directing $15.5 million in government contracts to business friends.
In his op-ed, Luis explained that the people of Puerto Rico raised their voices and used their collective power to unseat corruption.
Lin-Manuel Miranda's Father Shares Heartwarming Photo of Another Puerto Rican Victory After Governor Resigns | U.S.