Lawyer Lin Wood on Saturday predicted that Michael Flynn will soon become a five-star general after the U.S. Army declined to investigate the former national security adviser's coup remarks.
Wood and Flynn headlined the Rock the Red event on Friday and Saturday in Greenville, South Carolina. "Men and women who have the love of country and the courage to serve in our military, like General Michael Flynn has done for 30 years. A four-star general, I believe soon to be a five-star general," Wood told a crowd during the event.
The attorney also claimed that former President Donald Trump "plays chess at a level of which we do not know." Wood made similar remarks about Trump's political strategy last month after he failed to defeat South Carolina GOP chairman Drew McKissick's re-election bid. McKissick's win came after Trump endorsed him over Wood.
"How does he do it? How in the world does he do it? He does it because he's doing God's will. God does it through Donald Trump. He does it through Michael Flynn," Wood added.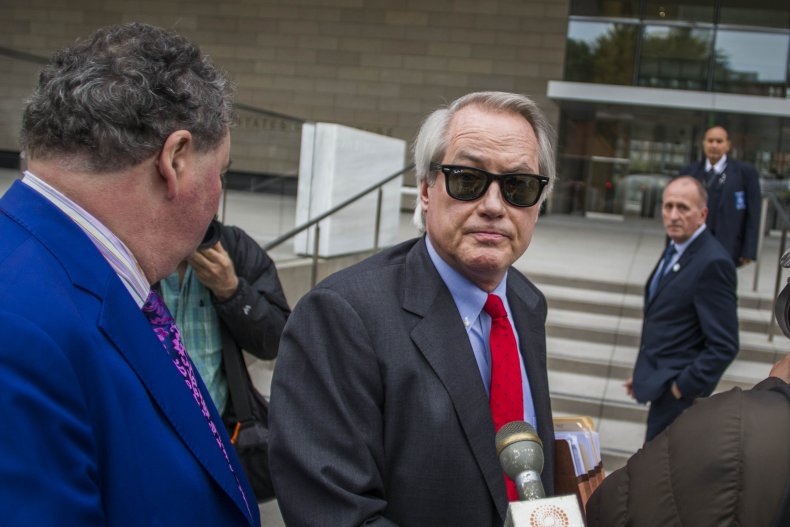 Since the November election, Wood and Flynn have both publicly and vehemently pushed Trump's false claim that widespread election fraud caused his defeat to President Joe Biden.
Flynn, who's viewed as a hero within the QAnon movement, has been linked to the conspiracy theory since he shared a video to Twitter last June. In the clip, Flynn could be seen taking a makeshift oath that concluded with the QAnon phrase "Where we go one we go all," which is often abbreviated to "WWG1WGA."
During a Q&A session at the "For God & County Patriot Roundup" in Dallas last Sunday, Flynn appeared to support the idea of a Myanmar-like coup in America.
"I want to know why what happened in Myanmar can't happen here?" one attendee asked, prompting Flynn to respond: "No reason. I mean, it should happen here."
On Monday night, Flynn claimed that he never endorsed a coup in the U.S. and called media reports on his remarks "a boldface fabrication based on twisted reporting."
Two days later, the U.S. Army said it will not investigate Flynn, a retired U.S. Army lieutenant general, over the remarks.
"We are aware of the statements LTG (R) Flynn made May 30 and June 1. The Army is not investigating these statements further at this time," an Army spokesperson said in a statement, according to CNN.
Trump pardoned Flynn in late November after he pleaded guilty twice to lying to the FBI. "It is my Great Honor to announce that General Michael T. Flynn has been granted a Full Pardon," Trump tweeted at the time. "Congratulations to @GenFlynn and his wonderful family, I know you will now have a truly fantastic Thanksgiving!"
Wood's remarks come as Flynn's brother, General Charles A. Flynn, assumed command of the U.S. Army Pacific on Friday. He previously served as the deputy chief of staff for operations, plans and training of Army staff.
Newsweek reached out to the U.S. Army for comment. This story will be updated with any response.