QAnon-supporting lawyer Lin Wood told a crowd at a "patriotism" conference in Missouri that it "doesn't matter whether Q is true" before urging them to draw their own conclusions on the conspiracy theory and "share it with others."
Referencing last November's failed election bid by Donald Trump, who he said was still "your president," the controversial attorney told an audience at the Determined Patriotism Conference: "This is not about one presidential election. So if I were to stand up here and say 'I am Q', you wouldn't believe me, and you shouldn't because I'm not Q, but maybe I am."
To audible laughter from the crowd at the July 1 talk, he continued: "The audience is laughing at me, God is laughing at me. God knows I'm not Q. I'm just pulling a leg. But maybe I am Q, and so are you.
"If somebody came riding in to save us on a white horse, what would we do? If you knew that person was coming, if you knew Q existed, and Q was going to have a plan to fix everything for you, what would you do? Nothing. You'd sit back and you'd wait for Q.
"So my position would be to tell you, it doesn't matter whether Q is true. Be Q. Do the research, connect the dots, draw your own conclusion and find your own truth. And then share it with others."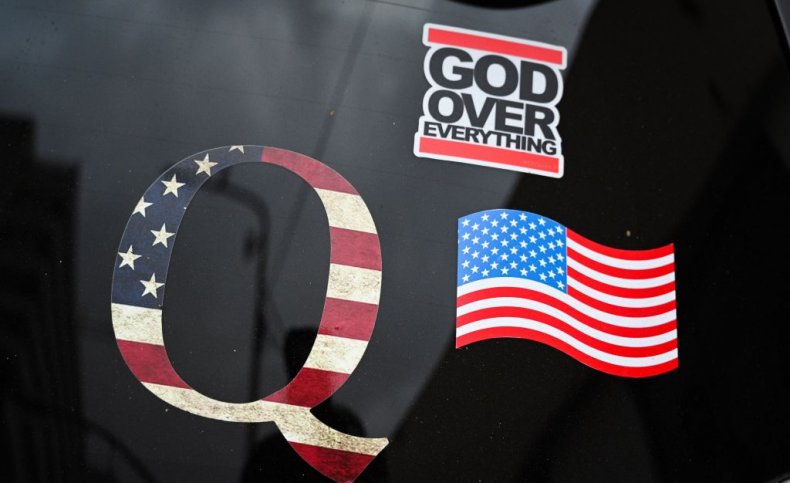 His speech earlier this month, which was promoted by the conservative radio host Doug Billings, was not the first time Wood has referred to Trump as the incumbent president.
Nor was it the first time he has promoted the QAnon conspiracy theory.
In April, three months after Joe Biden's inauguration, Wood once again falsely claimed Trump was still president while making "Q" gestures with his fingers while giving a speech at a rally in South Carolina.
"Everybody in this auditorium is waiting for the day Donald Trump steps out in front of the cameras and say to the masses 'I'm back,'" Wood told the crowd, before adding: "I'm a little different.
"You're waiting for that day, I'm waiting for this day: The day where Donald Trump walks on stage in front of the masses and looks at you and says 'I never left.' Because he didn't leave you, Donald Trump did not leave you."
Wood then appeared to write out the letter "Q" with his finger while repeating the line "he did not leave you."
One of the most prominent beliefs of the QAnon movement is that a cabal of satanic pedophiles exists that includes top Democrat figures.
Newsweek has contacted Wood for comment.