Lin Wood Says Brian Kemp to be Arrested, Doubles Down on Georgia Vote Fraud Conspiracy
Attorney Lin Wood has doubled down on his Georgia voter fraud conspiracy by predicting that Georgia Governor Brian Kemp will "end up in handcuffs" for refusing to overturn the 2020 election results in the state.
In a video posted to Twitter early Monday by @PatriotTakes, Wood tells an unnamed interviewer that Georgia Governor Brian Kemp, Lt. Governor Geoffrey Duncan, Secretary of State Brad Raffensberger, and Attorney General Chris Carr will all be arrested soon.
Wood didn't specify the allegations against the Georgia officials that led to this predictions. Last year, Kemp, Duncan, Raffensperger and Carr repeatedly refused Trump's request to overturn the 2020 presidential election results in the state.
"I think Brad's probably going to be in cuffs too," he said. "It's called election fraud. That's not a good crime to commit ... That's pretty close to treason."
As one of Trump's most vocal supporters in attempting to convince Georgia leadership to reverse the state's electoral college call for Biden, Wood filed a lawsuit in Georgia in November of last year arguing that Georgia's election was carried out unconstitutionally, due to questions of how to apply signature matching rules.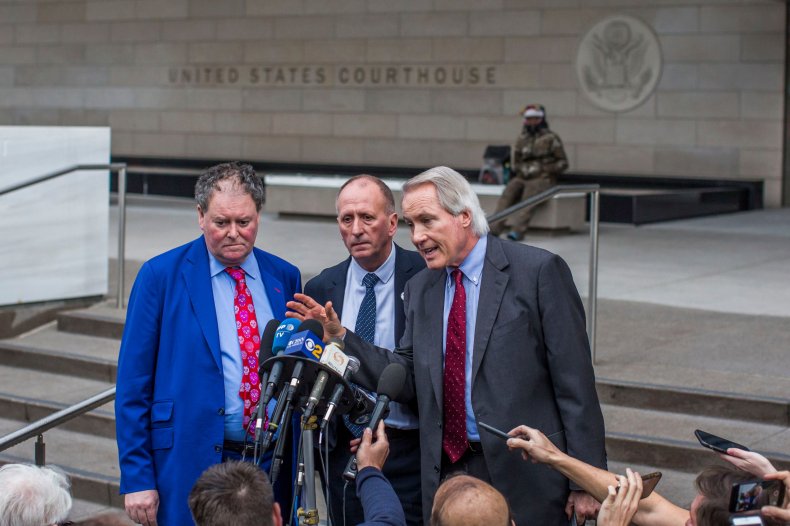 The suit was dismissed. But it was this suit from Wood that appeared to give Trump the confidence to declare Georgia officials didn't have the means to compare and confirm signatures on absentee ballots, which he tweeted out in a since blocked tweet on November 14th:
"The Consent Decree signed by the Georgia Secretary of State, with the approval of Governor @BrianKempGA, at the urging of @staceyabrams, makes it impossible to check & match signatures on ballots and envelopes, etc. They knew they were going to cheat. Must expose real signatures!"
In April of this year, Wood sued the State Bar of Georgia's disciplinary board. The board had issued a requirement for him to undergo a mental health exam in order to keep his law license, which Wood argued was a violation of his first amendment rights. The Georgia investigation threatened to revoke his law license on the grounds of "mental illness, cognitive impairment, alcohol abuse, or substance abuse."
Mercer Law School, Wood's alma mater, has also been under pressure to remove Wood's name from a dedicated courtroom on their campus. Wood was also banned from Twitter earlier this year, after claiming that the Jan. 6 attack on the U.S. Capitol building was "staged."
Newsweek has reached out to @PatriotTakes for more information about the origin of the video and will update the story with any response.