Lincoln Project Ad Calls for Presidential Candidates to 'Be a Good Person First'
A new ad released by the Lincoln Project calls for presidential candidates to "be a good person first," aimed at reminding voters of a "fundamental requirement that's been lacking for the last four years."
The ad features a mother and her son discussing his homework assignment, in which a teacher asked her students to write about what they want to be when they grow up. When the boy doesn't know what to put, his mother suggests he write, "When I grow up, I want to be a good person who is honest and kind."
The boy pushes back, telling his mother that the job needs to be something he could get paid for. "Being a good person's not a 'job' job, but it is hard," the mother responds. "You could say firefighter? Or a president, maybe?"
"You'd be a very good president. You would have to be a good person, first," she tells her son, as the video fades to a black-and-white image of Democratic nominee Joe Biden.
"It's time for decency," a male voice narrates as the ad ends with an encouragement for viewers to donate to the Lincoln Project. The political action committee, formed by Republicans in 2019 with the goal of preventing the re-election of President Donald Trump, has created several ads disparaging Trump and other top Republicans, and promoting Biden.
One ad released last week used gruesome images to compare South Carolina Senator Lindsey Graham to parasites because of his close relationship with Trump.
"South Carolinians have voted for Lindsey before, but this is the first time they truly know who he is," the Lincoln Project wrote in a caption to the video, before providing a disclaimer stating that the video contains imagery not suitable for all viewers.
Another ad suggested that Trump influenced 17-year-old Kyle Rittenhouse, who is charged with six criminal counts, including first-degree intentional homicide, after he opened fire during an August 25 protest in Kenosha, Wisconsin, resulting in the death of two people and serious injury of another.
"A young impressionable man sat in front of a Trump rally," the Lincoln Project video says as a picture of Rittenhouse at a Trump campaign rally is shown. While attending the rally, the teen heard Trump's message of "hate and division," according to the ad.
The committee's latest ad echoes the latter in its attempt to attack Trump's character. The president's "cruelty and callousness is not up for debate," Jennifer Horn, co-founder of the Lincoln Project, said in a statement.
"Time and again he's shown us who he is: A vindictive narcissist who lacks compassion and empathy for the American people," she said. "He is a horrible role model for our children and an embarrassing ambassador for democracy throughout the world."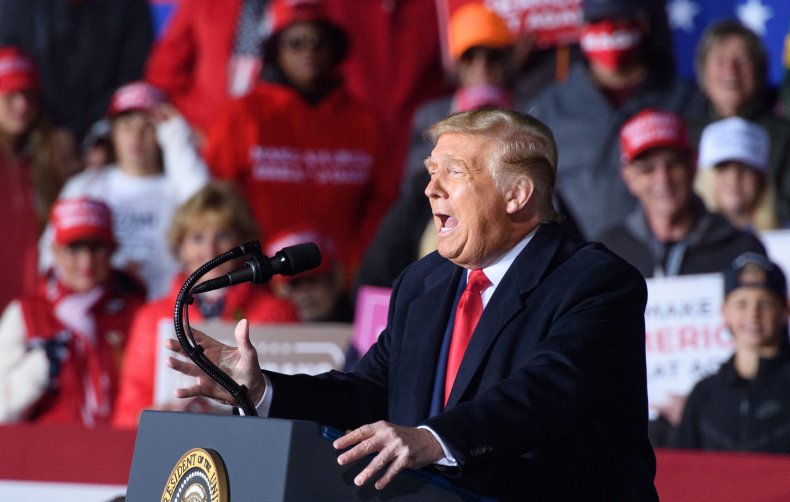 An explanation accompanying the ad goes on to list several examples, including Trump's documented history of calling some women "fat, ugly" or a "big, fat pig," calling several Black leaders "dumb" or "low IQ" and labeling white nationalists who attended the 2017 "Unite the Right" rally in Charlottesville, Virginia, as "very fine people."
These examples of Trump's "stunted emotional growth" has left the U.S. with a "schoolyard bully for a president," according to the Lincoln Project.
The most important quality of an American president is being a "good person," the statement reads. "Donald Trump fails that most basic test, which is why he must be removed from office come November 3rd."
Newsweek contacted the Trump campaign for comment, but did not hear back in time for publication.
Lincoln Project Ad Calls for Presidential Candidates to 'Be a Good Person First' | News