Lincoln Project Ad Presents Joe Biden As a Resilient Single Father After Wife's Death: 'Makes the Occasional Gaffe'
A new ad from the anti-Trump group The Lincoln Project presents Democratic presidential candidate Joe Biden as a resilient single father, who withstood multiple personal tragedies to become the person he is today.
The ad, which was released Monday, good-naturedly highlights Biden's propensity for making public gaffes. "You know he's got a sense of human and like all of us makes the occasional gaffe," the female voiceover in the pro-Biden ad says.
"You know him as a guy who never forgot his humble blue collar beginnings in Scranton, Pennsylvania," the narrator continues.
But the focus of the ad is on how Biden has been "shaped by both tragedy and love." It explains how at 30-years-old, Biden lost his first wife Neilia Hunter and 15-month-old daughter Naomi in a tragic car accident. After that, the Democratic lawmaker was a single father, raising his two sons Beau and Hunter for five years alone, until he married his current wife, Jill. Together, Jill and Joe Biden had another daughter, Ashley.
"When his son Beau died of brain cancer in 2015 at the age of 46, Joe Biden was at his side," the ad continues, emphasizing the loss of the former vice president's adult son. "Shaped by both tragedy and love, Joe Biden's public service is defined by compassion for others. He knows the pain American families experience," the ad says, showing images of the Democratic politician embracing and supporting Americans from all walks of life.
Newsweek reached out to the Biden campaign for comment on the ad, but it did not respond by the time of publication.
The Lincoln Project, which bills itself as "dedicated Americans protecting Democracy," was founded by Republicans and conservative former Republicans who are opposed to Trump. Notably, one of the group's key co-founders is attorney George Conway, the husband of White House counselor and Trump-defender Kellyanne Conway.
Co-founders also include Rick Wilson, who served as field director for former President George H.W. Bush's presidential campaign, and political strategist Steve Schmidt, who worked on the campaigns of former President George W. Bush and the late Senator John McCain of Arizona.
"Patriotism and the survival of our nation in the face of the crimes, corruption and corrosive nature of Donald Trump are a higher calling than mere politics. As Americans, we must stem the damage he and his followers are doing to the rule of law, the Constitution and the American character," the co-founders of the project wrote as they announced their efforts last December.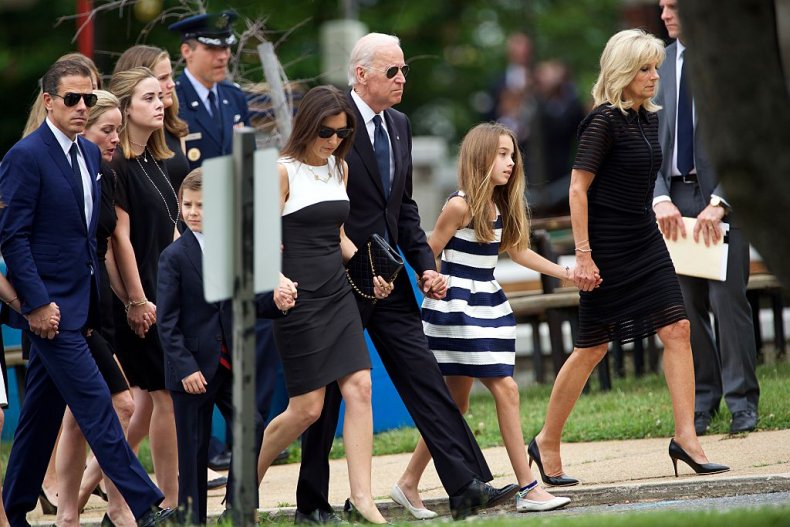 For his part, Biden referenced his own experience dealing with loss in words of condolence directed at Trump on Sunday, following the death of the president's younger brother Robert Trump on Sunday.
"Mr. President, Jill and I are sad to learn of your younger brother Robert's passing. I know the tremendous pain of losing a loved one—and I know how important family is in moments like these. I hope you know that our prayers are with you all," Biden tweeted.