Golden State Warriors star Stephen Curry has urged Americans to be "strong and brave" and turn out in numbers on Election Day, while renewing his support for Democratic presidential nominee Joe Biden.
Millions of Americans will head to the polls on November 3 as one of the most bitterly contested presidential races in recent memory reaches its end after a campaign conducted in the midst of a global pandemic and with President Donald Trump repeatedly sowing doubts over the legitimacy of the voting process.
In a video for The Lincoln Project, Curry, who publicly endorsed Biden in August, warned voters to be careful and safe and comply with social distancing measures in place to deal with the coronavirus pandemic, but urged them not to be intimidated and head to the polls.
"We need your vote like never before, but you know what we need even more? We need you to be careful, we need you to be safe and to protect yourself and your families," he said.
"Wear a mask, vote and vote now. Don't be scared, because that's what they want. They want you so scared that you'll stay home, so your vote won't count and your voice won't be heard. Be strong, be safe, be brave. Mask up and vote. Vote for Joe [Biden], your future is depending on it."
Suggestions of voter suppression have resurfaced throughout the campaign. Texas Gov. Greg Abbott and Ohio secretary of state Frank LaRose—both Republicans—have restricted the number of drop boxes available to voters. Limiting the number of drop sites is significant as it means voters in a densely-populated urban county have access to the same number of drop boxes as their counterparts in a rural, scarcely-populated areas.
The Democrats sued and initially won both in Ohio and Texas, only for appeal courts in both states to back LaRose and Abbott.
The use of mail-in ballots has rocketed to unprecedented levels because of the coronavirus pandemic. According to the U.S. Elections Project, over 63 million of Americans have already cast their vote via mail, with over 7.7 million registered Democrats among those returning mail-in ballots. The figures showed there were over 29 million mail-in ballots still outstanding.
Absentee ballots have been one of the most-hotly debated topics of the campaign, with Trump and the Republicans repeatedly denouncing mail-in ballots as prone to fraud.
Over the weekend, the president lashed out at a Supreme Court decision to allow Pennsylvania officials to count ballots postmarked by Election Day as long as they're received by the end of the week.
"I think it's terrible when we can't know the results of an election the night of the election in a modern-day age of computers," Trump said.
The Democrats have accused the U.S. Postal Service's chief executive, Louis DeJoy, of deliberately slowing down deliveries to help the Republicans. A Trump donor, DeJoy was installed in charge of the U.S. Postal Service by the Republican incumbent earlier this year and wasted no time in implementing sweeping changes aimed at improving the service's efficiency.
The changes have resulted in large backlogs of mail in several states, but DeJoy has steadfastly denied claims he has deliberately sought to help Trump.
Along with several NBA stars, Curry has supported the More Than A Vote campaign, which was launched by LeBron James and former first lady Michelle Obama to address misinformation targeted towards Black voters.
Low turnout for presidential elections has long been an issue. According to the U.S. Elections Project, in 18 presidential elections since the end of World War II, voter turnout has exceeded 60 percent only on eight occasions, peaking at 63.8 percent in 1960.
With the exception of 2012, three of the most recent four presidential elections recorded a turnout above 60 percent, peaking at 61.6 percent in 2008. While the pattern of voter disenfranchisement can be traced to different demographics across the country, the issue is particularly acute among young Black Americans.
According to official data, just 47 percent of eligible Black voters under the age of 30 turned out to vote four years ago, while the voter turnout among those aged 65 or older exceeded 70 percent.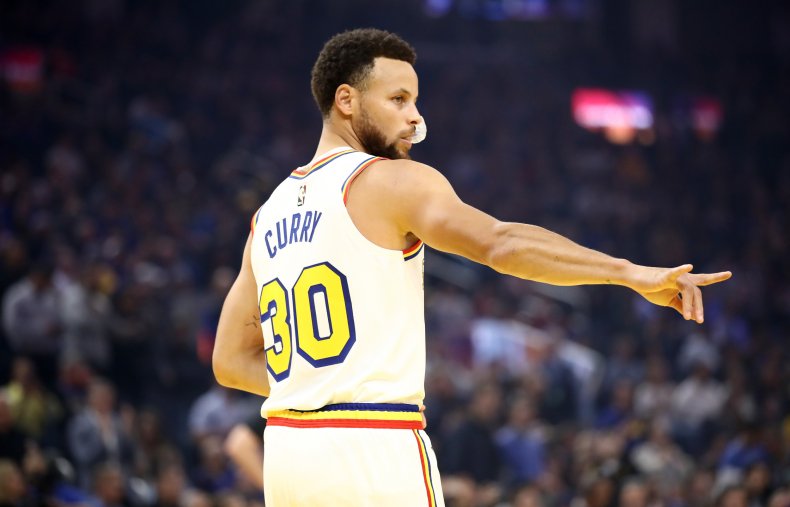 Uncommon Knowledge
Newsweek is committed to challenging conventional wisdom and finding connections in the search for common ground.
Newsweek is committed to challenging conventional wisdom and finding connections in the search for common ground.
About the writer
Dan Cancian is currently a reporter for Newsweek based in London, England. Prior to joining Newsweek in January 2018, he was a news and business reporter at International Business Times UK. Dan has also written for The Guardian and The Observer.