Lincoln Project Calls White House Coronavirus Briefing 'A Trump Rally'
As President Donald Trump prepares to hold his first coronavirus briefing in nearly three months, The Lincoln Project called the president's update "a Trump rally."
In response to reports that no White House Coronavirus Task Force members are expected to join Trump on Tuesday evening, the political action committee suggested that the briefing would simply be a rally for the president's campaign for reelection.
Republicans for Joe Biden echoed similar sentiments, replying to the tweet, "So we can expect lies, racism, conspiracy theories and empty seats."
"Even his most ardent supporters aren't going to risk their health and safety to come see him, local officials don't want him and time in front of the cameras is like oxygen for him. He's the first president to use the Rose Garden to drop opposition research on his opponent. If that's not a political event, what is it?" The Lincoln Project's Communications Director Keith Edwards told Newsweek in an email.
The decision to resume what were once near-daily virus updates comes after the Trump administration's response to the pandemic has increasingly fallen out of favor with the American public.
The U.S. has seen a concerning rise of infections, which has caused the country to become the global epicenter banned from a growing list of international destinations. As of Tuesday, July 21, more than 141,000 Americans have died from COVID-19, according to data from a John Hopkins University tracker.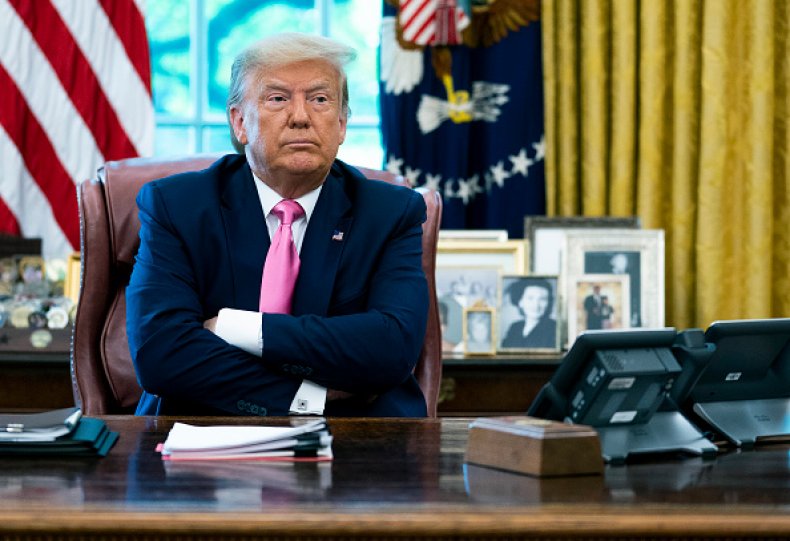 Polls have shown more Americans trust national health experts, such as Dr. Anthony Fauci, the director of the National Institute of Allergy and Infectious Diseases, over the president when it comes to coronavirus.
However, Fauci, along with the White House's coronavirus response coordinator Dr. Deborah Brix, are currently not expected to be present at Trump's briefing later today. Press Secretary Kayleigh McEnany told reporters Tuesday morning they would have to "wait and see" if Fauci would be in attendance.
Since suggesting ingesting disinfectants as a cure for the virus back in April, Trump has reversed his original response to the outbreak. After refusing to wear a mask in public, the president has endorsed wearing face coverings, a recommendation Fauci had made earlier in the pandemic.
Trump tweeted a photo of himself wearing a mask on Monday, a tweet which the Lincoln Project called out for being a move made too late. The organization noted that Trump's new support for face masks comes three months after the Centers for Disease Control and Prevention first suggested face coverings as an effective way to curb the spread of the virus on April 4.
The committee formed in 2019 by a number of prominent Republicans is one of several Republican-led groups devoted to preventing the reelection of the Trump administration in the upcoming 2020 race to the White House.
When the president first announced he would be resuming his briefings on the virus, The Lincoln Project tweeted a video of a girl applying clown makeup with the caption: "Donald Trump getting ready for his daily coronavirus briefings."
Newsweek reached out to the White House for comment but did not hear back before publication.