Lincoln Project Compares Alleged Cowardice of Republican Senators to Bravery of Black Protesters
In a new campaign ad released by the Lincoln Project, the organization compares the alleged cowardice of Republican senators to the bravery of Black protesters.
The video shows a Black Lives Matter protester carrying a sign that reads "My life matters" as he walks past a wall of armed white men, juxtaposing the protester's "walk of courage" alongside the "walk of shame" of Republican senators who are shown walking past reporters in silence as they're asked about President Donald Trump's behavior.
In a Tuesday press release, the group asked, "who in this time is our country's history is meting the moment: individual Americans or Republican senators?"
As the U.S. becomes faced with an onset of national crises, including the new coronavirus pandemic, the project says "everyday citizens somehow find the courage to stand up to and fight for what's right," while Republican senators "would rather cuttle away in shame form Donald Trump than risk a mean tweet from the president."
The Lincoln Project is a political action committee formed in 2019 by several prominent Republicans and former Republicans whose mission is to "defeat President Trump and Trumpism at the ballot box."
According to the organization's website, the Lincoln Project is concerned that the Republican Party has abdicated their responsibility to the Constitution and have "instead pledged their loyalty to one person."
The organization tweeted their latest political attack with the statement: "Courage can be found in America, just not in Washington."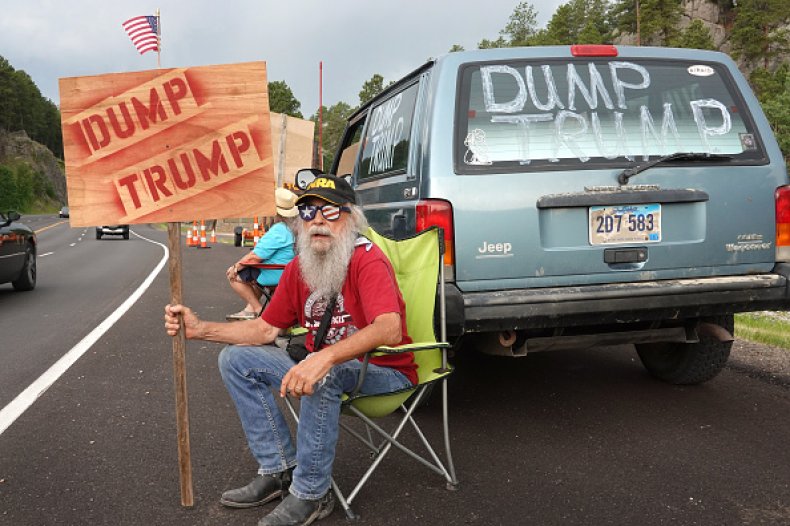 Despite self-identifying as Republicans, the Lincoln Project does not have the support of the Republican National Committee.
"The Lincoln Project is comprised of grifters, Never Trumpers, and agents of the Democrat Party," RNC spokesperson Steve Guest told Newsweek. "Above all else, these political opportunists are solely concerned with making a quick buck for themselves."
In April, the group endorsed former Vice President and presumptive Democratic nominee Joe Biden in an op-ed published in The Washington Post. The group has released a number of anti-Trump and pro-Biden ads in the past. They told the Post they have raised $16.8 million this quarter.
"These Republicans know that Trump is unfit for office. They know what he's doing to this country is wrong," said Lincoln Project co-founder Reed Galen. "Yet they say nothing. Their continuing silence is disqualifying."
A group known as Republican Voters Against Trump has also joined in the "Never Trump" movement, an effort on the part of Republicans and conservatives to prevent Trump's reelection this November. These groups are targeting white, suburban Republican voters to break from the president.
"These senators have made their choice. They stood with Trump when they should have stood with America," the Lincoln Project said. "Soon, the people of this country will get to make their choice, too."
Newsweek reached out to the Lincoln Project for comment but did not hear back before publication.
Update 07/14/20 12:18 p.m. ET This story was updated with comments from Guest.