Lincoln Project Doctors Video of Donald Trump Jr. to Show Him Supporting Biden
The Lincoln Project, a political action committee of Republicans who oppose Republican President Donald Trump, has released a one-minute satirical ad that remixes a six-minute video message published on Wednesday by Donald Trump Jr., the president's son.
While Trump Jr.'s six-minute ad accused Democratic presidential nominee Joe Biden and his son Hunter Biden of corrupt business dealings in Ukraine, Russia and China, the Lincoln Project's one-minute remix edits Trump Jr.'s ad to make it sound like he's endorsing Biden for president while accusing his father of using "his political power to sell out the United States of America to our enemies and enrich himself."
The Lincoln Project ad also has Trump Jr. randomly uttering the word "cocaine" at least three times.
"I'm Donald Trump Jr." the ad begins. "I'm the son of the President of the United States, one of the most unethical humans in political history."
"My father was threatening to withhold U.S. aid to Ukraine by effectively blackmailing the Ukrainian government with taxpayer money," Trump Jr. is edited to say. "My father leveraged his political power to sell out the United States of America to our enemies and enrich himself."
The ad concludes with Trump Jr. edited to say, "We need someone who will put the interests of the American people over the interests of themselves, and that person is Vice President Joe Biden. Cocaine."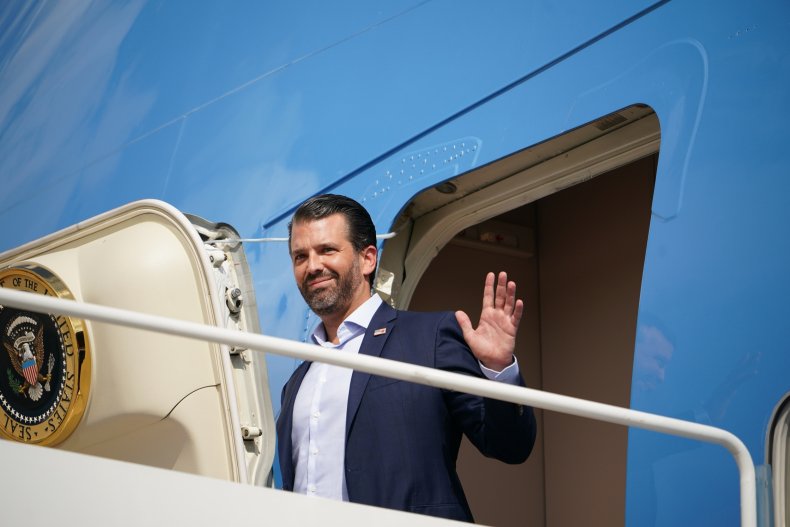 Trump Jr.'s original ad begins with him saying, "The Biden family is the most corrupt political family in American history. I can prove it. Joe Biden is terrified that you are about to hear the truth."
He then references various claims made in an 87-page report released in mid-September by Republican Senators Chuck Grassley of Iowa and Ron Johnson of Wisconsin. The report alleged that Joe Biden could have potentially used his political position to improperly aid his son's business dealings.
In brief, the report alleged that Hunter Biden received questionable payments from the wife of the former mayor of Moscow and the Chinese government. Trump Jr. also alleges that Joe Biden's brother, James, secured a U.S. contract to build 100,000 houses in Iraq despite having no background in the industry. James Biden only had a "minority share" in the company, according to ArabianBusiness.com
However, the Senate report Trump Jr. references didn't prove any actual criminal financial activity by Hunter Biden nor did it present concrete evidence of wrongdoing by Joe Biden. Nevertheless, it was spread widely among right-wing media, according to the fact-checking website Snopes.com.
"The dark and complex inner lacings of corruption within the Biden family has now been exposed with this incriminating investigation by the United States Senate," Trump Jr. claims in his ad. "Did the Biden's financial entanglements impact U.S. foreign policy? Of course they did. But did they care. Of course not. That was the plan all along."
Newsweek contacted the Trump campaign for comment.