Lincoln Project Vows to Keep Hitting Trump Over Disputed Military Comments
Anti-Trump group The Lincoln Project has vowed to continue targeting the president on the topic of the military, after he was forced to reject claims he branded dead service members "losers."
President Donald Trump has denied reports, first made by The Atlantic, that he delivered the disparaging comments about fallen military personnel while canceling a visit to the Aisne-Marne American Cemetery near Paris in 2018, where American World War One dead are buried.
Several others said to be present have also said they did not hear him make such remarks.
The Lincoln Project has released an ad referencing to comments allegedly made by Trump as well as publicly made remarks about service members—branding him a "loser coward" after criticizing the statements.
The president shared his own video which he said was his "real words about or GREAT HEROES," in which he is delivering a speech where he says: "God bless the military, God bless the memory of the fallen."
Fred Wellman, senior advisor for veteran's affairs at The Lincoln Project, told Newsweek the group intends to continue targeting Trump on such points.
"We're not going to let this issue go," Wellman, who served in the U.S. Army for 22 years, said.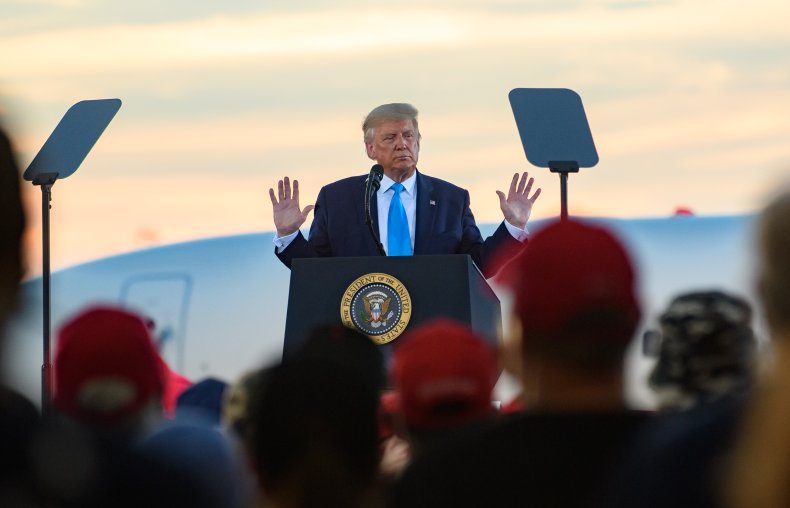 Referring to the denials of The Atlantic report, he said: "You don't have to believe any of the sources. Don't believe the media, the fake news: believe him. There's one source consistently sh*tting on the military and that's Donald Trump.
"This isn't new, this is who he is."
Referring to prior comments from the president, Wellman criticized remarks made by Trump about John McCain in 2015.
Trump said former Republican Senator McCain, who was a prisoner of war in Vietnam, was "not a war hero."
He added: "I like people that weren't captured."
The Lincoln Project's ad referred to this point, as well as comments where Trump said he knew "more about ISIS" than generals did.
Wellman also commented on allegations from the president's niece Mary Trump, who claimed President Trump told his son, Donald Trump Jr., would be disowned if he joined the military.
On the feeling amid those he has spoken to about Trump's alleged remarks, Wellman said: "I've never seen the veteran and military community so angry."
While Wellman suggested many in those communities are still Republican, he believes there could be those who turn to support Democratic presidential candidate Joe Biden, though perhaps not highlight this publicly.
"I think in the end we will see a secret Biden vote in the military community," he said.
Alternatively, there will be those who choose to abstain from casting a ballot, who might feel they are still Republicans but are "not voting for this guy," Wellman said.
The president has previously lashed out at The Lincoln Project, branding its members "loser types," after the group released its "Mourning in America" ad earlier this year.
Trump has repeatedly pushed back on the claims of calling fallen service members losers and said it is a "FAKE story made up by the Democrats in order to save Biden's failing campaign."
A White House spokesperson told The Atlantic the reports of his comments were false and the president "holds the military in the highest regard."
In a statement to Newsweek Scott O'Grady, co-chair of Veterans for Trump, said: "President Trump has been a stalwart leader and supporter of our nation's military and veterans and it couldn't be more clear that under Vice President Biden's leadership, these national heroes were always a second thought.
"President Trump has rebuilt the military, secured the most funding in history for the VA, and has expanded educational benefits for veterans, service members, and their families. The choice couldn't be more clear this November."
Update 09/11/2020: This article was updated to include a comment from Scott O'Grady.