Lincoln Project Drops Scathing Ad Saying Trump 'Left His Supporters to Freeze' at Omaha Rally
The Lincoln Project, a political action committee of anti-Trump Republicans, attacked President Donald Trump in a new ad released Wednesday saying the president "left his supporters to freeze" at his Tuesday campaign rally in Omaha.
The new video showed hundreds of Trump supporters who were reportedly stranded for about three hours after yesterday's event, and it featured a voiceover from an NBC segment.
"He wrapped up his rally in Omaha, Nebraska last night. Hundreds of supporters were left behind in nearly freezing temperatures for hours with no transportation. Crowds didn't fully clear the rally until 12:30 a.m.—three and a half hours after the president departed," the anchor is heard saying.
"NBC News has obtained Omaha police dispatch calls that describe at least seven people being taken to the hospital due to severe temperatures," she said.
Cutting through the footage is a message from the Lincoln Project that read, "He left his supporters to freeze. He doesn't care. He never will."
The latest ad from the PAC comes in response to Tuesday night's event. Trump supporters were stuck on the Eppley Airfield after a campaign event, with some being taken away in ambulances.
According to the Omaha Police Department, seven people who attended the rally were taken to hospitals for a variety of conditions and a total of 30 supporters "contacted" the police for medical reasons.
Rally-goers, left in mid–30 degree weather, were unable to get back to their cars as they waited for shuttle buses to arrive. The Trump campaign blamed the delay on traffic.
An official told the Omaha World-Herald that the route was congested due to large groups of people walking, which limited the road to one direction.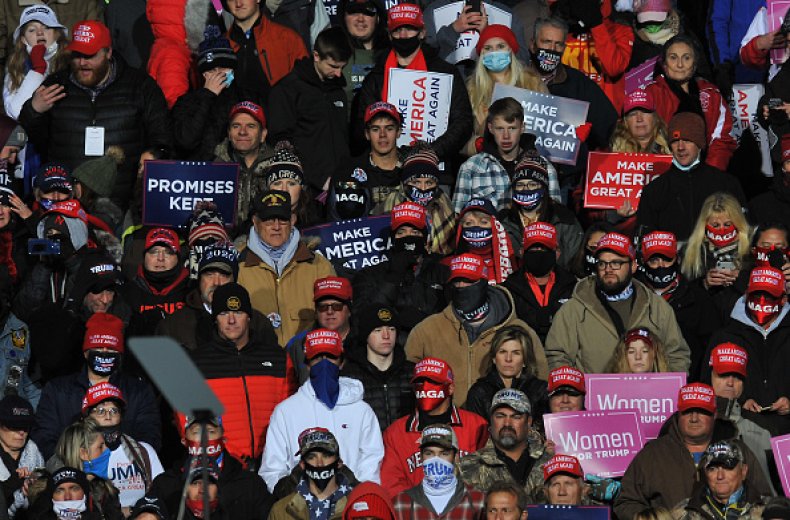 Democratic nominee Joe Biden also addressed the incident on Wednesday, telling reporters in Delaware, "Just look what happened last night in Omaha, after the Trump rally ended, hundreds of people, including older Americans and children were stranded in sub-zero freezing temperatures for hours."
"Several folks ended up in the hospital.… It's an image that captured President Trump's whole approach in this crisis... he makes a lot of big pronouncements, but they don't hold up," Biden added.
The new ad from the Lincoln Project is the second to be released by the group today.
An earlier video shared on their Twitters targeted Trump's immigration policy, which has left at least 545 migrant children separated from their parents.
Newsweek reached out to the Trump campaign for comment but did not hear back before publication.